By Leigh O'Connor.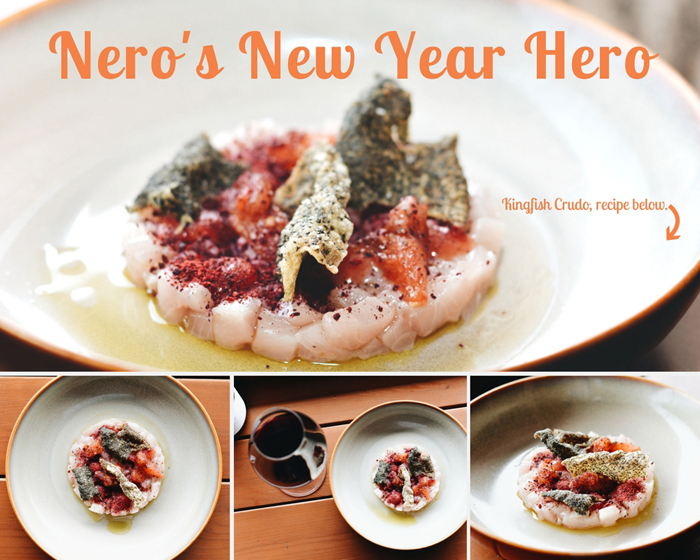 As the New Year approaches, thoughts turn to the past 12 months and future resolutions – anything appears possible.
For innovative, young, Gold Coast Chef, Jayden Barker, 2018 beckons as the continuation of a whirlwind fledgling career – in a short space of time he has gone from dish hand at a local tavern, to creator of head-turning dishes at Nero Dining in Broadbeach.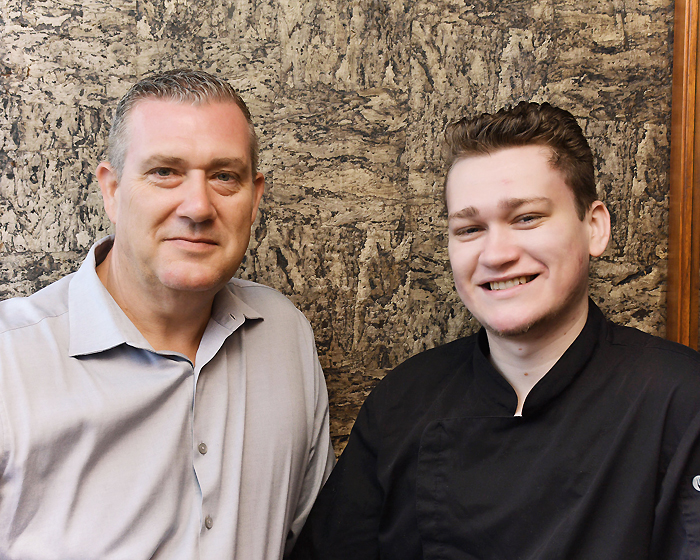 Father, Andrew Barker, and son, Chef Jayden Barker, head up the team at Nero Dining, Broadbeach QLD.
His dream started early, after watching MasterChef on television it manifested into reality, when at age 16, he worked as a waiter at Garlic Clove Restaurant in Varsity. After apprenticeships at the likes of Burleigh's Cavalier and Palm Beach's Pablo Pablo, Jayden and father, Andrew launched their own venture, Nero Dining.
Now 22, Jayden was one of the youngest recipients of an AGFG Chef Hat Award in 2017 for his achievements and there is no slowing down in the future. In five years' time he plans to own another restaurant or two and perhaps a wine bar, showcasing small producers.
"I have always wanted a tiny degustation place, somewhere I can work alone, or with one other person on the floor, doing really intricate things, he explains.
"But making sure Nero is as good as it is today in five years' time, is also a big goal."
Jayden is determined to have a consistent stream of customers through Nero's doors and to gain more exposure. Nestled on the corner of Sunshine Boulevard and T.E. Peters Drive, he believes most people are still not aware the restaurant exists.
"With our good feedback and reputation, we have a heap of return customers and travellers who find us through online reviews, but the locals – outside of Broadbeach Waters – are yet to discover what we're all about."
Jayden says Nero doesn't fit the stereotypical Gold Coast dining style, but changing and doing what everyone else does, is not the answer.
"We are trying to change the way people here dine. We take pride in personal service and getting diners to try something they have never had before, then watch them be amazed at how much they love it. I have lived on the Coast my whole life and I'm not happy with the food scene as it is. Nero was all about trying to change that."
Jayden draws inspiration for his culinary creations from Instagram and searching menus of his favourite restaurants around the country.
"Instagram is a big one for me, someone like Clayton Wells or Ben Devlin will post a photo of something and the shape or colours will bring an idea to me. I'm quite a visual person, so seeing helps me be creative, the same with the concept of the dish – I have to know how it will be plated, before I figure out everything I want to put on the plate."
As the Summer heat bears down and stone fruits are in abundance, Jayden's imagination runs rife with new recipe ideas. He shares with us our leading image, Kingfish Crudo, Yellow Peach, Davidson Plum and Torched Tomato, combining the bright colour of plums and peaches with sashimi-style fish.
"I like the contrast in flavour each different fruit brings to the dish, bright colours make them easy to plate and [they] lend well to a vast array of things, if treated right."
For the last word in 2017, Jayden shares his New Year's resolutions.
"Put in a few more hours, reward our staff and learn to switch off on days off. I'm happy with where we are at, as a business and how I am right now, personally. It's more about [continuing to go] in the right direction."