Whilst we honour Mothers and Grandmothers every day, Mother's Day is a special opportunity to shower them with extra love and appreciation for the tireless support they have provided us. It is a time to make that special leading Iady in our lives feel loved, nurtured and cared for. However, Mother's Day can creep up on us faster than expected, so we have compiled a list of fantastic Mother's Day specials and ideas around the country to help make sure you make it a special day.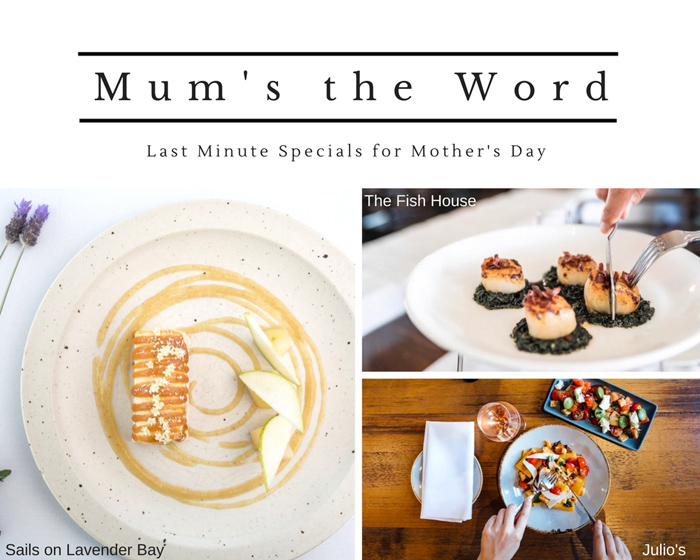 The Fish House | QLD
Situated directly adjacent to picturesque, Burleigh Heads Beach, is award winning restaurant, The Fish House. Known for serving the freshest seafood available in a simplistic, Southern European inspired menu, Mum's will receive a complimentary glass of Louis Roeder champagne when they dine this Mother's Day making for an unforgettable Mother's Day by the sea.
Gatehouse High Tea Rooms | NSW
On the Parramatta River in the charming Parramatta Park, find West Sydney's high tea destination, the Gatehouse Tea Rooms. Sydney foodies, loyal locals and curious tourists partake in delectable high teas enchanted by the rich gardens and ornate verandah brackets of a charming heritage listed cottage built in 1887. The Gatehouse Tea rooms are the high tea specialists, so treat your Mum or Grandmother this Mother's Day with the inclusion of a glass of sparkling wine. Devour towers of finger sandwiches, macarons, freshly baked scones with jam and cream, and sweet cakes for just $59.
Mykies By The Bay | QLD
Discover Mykies By The Bay, Cafe, Bar and Restaurant on Grand Parade in Kawana Island, serving modern Italian cuisine with a fusion of Middle Eastern flavours, while emanating the surrounding holiday vibe of the Sunshine Coast. Spoil Mum at a table overlooking glistening waters as boats glide by, sending small ripples toward the sand below a wide, outdoor deck. Showcasing locally caught seafood alongside market produce, Mykies has a dish to suit all Mothers' tastes, from early morning coffee and breakfasts to late night pizzas with chilled wine.
Georgio's Seafood & Steak House | VIC
Open on Mother's Day for lunch bookings, head to Georgio's Seafood and Steak House, perched along the Old Princes Highway at Beaconsfield, offering relaxed dining with a touch of class. Enjoy a crisp glass of white as you celebrate with platters of fresh seafood, or perhaps indulge in the saganaki – pan fried cheese served with lemon and aioli as an appetiser before mains of seafood pilaf – prawns, scallops, fish, calamari and mussels simmered with crushed tomato and baked basmati rice, topped with semi-peeled King prawns.
Julio's | WA
Gracing the Perth dining scene with a vibrant Mediterranean flair is Julio's Italian restaurant, homed by a historic Hay Street building dating back to 1902. Recently renovated, this building charms with a mix of warm, old world touches. This Mother's Day, enjoy a complimentary glass of house sparkling wine and peruse a menu for pastas made fresh from scratch, cut and rolled by hand daily, alongside seasonal produce from surrounding regions crafted into delectable mains.
Vines Restaurant at Hollydene Estate | NSW
Unwind with the breathtaking views of surrounding vineyards, framed by the rugged hills of Wollemi national park, over a glass of one of Hollydene Estate's 23 varieties of wine, while navigating through a menu focussed on fresh and seasonal local produce. There's no other place to be if your Mum enjoys vineyards, so be sure to book the restaurant for either breakfast or lunch.
Deer Duck Bistro | QLD
Emanating a distinguished vibe inside, Deer Duck is bedecked in lavish furnishings, with plush upholstered dining chairs spaced around notably set tables and warm lighting adding a persuasively moody ambiance. Paired with classic European dishes with delightfully unassuming Asian flavours, it's the ideal place to take Mum this Mother's Day for a 5 course lunch or dinner degustation with a complimentary glass of champagne on arrival for only $125pp.
Sails on Lavender Bay | NSW
The Harbour Bridge, Opera House, Luna Park and all the activity of the iconic harbour, star in what is surely one of Sydney's most spectacular views. Treat your Mum this Mother's Day to that spectacular view and delight in a beautiful 3 course menu for lunch, designed by Head Chef Jim Wilson, promising to satisfy every tastebud for only $155 per adult and $50 per child under the age of 12. Sails on Lavender Bay is one of the most popular restaurants for Mother's Day, so be sure to book fast!
Sky High Mount Dandenong | VIC
Perched within the Dandenong Ranges, SkyHigh Mount Dandenong offers a dining experience that is nothing short of breathtaking. Located in the stunning National Rhododendron Gardens is the idyllic Function and Event's Centre - Mist @ Olinda. Now fully renovated including sprawling decking and bi-fold doors, the centre is a great place to spoil your Mum. Why not take her for a stroll around the gardens before you sit down to a special Mother's Day lunch for $75pp.
The Walnut Restaurant and Lounge Bar | QLD
The Walnut Restaurant and Lounge Bar is a well-loved Brisbane institution, highlighting fine dining with traditional refinement at Royal on the Park. Offering an array of choices for this Mother's Day, opt for a buffet breakfast in the pavilion for $35 pp with a choice of two seatings at 7 am - 8.30am or 10 am - 11am; or perhaps dine out for a 3 course lunch special with a dessert buffet for $89pp. For those who can't go past tradition, treat Mum to a dining experience fit for a queen with an elegant high tea with all the trimmings and a glass of bubbles.
Cataract on Paterson | TAS
Cataract on Paterson brings a unique and modern dining experience to Launceston's city fringe. The restaurant oozes sophistication via a blend of classic interiors with a modern twist, while the menu focusses on fresh Tasmanian produce, featuring high quality grass-fed beef from Great Southern Pinnacle and a seafood tasting plate containing locally caught fresh Tasmanian oysters and scallops. For the ultimate interactive dining experience, try the Stonegrill: your steak, prawns, scallops or salmon is cooked to your liking on a 400-degree volcanic stone on the table. Celebrate Mother's Day with Cataract on Paterson for either lunch from 11am or dinner from 5pm.
Essence on Exhibition | VIC
With understated style and culinary influences from Australia and around the globe, Essence on Exhibition at the Melbourne Marriott Hotel captures the essence of modern city dining in Melbourne. To honour the special occasion of Mother's Day, the Hotel is hosting a High Tea Buffet from 2pm to 4pm, for $79 per adult, $59 per teen (12-17 years) and $35 for children (under 12 years), enjoy unlimited access to a buffet of homemade scones, ribbon sandwiches, delicate pastries, sweet desserts and a crepe station.
For more Mother's Day specials across the country, we have more than 200 for you to choose from here.