Being linked back as far as the 16th century, the ancient Mexican cuisine has been adopted and loved the world over for not only its bold flavours, but the great fiesta vibes and atmosphere that come with it. Combining the heat from spicy chillies, punchy freshness from zesty citrus, the use of fresh aromatic herbs and hearty mixes of proteins, it is no wonder the Mexican wave has washed over Australia with great momentum. Find out what we are taco-ing about and visit one of our top picks for authentic Mex fare that will leave you saying olé!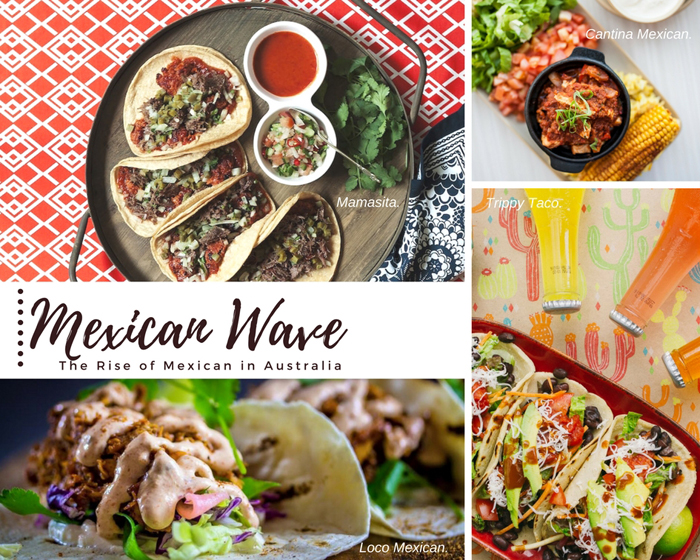 EL Sabor | VIC
Set in the heart of Melbourne city is the spicy little restaurant packing a punch at El Sabor. With the name literally meaning flavour, this colourful Melbourne eatery packs a punch for those seeking an authentic Mexican experience. Owning their own farm to grow fresh corn in colours of red, blue, yellow and orange, El Sabor have locals flocking to try their fresh, housemade tortilla tacos with options like the Pescado - Baja style battered fish, served with chipotle mayo, red cabbage and lime.
Put a little fiesta in your day and head to either Mejico Miranda in Sydney's Westfield Miranda shopping centre or saunter down Pitt Street to find Mejico CBD, either way you will find authentic flavours and punchy cocktails whilst the nino's enjoy free tacos throughout the September school holidays. Olé to that!
Trippy Taco St Kilda and Fitzroy | VIC
Just as most great Mexican begins, Trippy Taco came from humble beginnings as a mobile food stall serving street style Mexican, coming a long way to the now bustling two Melbourne establishments at St Kilda and Fitzroy. Offering a colourful and lively, 70s retro vibe, Trippy Taco serves up signature dishes like breakfast tacos with housemade corn tortillas, topped with two free range eggs, cheese, salsa and avocado.
Mamasita | VIC
Follow the crowds to Mamasita along Collins Street in Melbourne. This popular eatery is described by some as the city's first true taqueria, now boasting a playful take on traditional, authentic flavours in dishes that are far from cliché. Throw back a tequila and munch on crab and prawn tostadas or a roasted lamb shoulder taco with jalapenos, mint crema and snow pea tendrils.
Los Hermanos at Little Hop | VIC
Although deeply rooted in Mexican tradition, this style savvy restaurant calls in the fashionable foodies with contemporary cutting edge design, not only with their interior but in their creative menu. Grab your hombres and share a round of starters like the Ensalada de Nopales – cactus salad and bean gorditas before devouring tasty taco options like beer battered fish, pulled pork or mushroom and grilled cheese tacos, finished on a sweet note with churros dusted in cinnamon sugar.
Cantina Mexican Restaurant | NSW
Whether you fancy Mexican, Italian or a fusion of both, take to Cantina Mexican Restaurant in New Lambton. Generously portioned mains come in the form of tacos, burritos, quesadillas and flavoursome favourites like the hacienda pie – a flour tortilla pie filled with your choice of beef, chicken or vegetables, rice and three cheese mix with sour cream, served with fresh Mexican corn on the cob.
Loco Mexican | SA
When visiting Victor Harbor be sure to head along Ocean Street to immerse yourself in Mexican culture at Loco Mexican. The vibrant yellow building welcomes patrons into a stylish dining room set with orange tables, artistic wallpaper and potted cactus, setting the scene to enjoy Mex street food dishes like ceviche, jalapeno poppers and tiny tuna tacos, washed down with a frozen margarita.
Bay City Burrito | VIC
When hunger pangs begin, head for Bay City Burrito, now located at St Kilda and Hawthorn in Melbourne. Experience the magic of the Mission District and the vibrant culture of San Francisco, the birthplace of the burrito. Raised on the local burritos of his motherland, owner of Bay City Burrito, Gary, has re-created his childhood food memories through a menu packed with flavour and soul, with options like the La Fajita burrito, with chicken, Spanish rice and lime sour cream.
Frank and Blanco | NSW
Urban in style with frontage to the Old Princes Highway, Frank and Blanco bursts with colour, culture and Mexican cuisine behind the walls of a black and white shopfront. A chameleon of sorts, Frank and Blanco operate as a trendy café by day and put on the fiesta by night, morphing into a lively tequila bar offering modern Mexican inspired tapas. Should a barbacoa board with adobo beef, slow roast pork and charred octopus take your fancy, just remember to save space for dessert and a house signature tequila beverage.
T Bones Tex-Mex | NSW
Breathing fresh air into the Newcastle dining scene, T Bones Tex-Mex offers family-friendly casual dining and an exciting fusion of Southern-style comfort and spice-fuelled Mexican cuisine. Enter the fun filled interior styled with flare, with a long timber bar highlighted under a Corona beer pendent lighting installation with animated graffiti murals covering the walls. Slip into a booth and tuck into BBQ pork ribs with housemade signature Jack Daniels sauce or perhaps a beef chimichanga with a side of char-grilled corn cob.
For more Mexican mojo near you, search via your location.