Australia has come a long way from the suburban 'Tex-Mex' cantina, as discerning diners realise there is more to Mexican cuisine than nachos, smothered in melted cheese and sour cream.
Spoilt for choice, our foodie scene embraces influences from all corners of the globe and restaurants are riding the wave of street food options – the basis of Mexico's culinary culture. Even star Chef Rene Redzepi from Denmark's Noma restaurant, consistently ranked one of the best fine diners in the world, is a taco fan!
These days Mexican eateries feature a greater range of mouth-watering fare, such as fresh corn, empanadas, salads, seafood ceviche and much more. Of course, there are tacos but the fillings have gone from mincemeat to pork belly and soft-shell crab – and nachos now come with any topping you desire.
While Italy gave us pasta and Japan sushi, there is no doubt the humble taco is the food symbol of a football mad nation that recently upset the odds to beat Germany at the 2018 World Cup in Russia.
So what's all the cactus you say? Let's salsa around the country and find out what we're taco-ing about some Mexican hotspots you need to know about.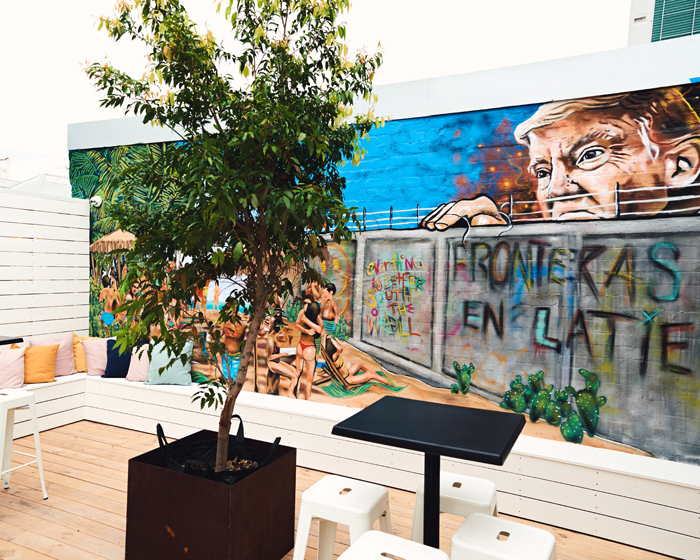 Viva Victoria:
Richmond amigos munch out on Mexican morsels at South of the Wall on Cremorne Street. Polished concrete floors, mosaic tiles and vibrant blue seating celebrate all things south of the border at this fun and funky cocktail bar and restaurant, where with a tequila in hand guests can take a seat alfresco under the watchful eye of Donald Trump, peering over the frontier wall.
A fiesta of flavours await with choices such as coffee guajillo basted beef ribs with negra modello and chilli barbeque glaze, or perhaps pick up a beer battered prawn taco with chipotle adobo, slaw, mayo and lime; best teamed with pulled pork Mexican loaded fries with mucho queso, guacamole, taco seasoning, sour cream and Pico de Gallo. Finish with chocolate cheesecake on an Oreo base with strawberry coulis… arriba!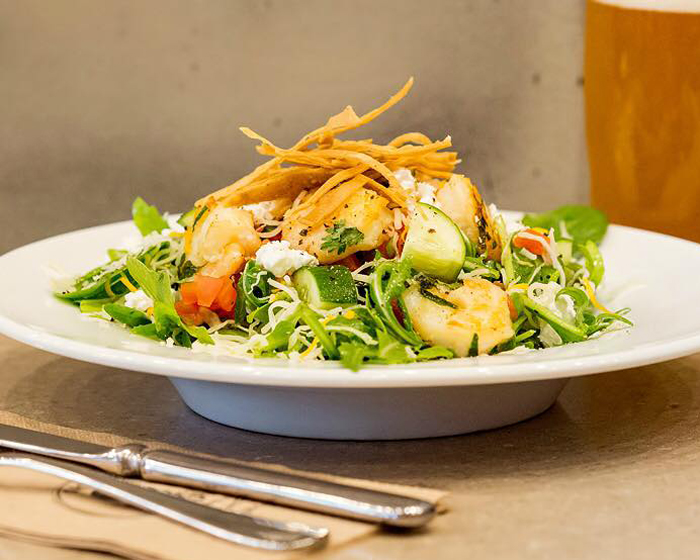 NSW Nachos:
Cool vibes and fare with attitude is on the menu at Gringos Mexican Cantina on Charles Street in Putney. This hip taqueria, complete with a mural of a graffiti artist spray painting the wall, mixes wooden slats, polished concrete floors and glowing hanging globes, to set a chilled out ambiance ideal for sharing a cold cerveza with friends.
Drop by and sip on a spicy chilli infused margarita, while delving into grilled steak quesadillas with melted cheese, pico and hot salsa; or a prawn Mexican salad of lettuce, pico salsa, guacamole, tortilla strips, feta and cheddar with lemon dressing. Burger lovers can wrap their hands around a cheeseburger with pickles, fajita vegetables, hot sauce and lettuce on a milk bun, with a side of corn chips and house spicy jalapeno salsa.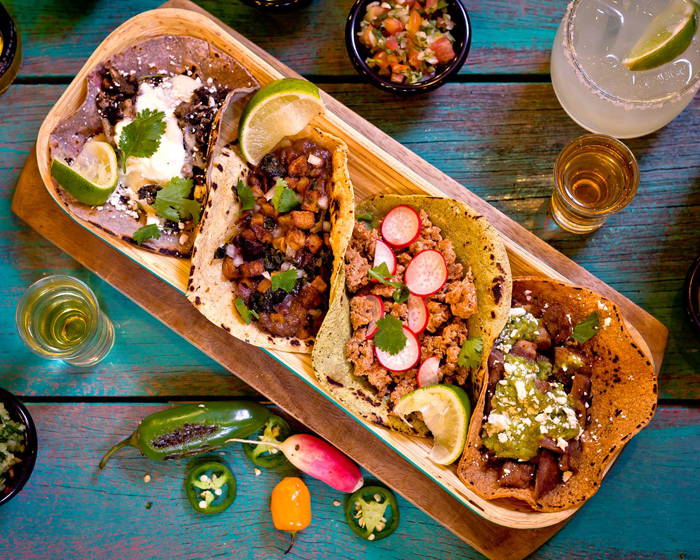 Taking inspiration from popular culture, El Gusano Taqueria on Collaroy Street is where locals and visitors alike experience the true taste of tacos. Setting a punchy vibe with posters and the iconic masked figures of Lucha Libre adorning the walls, accented by the colours of colonial style courtyards, diners are transported to any Mexican neighbourhood. On balmy days, dine alfresco at rustic tables with a Corona in hand, and start a sensory adventure with a prawn and snapper ceviche tostada, smothered in chipotle mayo; or blue corn tlacoyos with refried beans, Oaxacan cheese and avocado.
When it's time for tacos, try the slow cooked beef tongue with guacamole, or slow cooked goat; then dive into a divine dessert of Chile chocomole – spicy chocolate mousse, served with chocolate corn chips and salsa. El Gusano also has limited time stuff like taquitos, a rolled tortilla with taco filling, fried and garnished with salad and salsa; along with Mexica doughnuts, coated in cinnamon sugar and served with cajeta sauce.
SA Siesta:
Vibrant hotspot Loco Mexican is the place to see and be seen in Victor Harbour. Located on the upstairs level of the Harbour Mall, Loco radiates an energetic vibe from a wallpaper backdrop of orange and red apartment buildings and burnt orange tables adding character; while a window gives a sneak peek into kitchen creations. Say hola to housemade smoked meats, pickled vegetables, spice mixes and sauces; or snack on street food such as Mexican corn with chipotle, queso fresco and lime, while sipping a Black Sand cocktail of tequila, watermelon, mint and a black salt rim.
Hungry gringos may opt for a plate of six-hour smoked and braised brisket, stolen potatoes, pickled radish slaw and green mojo; or chow down on chipotle braised pork belly, smoked chorizo croquettes, jalapeno crema, chilli caramel, lime and crispy onion. Don't leave without trying a side of dirty fries, drunken beans, sour cream, crispy bacon, guacamole and Pico de Gallo.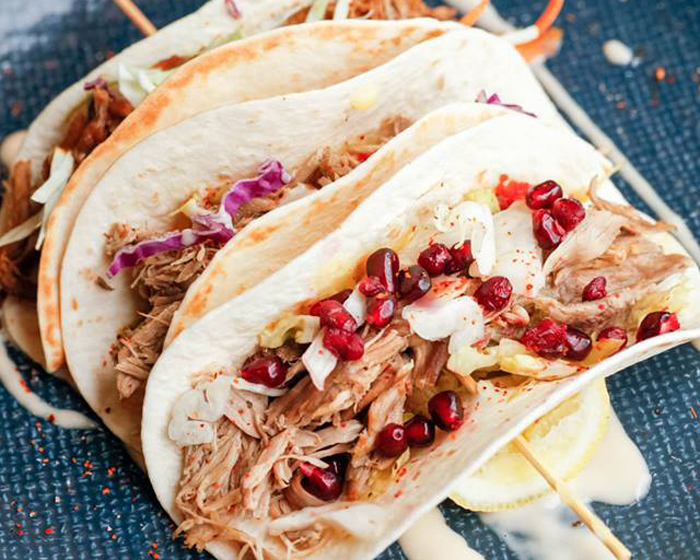 Blue Cactus Mexican Diner on Henley Beach Road in Mile End is the hot new spot to meet amigos and share plates, cooked with passion using fresh, locally sourced ingredients. Mi casa su casa at this contemporary diner with a funky interior of orange and turquoise walls, monochromatic furniture and a graffiti-style wall mural, ideal for chilling out with an artisan tequila and pulled pork nachos with salsa verde and sour cream.
Seafood lovers will salivate over tacos with prawns, calamari, fish, green tomatoes, salsa, habanero, roasted peppers and spring onion; or pick up a slice of Mexicana pizza, topped with pulled pork, chicken, red onion, frijoles, capsicum, dessert pepper sauce and cheese. Sweeten the ending with coffee pecan torte cheesecake, caramel sauce, nuts and candied fruits; or perhaps churros con chocolate and mango sorbet.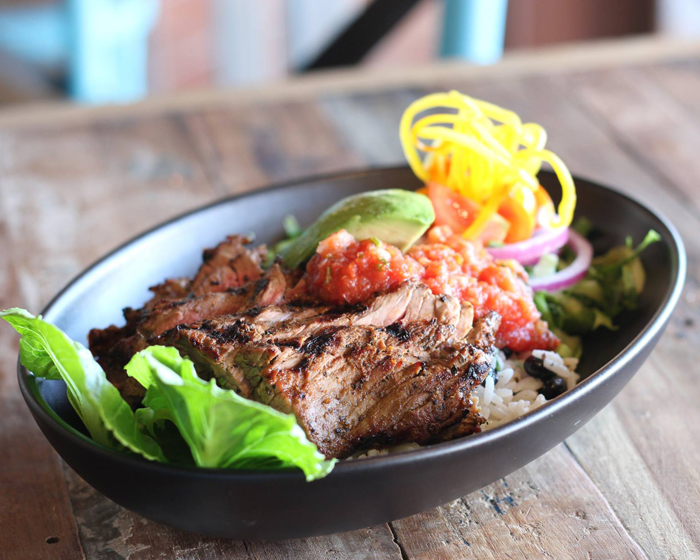 Qld Quesadilla:
Be transported to a world of wagon wheels, spurs, cacti and brass lanterns at Cactus Jack's Bar & Grill on Palmer Street in Townsville. Serving Tex Mex fare and margaritas for more than 30 years, Jack's also has venues in Cannon Park and Redcliffe, where diners can tuck into original sweet and sticky buffalo wings, dusted in fiery fuego spices and marinated with special Texas barbeque sauce. Feel a rush of heat from each bite of crisp pastry jalapeno poppers topped with cheddar, Parmesan and cream cheese, served with roasted ranchero salsa, best cooled down with a cold brew.
For the main event, don't go past house specialty Aztec pie – achiote shredded chicken, corn and spring onions in a creamy sauce, layered between flour tortillas, topped with enchilada sauce and cheese, then oven baked. Those needing more heat can try Jack's traditional beef and bean chilli, spiced up with extra hot suicidal salsa, rice, lettuce, Pico de Gallo, cheese, sour cream and corn chips… holey mole that's good.
Have we got you fired up for Mex, but there isn't a restaurant near you? Click here for more Mexican dining destinations around the country.