"Who is the happier man, he who has braved the storm of life or he who has stayed securely on shore and merely existed? ~~ Hunter S. Thompson
Reminiscent of the excitement one would find themselves in if they were transported to the glamour of the 20's, Sepia restaurant has been exciting crowds of foodies since 2009 with the intention to forever be a timeless restaurant.
Martin Benn, Gourmet Traveller's Chef of the year for 2015 had humble beginnings, but then again so do most of us. What separates such humble beginnings from being a cliché is the way Martin endeavours to not rely but build upon these beginnings. Throughout the introduction of his new book, "Sepia," Martin explains how that one lesson alone could not attribute to where he is now, but all lessons as a whole had shaped him into the Chef he is today.
"What makes our personal story is created by much more than our hunger and will. What inspires us, what drives us ... helps define the footprint we leave behind."
~~Martin Benn, Sepia p. 2.
Instead of learning what to do, Martin learnt what not to do, whether it was how he spoke in the kitchen or how he cooked in the kitchen. Learning what not to do refined his understanding of getting things right.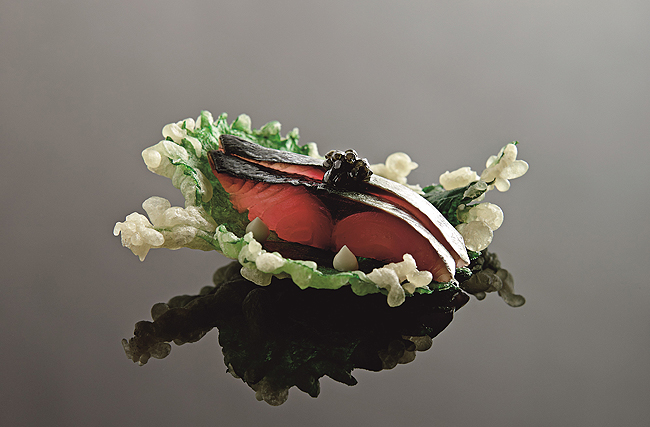 Oba Leaf, Shashimi Mackerel, Pancetta & Tuzu Kosho Cream.
Sepia: The Cuisine of Martin Benn is as much a masterpiece as his restaurant. His recipes are presented in five different menus, with some covering up to fourteen dishes at a time. He expresses with great enthusiasm, that the menus are meant to inspire not confine, so feel free to experiment with them.
For most, the book may just end up on the coffee table inspiring your guests instead of you yourself, but we implore you to take a moment and immerse yourself in one recipe that makes your eyebrows raise and give it a go.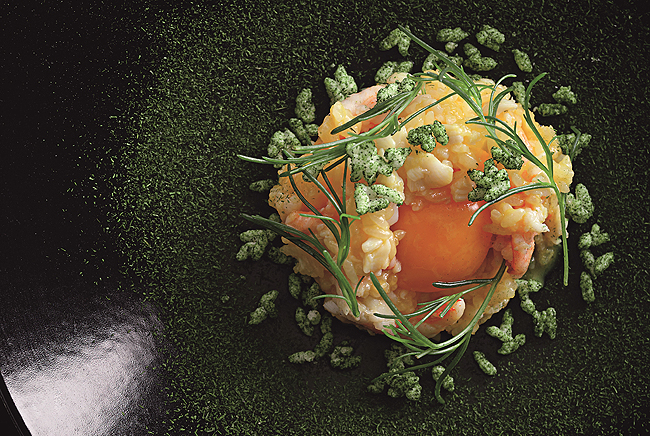 Spanner Crab and Egg Yolk Rice.
The few words we have to give you are inadequate in explaining the wonderful experience it was to read and explore Sepia: The Cuisine of Martin Benn.
Recipes and Images from Sepia: The Cuisine of Martin Benn (Murdoch Books) RRP $75. Available Now.