By Leigh O'Connor.
Some of our most cherished Christmas memories happen around the family dinner table enjoying everyone's company and favourite festive recipes. This year, we want you to relive and reinvent Christmases past, present and future with a stunning native centrepiece, sure to set the mood for celebrating in style.
Using Australian natives and a little imagination, former Wellington florist and now Gold Coast resident Kerry Gosling designed this masterpiece for AGFG as an example of what can be achieved in a short amount of time and not a lot of cash.
With more than 15 years' experience, she has some helpful tips for those who want to create a table centrepiece that will be the talking point of Christmas 2019.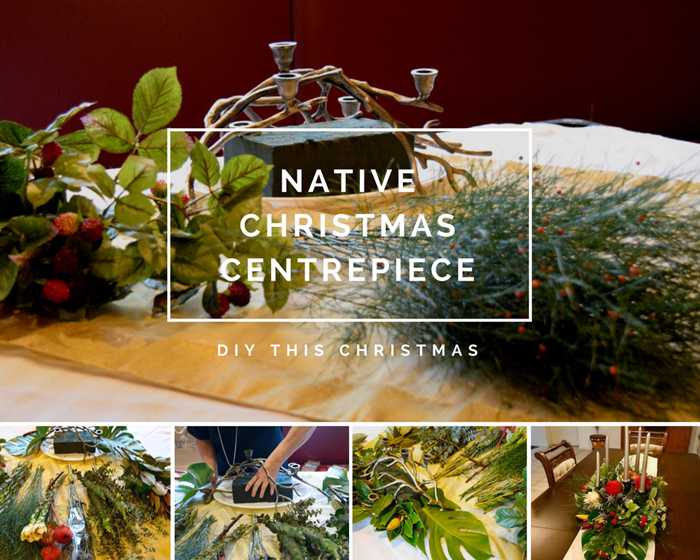 Start with a candelabra of choice, ours is a pewter, silver colour with five candle holders and curved to give height to the creation. You will also need an oasis block, which can be bought from most craft stores or your local florist, soaked overnight in water.
Place the oasis on a large, oval plastic plate so the centrepiece can be watered to keep it fresh as long as possible. With the plants we have used and a little tender loving care, this bouquet should last a good three weeks, leaving plenty of time to prepare in advance for the big day.
A good pair of garden shears is a necessity, as the stems need to be cut on an angle before embedding them into the oasis, making them drink again. Begin by covering the base of the candelabra and plate with monstera leaves (commonly called a fruit salad plant), which can be found in gardens in tropical areas of Australia.
Use these vibrant green leaves at each end of the centrepiece, adding length and maximum coverage. Then fill in around the sides with magnolia leaves, which - either fresh or dried - are popular in bouquets and large arrangements.
"Always start with a good base of greenery," Kerry says.
"From there you can play with textures and height, using other components. Never throw anything out, even single leaves can be worked into the design. Get the base right and nothing can go wrong, that's the secret to a great centrepiece."
Next comes the tiki, with its wispy, fern-like fronds and bright orange berries, it adds an ethereal touch to the design.
"The tiki gives movement to the arrangement, as it floats amongst the other components. Balance the accents you use – in many cases, less is more," Kerry explains.
We used blue-grey eucalyptus gum leaf sprays for extra texture - their unique colour also complements the silver of the candles, used as a finishing touch. These leaves are very fragrant and will fill the house with a natural scent in the Christmas lead-up.
Sea holly flowers are striking plants that are suitable for most Australian gardens and highly resistant to drought conditions. The steel blue thistle-like blooms are great as freshly cut flowers, but also can be dried and used throughout the year. As an accent point in our creation, the purple-blue hue and spiky petals add colour and height.
Banksias are Australian wildflowers and popular garden plants, easily recognised by their characteristic flower spikes and fruiting 'cones.' Heavy producers of nectar, they are a vital part of the food chain in our native bush, providing a food source for all sorts of animals such as birds, bats, rats and possums.
They are also a very Christmassy flower, with red and orange colours ideal for festive decorations. Strip back all the leaves from the stems before pushing them into the oasis, to ensure they last as long as possible. We used three cones as the central focus and statement blooms of the arrangement.
Leucadendrons provide year-round colour in the garden and are easily sourced around the country. Kerry chose a pale, buttery yellow to lighten and brighten our design, and as the last major accent.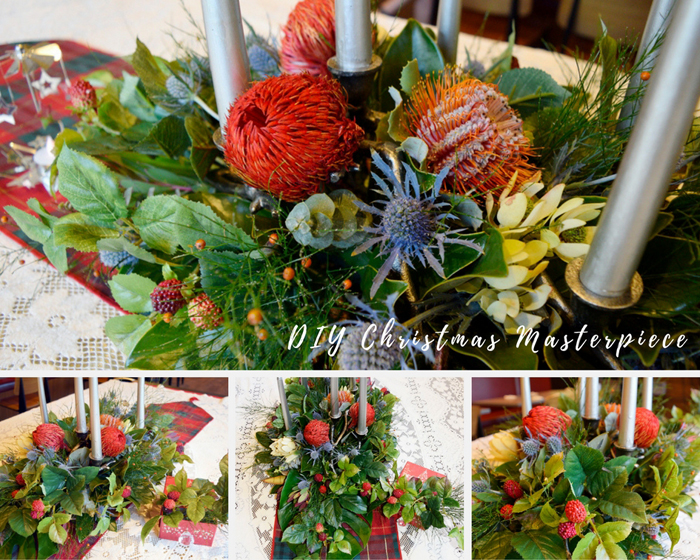 To finish, we added a spray of artificial leaves and berries for a real festive feel. Fresh berries can also be used but if unavailable, go with a plastic option.
The result… a stunning centrepiece that sets the mood for a fantastic, fun-filled day of celebration and cheer. Merry Christmas everyone!
Note: our centrepiece lasted for a month, with watering every couple of days. Your centrepiece can be made well in advance and will last past Christmas Day!