Mmmm…brownies - that rich, decadent, purely hedonistic blend of cake and cookie that always has you craving more!
There are a multitude of different versions of how to make these sinfully delicious treats, but one thing they all have in common is so much chocolate they should be illegal.
Come Tuesday, December 8 we can all feel guilt-less as we tuck into our favourite to celebrate National Brownie Day. Did you know the first brownies ever created were for an American fair luncheon in the late 1800s and were covered in an apricot glaze, topped with walnuts?
Here are five more fun facts to turn your frownie, upside-downy:
•Traditional brownies only have five ingredients: butter, sugar, chocolate, eggs and flour.
•There is a mythical creature called a 'brownie' – they are small, good-natured elves who secretly help out and do good deeds at night.
•The world's biggest brownie weighed 1360 kg and was made at the Hudson Valley Chocolate Festival in New York in 2001.
•The most expensive chocolate brownie will set you back $US15,000 and can be found on the Crystal Menu of Brulee in Atlantic City.
•The most popular brownie recipe has walnuts.
The best way to celebrate National Brownie Day is to hunker down over a slice and a cup of coffee at your favourite café – here are six of our picks on where to go:
Stroll up from the golden sands of Kingscliff Beach after a morning walk and indulge the senses with a steaming cup of coffee and decadent brownie at
Shiny Brew
on Cylinders Drive. This locally-loved café has a warm and fuzzy feeling, where polished concrete floors, multi-coloured chairs and wall art, set the scene for a catch up with friends and family to celebrate all things brownie.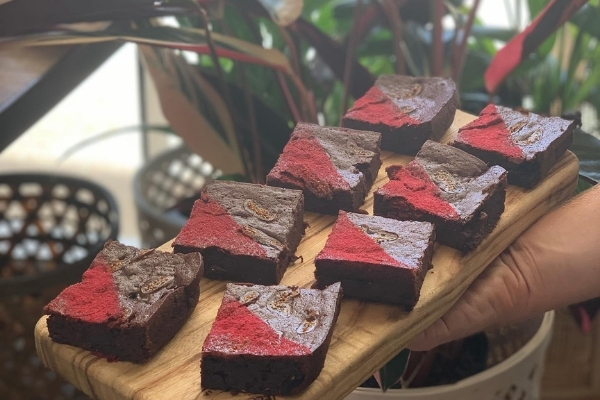 Think dairy-free brownies at Shine Brew.
With more than one flavour and dairy-free available, everything is shiny in every way as you delve into that gooey chocolatey goodness…while those with more ravenous appetites can opt for choices like a spicy cheeseburger, tomato, pickles, spicy mayo and lettuce, with a side of hand-cut chips.
Extract yourself from the daily grind and unwind over a gluten-free dark chocolate brownie at
Extraction Artisan Coffee
on Pacific Highway in Slacks Creek. It's all about the coffee at this eatery, starting with the bean, the brew, the pour and the love and care shown to each cup; settle in with your choice on the colourful deck, where wall murals go hand-in-hand with a wall of trailing greenery.
Indoors expect bright yellow walls, rustic wooden table settings and a menu completely made from scratch; from smashed avocado with lemon myrtle bread to almond chocolate pancakes, toasted marshmallows, chocolate ice cream and caramel sauce.
Bake, Table & Tea
on George Street in Bathurst has the ultimate chocolate indulgence for National Brownie Day – housemade double choc and walnut! This is the brownie for when only chocolate can solve your problems and bring you the happiness you deserve – best teamed with one of 33 specialty house teas on offer, or your favourite cup of Joe.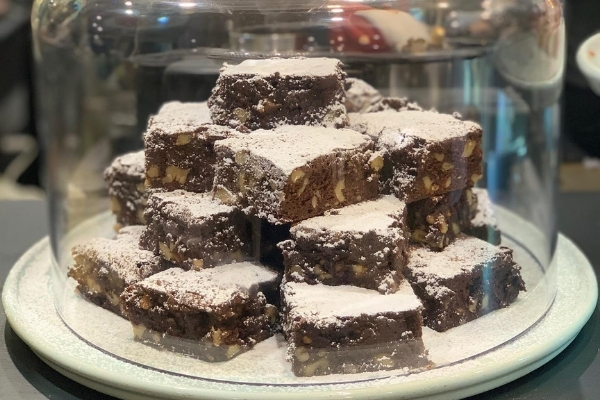 Bake, Table & Tea double choc and walnut brownies.
Those looking for all things baking and home décor can admire stunning custom Bramble Co furniture, walls adorned with clocks and artwork along with beautiful dinner settings; before heading to the tea gallery and café to chill out and enjoy a selection of gluten-free and paleo options, as well as freshly baked scones, vanilla cream and strawberry jam.
Seriously chewy deliciousness awaits at
JB's Café Ocean Grove
on Sunset Strip to help you celebrate the humble brownie. Not only is JB's chocolate walnut brownie to die for, it is also made with gluten-free flour; along with other housemade goodies, vegetarian options, burgers and old school milk bar staples.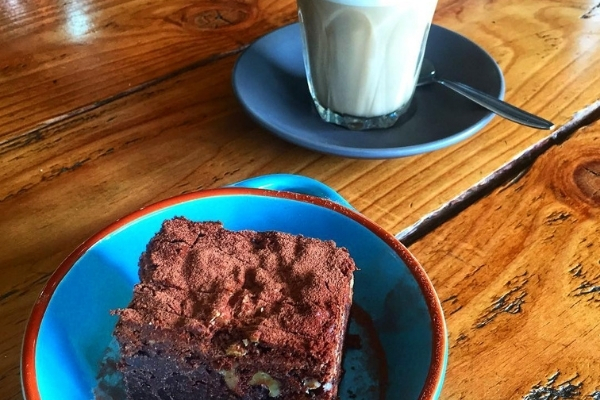 This one's even gluten-free – JB's choc walnut brownie.
This well-loved Ocean Grove local café presents a rustic vibe of painted concrete walls, wooden bench tables and black stools to chill out on, while chowing down on breaky tempters such as hash browns, cheese, lettuce, avocado, relish and mayo; or soy milk pancakes with banana and butterscotch sauce.
It's always coffee and brownie o'clock at
Platform T8
on Lord Sheffield Court in Penrith. Named after its location next to the railway station, this linger-worthy local café rocks an industrial design with warm timbers, cool metals and polished concrete finishes making it the ideal spot for a caffeine fix and indulgence to celebrate National Brownie Day.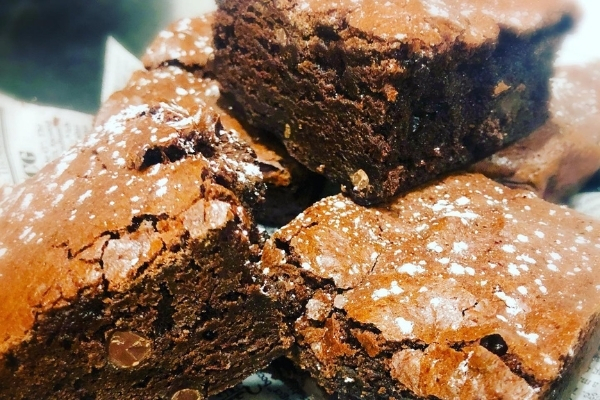 Pull up to the station for a brownie at Platform T8.
Pull up to the platform and wrap your hands arounds a breaky burger of bacon, fried egg, baby spinach and smokey tomato relish; or stop by for lunch and delve into a T8 grilled chicken salad, with cherry tomato, rocket, Spanish onion, roasted sweet potato, feta and balsamic vinaigrette.
Boasting an in-house bakery, the aroma of sourdough and sweet treats entices locals and visitors through the doors of
Butcher Baker
on Byron Street in Bangalow. Don't let the gluten-free tag fool you, this café's delicious gooey chocolate brownies are the bomb and sure to fly out the door every door, let alone on National Brownie Day.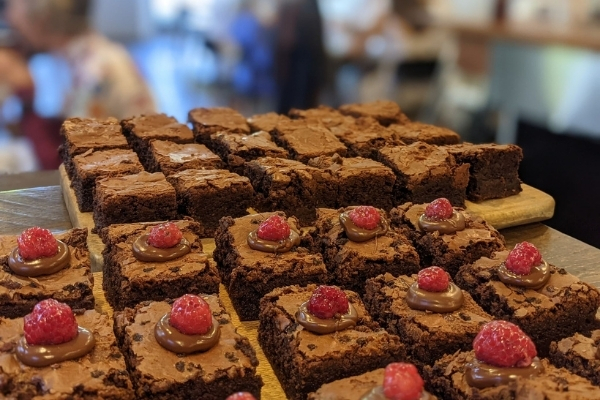 Deliciously gooey brownies from Butcher, Baker.

Inspired by age-old artisan trades, Butcher Baker brings honest food and good times to town from a heritage-style building, boasting embossed plaster ceilings and the warm glow of festoon lights as you check out a daily breakfast and lunch menu, best enjoyed with a craft beer.
Still dreaming of a brownie near you…click
here
for more cafes.