By Leigh O'Connor.
"What unifies all petiscos is that they are meant for sharing, for eating slowly, with good friends and good drink." – Rebecca Seal.
Full of history and bursting with character, Portugal's capital Lisbon is one of the oldest cities in Europe, where pale cobbled pavements have been worn smooth by centuries of foot traffic and the food is as diverse as the surroundings.
Now one of the most travelled to food destinations around the globe, this modern city is changing fast but one thing remains constant - sharing a meal is the heart of life in Lisbon.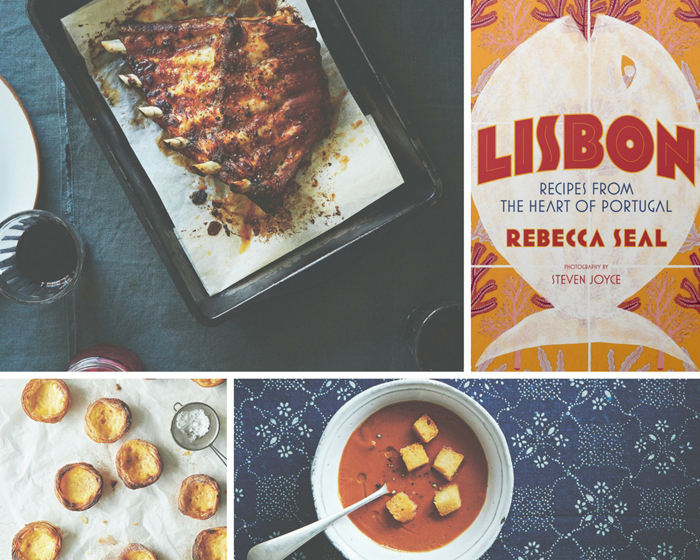 UK food and drink writer Rebecca Seal showcases her favourite dishes from the city in 'Lisbon – Recipes from the Heart of Portugal,' from tapas-like petiscos to roasted octopus and milk tarts. Meeting cooks and Chefs along the way, Rebecca's culinary journey is captured with stunning location and food photography by Steven Joyce.
Surrounded by the wide River Tagus and spanning seven hills, Lisbon is a maze of pastel coloured buildings and terracotta roofs, with white domes and towers dotted in between. Add in sparkling blue waters and the city takes on a magical quality all its own, where in crowded bars happy conversations echo as diners enjoy sharing food and life on a daily basis.
Portugal's cuisine has been determined and added to by a history of colonisation and trade. The Moors brought figs, almonds and coffee to its shores, while explorers returned from South America with hot chilli peppers, cinnamon from Sri Lanka and sweet oranges from India.
Salt cod, popular in many Portuguese dishes, comes from cold waters of the North Atlantic not the seas surrounding Lisbon, but as a result of early international trade the fish has become a major player in local fare.
Find it in offerings such as salt cod fritters, which are crispy on the outside and hot and fluffy within, oozing with distinctive Portuguese flavours. Served with a tangy tomato and oregano salad to offset the richness, these fritters can be found all around Lisbon as part of petisco share menus.
The stalls in Lisbon's busy market places overflow with fresh herbs and seasonal vegetables, from huge bunches of radishes to dozens of varieties of cabbage. The Portuguese love soups and many are made from these vegetables, especially the famous gazpacho, a cooling soup perfect for a hot Summer's day.
This chilled tomato concoction sometimes includes a slice of stale bread, soaked in water, added to the vegetables before blitzing to give it a hearty, creamy texture.
On a warm evening, every city window is open and restaurant crowds spill out onto the streets, with the sound of laughter mingling with the aromas of cooking. Meat is just as important as fish in the Portuguese diet and the heady scent of marinated meat sizzling on a hot grill wafts from homes and cafes alike.
Try pork ribs with red onion pickle, which after a long marinade and gentle cook are sweet, smoky and sticky, ideally teamed with sharp, salty pickles.
Never far from a sweet treat, Lisbonites love their desserts. The long tradition of sweets hails from early religious orders using egg whites to starch their clothing and clarify alcoholic drinks – leaving an excess of yolks.
Monks and nuns turned these leftovers into divine bites like custard tarts and they have become synonymous with the taste of Portugal, where locals and tourists alike sink their teeth into wobbly custard, encased in buttery pastry.
Rebecca's celebration of Portuguese cuisine and its history is not only a fascinating read, but also an insight into life in a vibrant city of almost three million people. With this book, you will be able to recreate Lisbon's food and culture without leaving your kitchen.
Recipes and images from Lisbon by Rebecca Seal, with photography by Steven Joyce, published by Hardie Grant Books RRP $45.