By Deb Carr from Sydney Chic.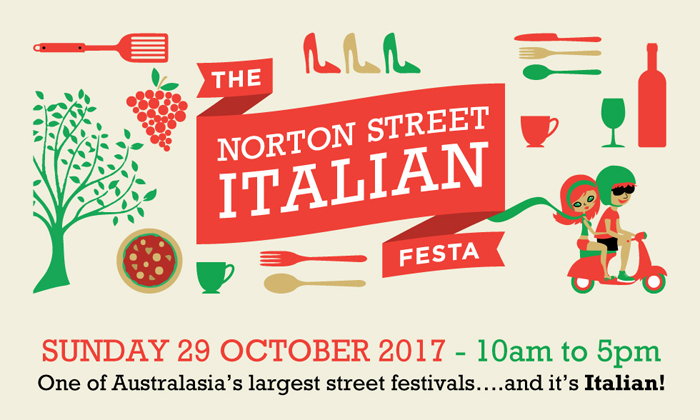 Sydney's little Italy, Leichhardt, will be buzzing with locals, foodies and everything Italian, when Festa comes alive on the 29th of October. Now in its 31st year, Norton Street Italian Festa will be a place to gather for those who love Italian food.
Italian Festa is so popular that more than 140,000 people visit each year.
Held in Norton Street, Leichhardt, there is an abundance of market stalls, great food and wine and a long communal table for family and friends to gather and enjoy delicious meals.
The children will never get bored as the day is packed full of fun activities and entertainment. For the 'big kids,' Festa will showcase Sydney's largest collection of Italian cars including Alfa Romeo, Lamborghini and Ferrari.
Other entertainment on offer: carnival rides, jumping castles, puppet shows, roving minstrels and stilt walkers, animal farms and face painting, bands and dancing competitions. There is plenty to do for everyone.
Foodies will be able to watch cooking demonstrations by Italian Chefs and sample some of the dishes.
AGFG is the official, online national media partner, and is proud to be showcasing the festival to the nation. It's one of Australia's largest street festivals, and they are committed to help it reach its full potential. AGFG has been supporting restaurants and tourism business for over 40 years and this partnership allows them to further help the industry by sharing the message to the community.
I suggest that attendees download the Festival App, which is available in the App Store and on Google Play.
The app provides the latest news and updates regarding the Festival. By downloading the app, you can find out all the information on the Festa stalls, where to grab great food and where to experience the rich culture on display, as well as all the activities, including competitions and giveaways.
Stay up to date with the celebrity Chefs and cooking displays. The app will have everything you will need to make Norton Street Italian Festa great, so download it now.
The good news! Norton Street Italian Festa is free! Parking can be tricky so maybe consider arriving by public transport: https://transportnsw.info
Socials for Norton Street Italian Festa:
Website: www.nortonstreetfesta.com.au
Facebook: www.facebook.com/NortonStreetItalianFesta
Instagram: www.instagram.com/nortonstitalianfesta
Twitter: www.twitter.com/italianfesta