By Leigh O'Connor.
A balanced diet is chocolate in both hands…it's cheaper than therapy and you don't need an appointment.
I could give up chocolate, but I'm not a quitter! However, there are some downsides – chocolate makes your clothes shrink and sometimes you have to deal with nuts.
Eating chocolate is like a hug from the inside – here are five recipes we know will put a smile on your face and inches on your hips:
Classic chocolate mousse can be tricky…it requires a careful series of properly executed steps, with ingredients at certain temperatures, egg yolks tempered, double boilers employed and egg whites whipped to peak perfection.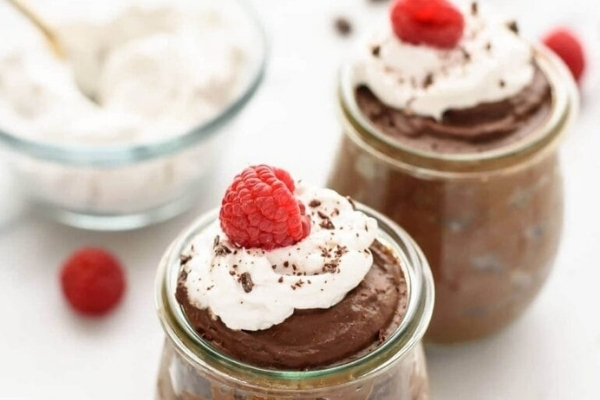 Velvety avocado chocolate mousse by Well Plated by Erin.
This
avocado chocolate mousse
by Erin Clarke of
Well Plated by Erin
is a completely different tale. Not only does this velvety chocolate dessert taste utterly decadent, it's made of wholesome, natural ingredients and is dead easy to make. Creamy, rich raw chocolate mousse made with avocado that is also dairy-free, gluten-free, Paleo, refined sugar-free and vegan – a super simple, yet impressive dish.
Proclaimed by MasterChef Australia as 'the Queen of Chocolate',
Kirsten Tibballs
is one of this country's most loved and celebrated pastry Chefs and chocolatiers.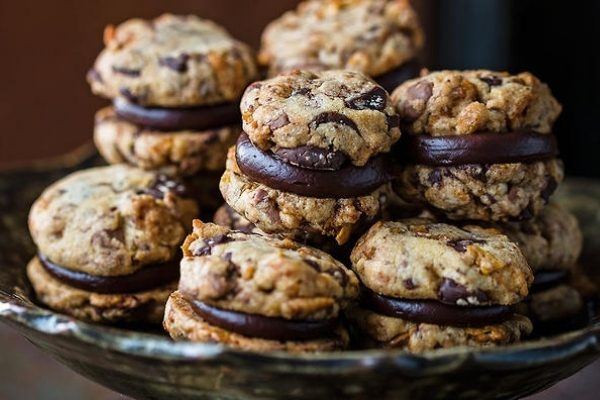 Decadent chocolate biscuits by Queen Kirsten Tibballs.
"The name of this recipe
decadent chocolate biscuits
really says it all – these are decadent little morsels. These biscuits are almost too easy to eat, but they can also be made in advance and stored for up to two weeks, before you add the ganache," she says.
Your family and friends are sure to be impressed with these cornflake chocolate biscuits sandwiches, filled with chocolate ganache – ideal for a morning tea catch-up with friends, or a special treat at a birthday party.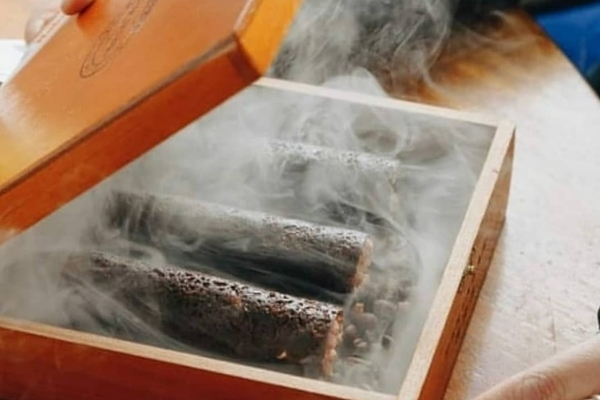 Not for the faint-hearted – black sesame chocolate cigars.
Cigars made from dark cocoa powder, golden syrup, gluten-free flour and black sesame are rolled and filled with a delicate mousse and bite-sized banana pieces. If you are not sure the cigar mixture is cooked enough, let it cool completely on the bench; it should be super crunchy, if not it needs more time.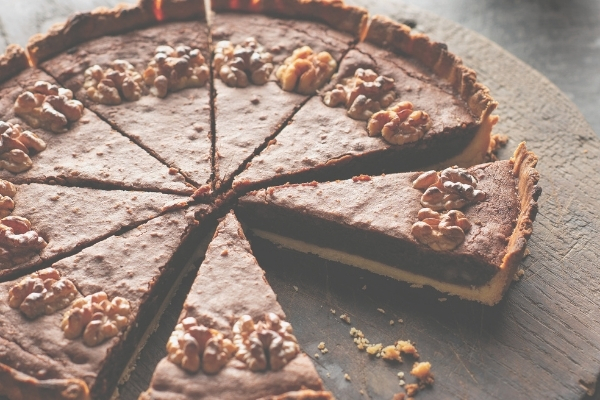 Walnut, chocolate and whisky tart from Fat Pig Farm.
Try this
walnut, chocolate and whisky tart
as a sweet finish to a family dinner, best enjoyed at room temperature with a drool of lightly whipped cream. A favourite with
Fat Pig Farm
Chef Matthew Evans, just a handful of walnuts a day will provide plant protein, fibre and antioxidants, along with vitamins and minerals like folate, magnesium, potassium, manganese and copper.
"This lovely nutty tart uses a quality pastry that is almost like shortbread," Matthew explains. "I actually press it into the tin if it's too hard to work, rather than try to roll it."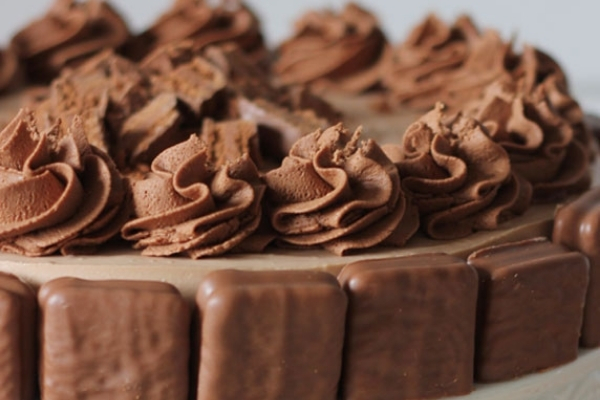 What can we say? Mmmm…Tim Tam cheesecake.
Let's be honest, who doesn't love sitting down with a Tim Tam or three every once in a while. This recipe for
Tim Tam cheesecake
has a crisp base made from crushed Tim Tam salted caramel biscuits, topped with layers of creamy salted caramel and milk chocolate cheesecake, surrounded by more biscuits and finished with swirls of whipped ganache and a sprinkling of more crushed biscuits.
Sound divine? While there are quite a few steps, this is actually quite a simple recipe – you just need some time up your sleeve to let it set – believe us, the chocoholics in your family will thank you.
Remember, nine out of 10 people like chocolate – the 10th person always lies! For more chocolate fixes, click
here
.