By Leigh O'Connor.
A well-balanced diet is a taco in each hand…so make sure your hands are full come Sunday, October 4 as we celebrate all things Mexican, on National Taco Day.
This is nacho average day – it is Juan out of the ordinary, as taco lovers wrap their tortillas around beef, pork, chicken, or seafood, to create a South of the Border version of a sandwich.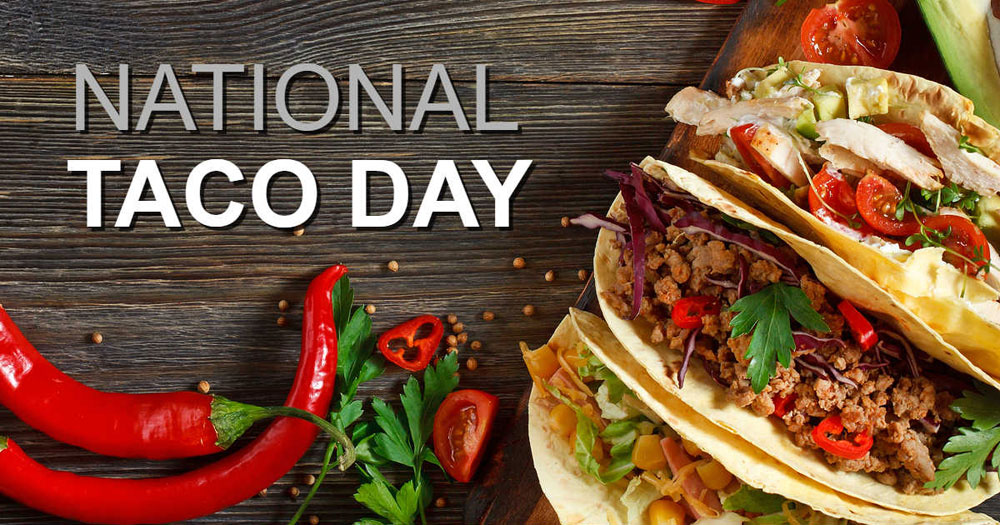 Did you know last year Americans ate more than 4.5 billion tacos? That's more than 790,000 km stacked end to end and would take you to the moon and back.
Here are five fun facts and jokes about tacos:
•The word taco originates from Mexican silver mines in the 18th Century and refers to small explosives, workers used to extract ore.
When you think about it, a chicken taquito with good hot sauce is really like a stick of dynamite!
•Taco Bell pushed the widespread fame of this Mexican icon in the US – serving more than 2 billion customers at 5800 restaurants annually.
I eat tacos over a tortilla, so when the stuff falls out – BOOM, I have another taco.
•There are many traditional varieties of tacos, including tacos de cabeza, which are made with the brain, tongue, eyes and lips of a cow.
It's nacho business, I don't wanna taco bout it, just guac away.
•Ensenada in Baja is said to be the birth place of the fish taco, the best place to sample them is at any of the small food stands that line the streets of the city's fish market.
If you walked a mile in my shoes, you'd end up at a taqueria.
•One of the first taco trucks is believed to have started in New York in 1966, when two housewives operated a truck, that didn't even have a full kitchen.
I hate tacos, said no Juan ever!
Inspired by Mexican and Peruvian cuisine,
Calle Rey
on King Street in Newtown awaits those searching for a taco fix. Grab a Margarita to whet the whistle from the Diablo Pisco bar and settle in beside the vibrant Day of the Dead wall mural, among potted cacti and pendent globes, to enjoy a seven-course set menu during October to celebrate National Taco Day.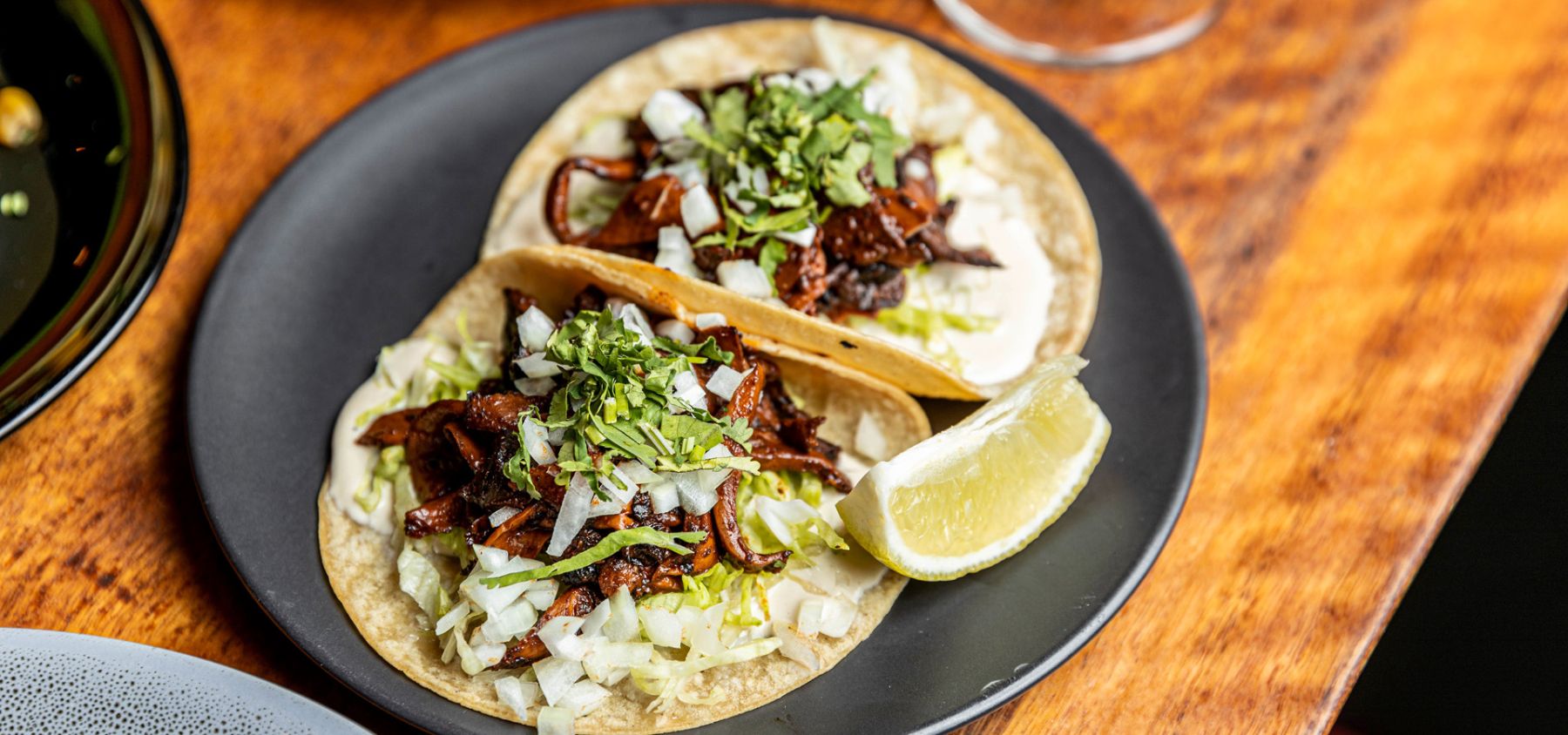 Calle Rey's mushroom adobo taco.
Expect starters like crispy prawns and calamari, with sweet chipotle and garlic confit aioli; before wrapping your hands around taco chorizo – salsa verde, refrito beans pure, sunflower seeds and quinoa chorizo, habanero, pico de gallo and buttered corn.
With selected drink specials every day during Happy Hour,
Lime Mexican Nelson Bay
on Teramby Street is the ideal spot to say Arriba to tacos and tequila on National Taco Day. This fun and funky venue rocks vibrant graffiti-style artwork and skulls, where donning a sombrero and settling in with a cheeky cocktail is the name of the game.
Grab some gourmet nachos with pulled pork, queso fresco, sour cream, jalapenos, pineapple and chilli relish; then delve into beer-battered fish tacos, housemade aioli and mixed slaw, or braised lamb, mint mayo, salsa and black bean quinoa.
Si Senorita's
bottomless lunch club launches on Sunday, October 4 with a set menu and bottomless cocktails. This Forster cantina on Wharf Street boasts a spectacular location for relaxed coastal dining overlooking Wallis Lake, making it the ideal haven for a two-hour Sunday sesh, with entrees like crispy Cuban chicken tostadas, lettuce, caramelised pineapple salsa and coriander crema.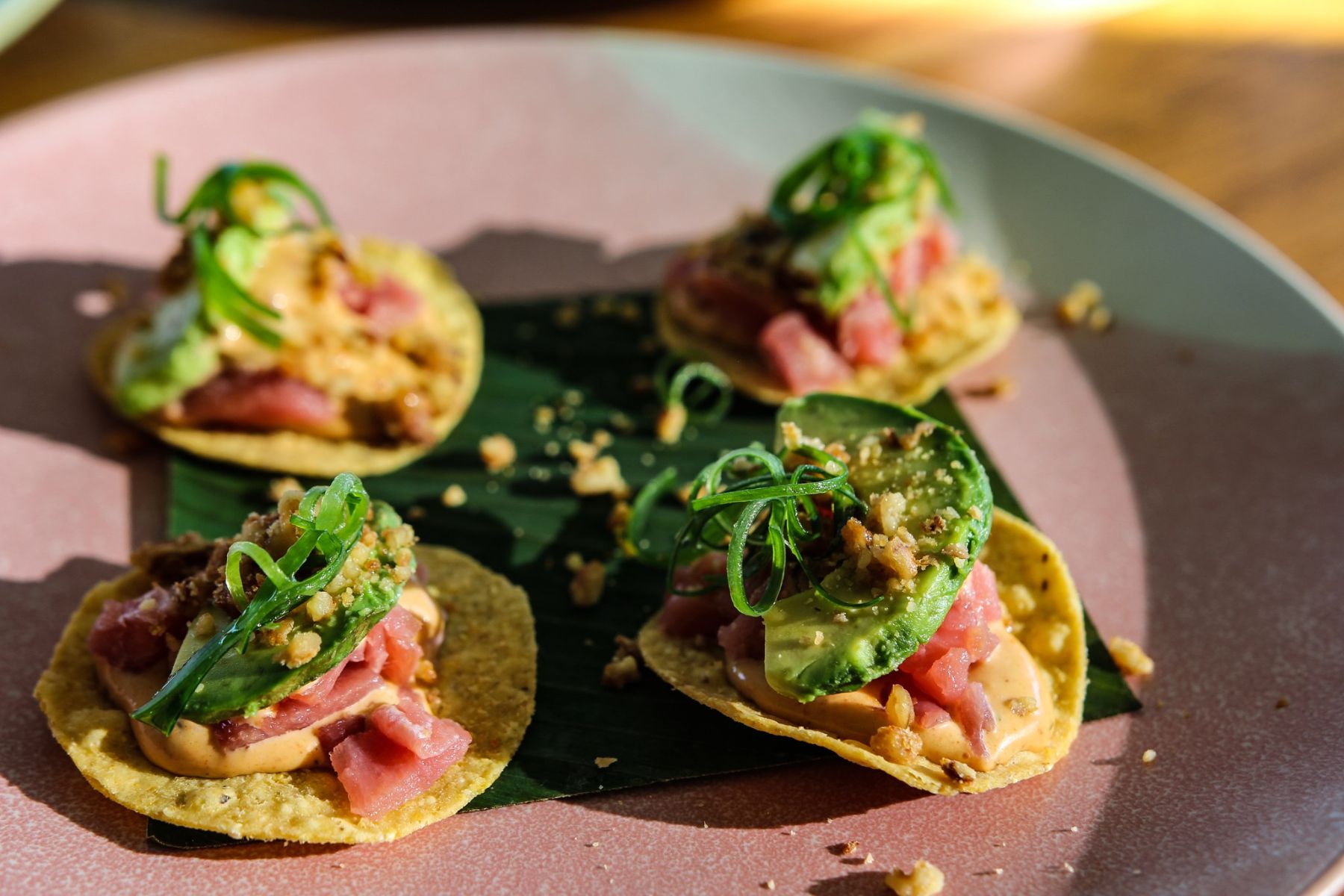 Si Senorita's tuna tostadas.
Pulled pork carnitas, salsa roja, red cabbage beans and rice queso fresco entice for a main, with a side of crispy papas and smoked paprika salt; finishing decadently with lime curd, crumbled meringue, mango sorbet and sweet tostada wafers.
Grab your sombrero and mosey on into
Juan Fifty Kitchen and Bar
on Alexandra Parade in Alexandra Headland for beef adobe tacos, with mole negro de Oaxaca, roasted corn, coriander and pickled red onion. Vibrantly colourful surrounds await, where splashes of green, yellow, pink and blue blend with tiled floors and shelves groaning with hot sauces and spirits.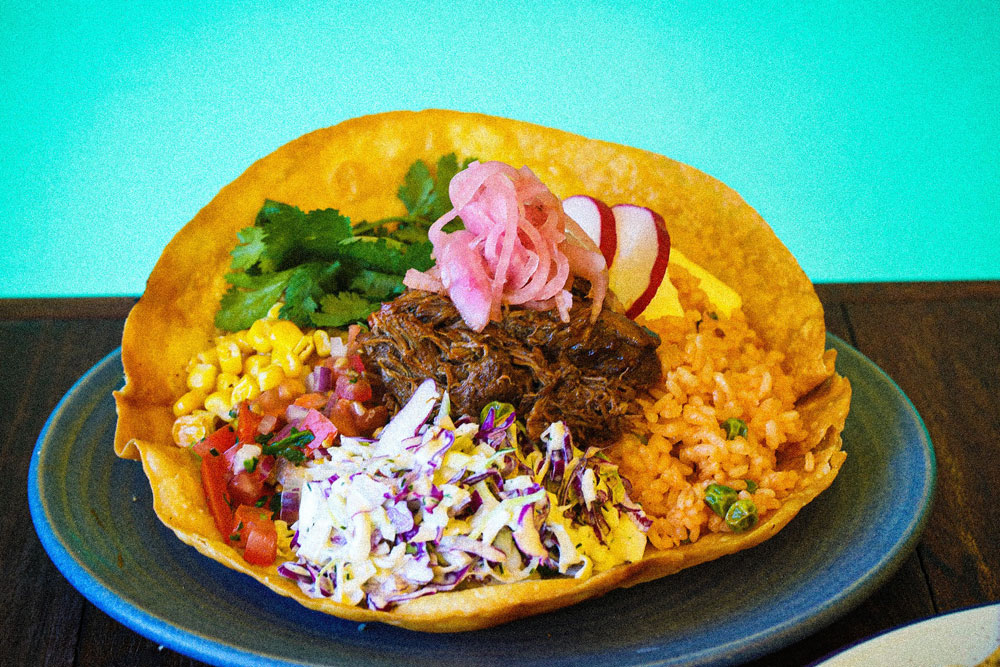 Juan Fifty pork belly taco bowl.
Soak up the sun alfresco sipping a watermelon and mint Mojito, while in the other hand is a taco crammed with char-grilled citrus and chilli marinated octopus, jalapeno pea puree, radish and fresh herbs.
Offering a more formal alternative to Mexican food,
3Gringos
restaurant has been a hit for more than a decade, tucked away in Burton Street Mall in Vincentia. Serving vibrant cuisine in an elegant atmosphere, expect a suave ambience of earthy tones, designer lampshades and tables neatly set for upmarket dining, from a menu fusing tantalising flavours with share plate options.
Celebrate National Taco Day in style with starters of smoked chilli prawns and aioli, or pan-fried calamari, tossed in salsa verde and served with rice; before taco choices like pulled pork, cucumber, pineapple, aioli, cilantro and creamed avocado, or fish, cucumber, chorizo, pico de gallo and lime. Finish indulgently with coffee and Kahlua panna cotta, with chocolate almond crumb.
Get the best of both worlds with
Pablo's Kitchen's
nacho tacos! From a hole-in-the-wall eatery in Darlinghurst, Pablo's is now a large venue on Norton Street in Leichhardt in inviting surrounds of neon lighting, shabby chic brick and recycled timber walls and Mexican accents, best suited to a cucina dishing up sophisticated South American fare.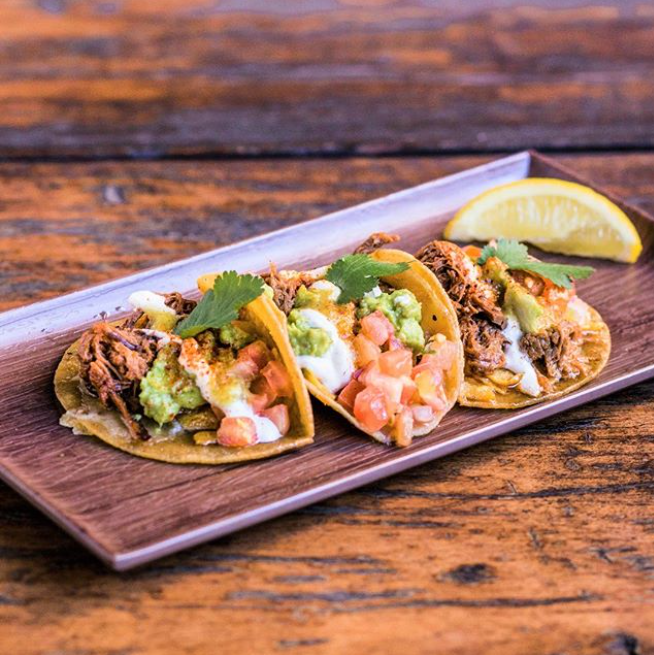 Pablo's Kitchen nacho tacos.
Think barbeque chipotle chicken tacos, guacamole, sour cream, rice and pico de gallo, washed down with a dirty double shot Margarita; or say arriba to beef brisket empanadas with onion and potato, served with Aji salsa. Healthy options include dishes like a gym junkie chicken bowl of brown rice, beans, lettuce and chipotle sauce; while churros and chocolate sauce will appease sweet tooths.
Peppered with secret sauces, aromatic spices and plenty of salsa,
Baja Cantina
on Glebe Point Road takes Mexican fare to the next level with a Californian-style menu. Hot pink walls, strings of colourful triangle flags and a cheery soundtrack set the scene for your next taco fix, while the refurbished beer garden makes the ideal place to linger over spicy snacks and icy sangria.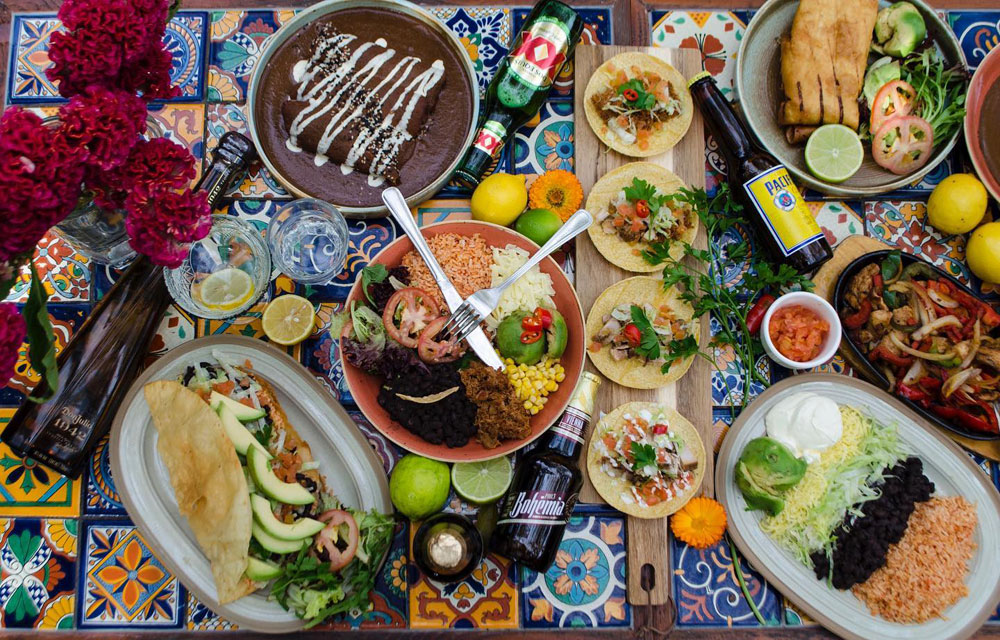 Baja Cantina - Mexican California-style.
Grab a Baja Cantina specialty flathead or prawn taco, with sriracha aioli, cabbage, rice and beans; or a taco supremo – lightly crisped flour or corn tortilla, filled with beans, lettuce, salsa, cheese and crema, served with a side salad and Mexican rice.
Fun and funky kitsch-style dining ideal for celebrating National Taco Day awaits at
Muchacha Mexican Kitchen
on Pitt Road in North Curl Curl. Don a sombrero as you enter this vibrant eatery, where brightly coloured floral table cloths and mismatched plastic stools set a playful mood for Mexi-Cali fare at its best, either indoors or alfresco watching the world pass by.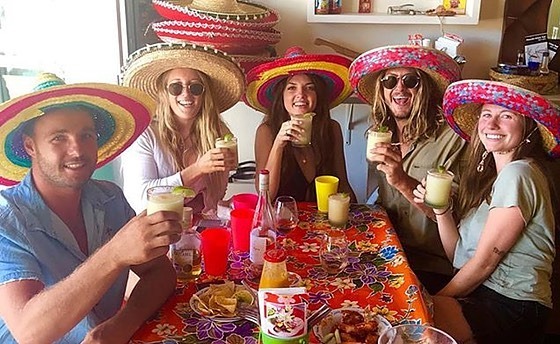 Muchacha Mexican Kitchen in North Curl Curl.
Say arriba to healthy, delicious modern dishes such as seared rare ahi tuna tacos, mango and habanero salsa, pico de gallo, guacamole, caramelised pineapple and pickled red onion; or a shredded beef and green chilli burrito, pickled jalapenos, rice, beans, Mexi slaw, tomatillo salsa, cheese and pico de gallo.