A true territory adventure
A town situated 320 kilometers south east of Darwin, Katherine is situated in the Territory's Top End, an eco wonderland full of outdoor adventure activities. Boasting the magnificent Katherine Gorge in Nitmiluk National Park, this region is an ideal hub for exploring the Northern Territory's Top End, alongside the many scenic and adventurous treasures you'll find within.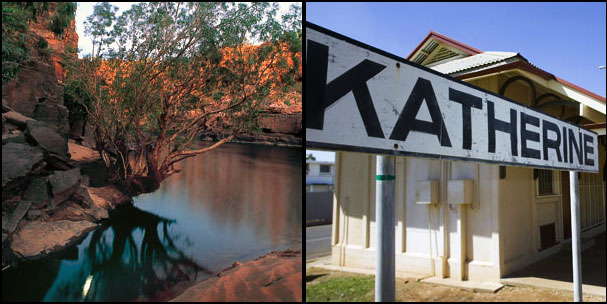 What can I do in Katherine?
A relatively remote area, Katherine is rich in flowing waterways including waterfalls, gorges, rivers and the ocean, which make up the base for visitors looking to canoe through the Katherine Gorge, try their luck at some serious fishing adventures or to linger in the water. For relaxation and tranquility, Katherine Hot Springs are a series of clear natural mineral pools, surrounded by native vegetation at the edge of the Katherine River.
Encompassing the idyllic Crystal Falls, 17 Mile Falls and Biddlecombe Cascade, Nitmiluk National Park is ideal bushwalking territory, with the added bonus of taking a break in some of Katherine's iconic waterways.
Apart from the assortment of natural beauty around Katherine, this area is also rich in Indigenous culture and Australian heritage. Enjoy bush tucker with a unique stockman's camp tucker experience or wander around the Katherine Museum where you'll find a range of pioneering artifacts, tools and photographs dating back to the late 19th century. Katherine also has a vast selection of art galleries, playing host to a variety of works by artists from a region of 380,000 kilometers around the Katherine region.
For more information on attractions in Katherine, head to our travel guide