Inspiring Tasmanian Festivale guests to cook dishes from scratch at home is the focus for renowned Chef, author and television presenter Karen Martini.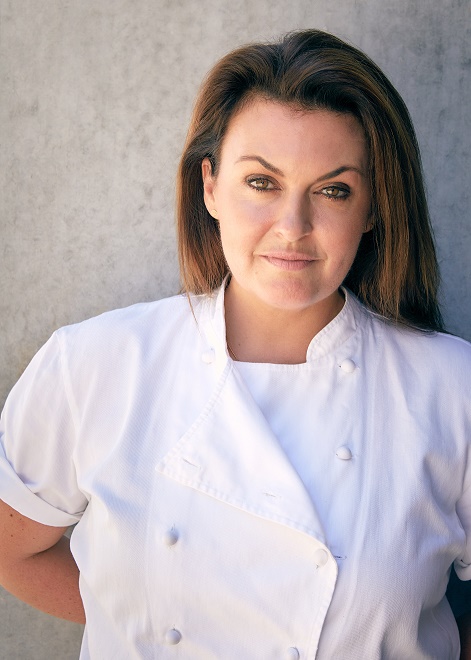 This year looms as an exciting challenge for Karen as she prepares to finish another cookbook, open a new restaurant in Melbourne and film the next series of My Kitchen Rules. But first, she is on centre stage at Festivale in Launceston this weekend, undertaking Cooking in the Park demonstrations and creating the menu for the famous Festivale Lunch at Stillwater (now sold out).
"I want to make dishes that people can cook and enjoy at home, using delicious local produce. Tasmania has some truly unique produce such as apple cider, wasabi, chicken, cheese and wine. I am excited to weave it all together and layer the flavours," she says.
"A lot of people have moved to Tasmania for a tree change and taken their knowledge with them. Now we are seeing Chefs moving down there as well, it is a real mecca for chilling out and being experimental."
Moving into her ninth year on MKR, Karen loves seeing home cooks embrace their opportunities and break boundaries. She says food shows have inspired supermarkets to lift the range of food available on shelves to make life easier for those creating dishes in a family environment.
Karen's cooking career took off at an early age, with the influence of her father's Mediterranean background and later, partner Michael Sapountsis' Greek heritage. Together the couple founded the critically acclaimed Melbourne Wine Room, before taking the concept of a hole-in-the-wall pizza joint into a national phenomenon with Italian restaurant Mr. Wolf.
Now with two daughters of her own, she encourages participation in the kitchen and the girls usually chime in at the end of preparation.
"They help make salad dressings and love making pesto from the herbs we grow at home. I want them to have adventurous palates – they don't have to embrace everything, but I like them to try each dish. That is the key to broadening your child's palate.
"I am just as time poor as everyone else. I am always kicking open the pantry and fridge door and thinking what can I make out of this? I found three sausages in the bottom of fridge the other day and we had polenta with sausage and tomato ragu on top – the kids loved it," Karen explains.
Juggling motherhood with a busy career is a challenge for most women and Karen is no exception. The girls are mad keen basketballers and between them play three games a week - this means plenty of hours spent courtside, or driving to and from sports commitments.
"We focus on having dinner together at the weekends, to get the most out of our time as a family. There is no television in the background or phones on the table."
Karen says becoming a mother has made her appreciate why people go for pre-prepared food, rather than cooking from scratch.
"My philosophy around fresh food hasn't changed much. You need to be prepared, make sure your pantry is well stocked with all the basics, then it is just about getting protein and vegetables."
Her new book – which has been a two-year project - delves into this concept and as a modern cookery tool, aims to help everyday families from woe to go, whether they can cook or not.
"I constantly love the opportunity to inspire and reinvigorate people in the kitchen."
As for the future, Karen isn't finished in the restaurant game. As well as perhaps expanding Mr. Wolf to Sydney, there are plans for a new Melbourne restaurant, with a modern Mediterranean influence.
"We want to open something along the lines of what we had with the Melbourne Wine Room. The plan is for me to launch the restaurant and then oversee the kitchen. My heart lies with a strong Italian drift, perhaps with Tunisian influence in the spices."
So where does this busy Chef see herself in five years' time?
"With my feet up on a beach relaxing. I want an equal balance between down time and work time."
In the meantime, to see what Karen has planned for Festivale, click here.