By Leigh O'Connor.
One of Australia's earliest regions to be planted with vines, Tasmania's cool climate provides the potential to make distinctly different wines and ciders than the rest of the country.
The state's first experiment with grape vines resulted in a wine that was shown at a Paris exhibition in 1848, but after this early start, wine production all but disappeared until the 1950s. These days Tasmania enjoys a global reputation as a leading producer of cool climate wines, with warm Autumn days and cool nights allowing the grapes to ripen slowly on the vine, giving maximum varietal flavour.
With more than 160 licensed wine producers and 230 individual vineyards, most common grape varieties grown are Pinot Noir, Chardonnay, Sauvignon Blanc, Pinot Gris and Riesling.
Long considered the Apple Isle, Tasmania is also one of the best places in the world to grow fruit hence the depth of flavour that makes the region's cider unique. The first apple trees were planted in the 1700s – more as a source of survival and warding off disease than a luxury to ferment into alcohol.
Cider really came into its own in 1912 when Cascade – already famous for beer – started brewing cider as well. The Mercury brand became a household name all over Australia and the humble drop is Tasmania's oldest surviving cider.
So, as the Summer sun burns bright in blue skies around the country, why not check out the best wines and ciders from down South to chill out and enjoy with a barbeque this season?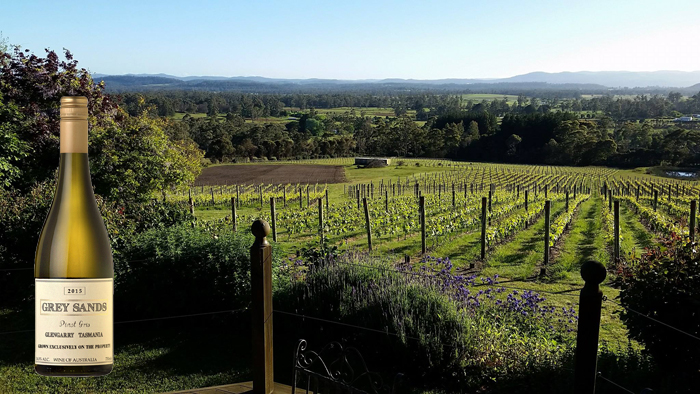 Grey Sands Pinot Gris 2015:
For wines that draw you in and make you want to go back for more, Grey Sands Vineyard in the Tamar Valley produces lush, complex Pinot Gris such as the 2015 vintage. Straw in colour, the nose is met by rich aromas of crystallised pineapple, custard apple and a lily of the valley floral lift, while the palate is full-bodied with deep ripe fruit, dense texture and some ginger and quince astringency, to balance on a very long finish.
Winemaker Bob Richter has never been a follower or trendsetter, preferring instead to make wines he and his friends enjoy drinking. Wife Rita explains: "Bob likes complexity in wine. He doesn't like a wine that hits you in the face straight up, that knocks all your senses out. Our wines are not in your face, aromatic fruit bombs."
Grey Sands cellar their wines, only releasing them when they are approachable, meaning their current releases have a few years of age on them, ready to be enjoyed.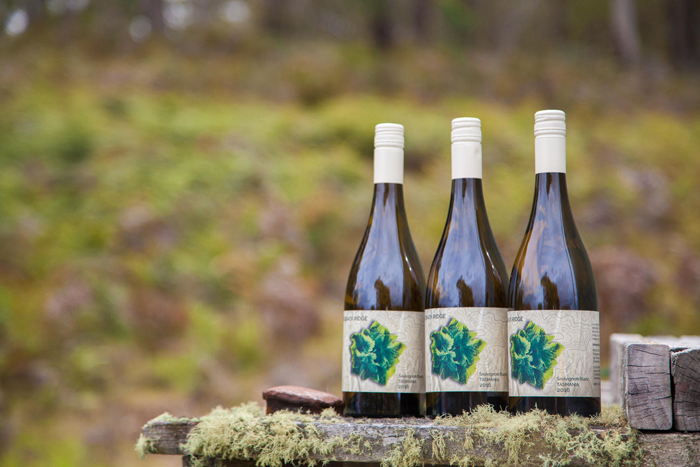 Tickleback Ridge Sauvignon Blanc 2016:
Tickleback Ridge Estate produces wines that are aromatic fruit driven styles, typical of high-end cool climate regions and the 2016 Sauvignon Blanc is no exception. Crisp and dry, this vintage is refreshing, vibrant and zingy with light acids, ideal for immediate drinking to capture its youth.
Nestled within secluded bushland at Lower Snug, the vineyard embodies a slice of Tasmanian life with views across the bay to Kunanyi and the Derwent River's southern coastline. With 10,000 vines producing Pinot Noir and Sauvignon Blanc varieties, owner and viticulturist Brett Andrews carefully manages the growing season to maximise sunlight potential from both the daily and seasonal up and downs of a Tasmanian Summer. Cool, wet Winters and mild dry Summers keep yields naturally low, while hungry free draining soils ensure flavours can develop late in the growing season.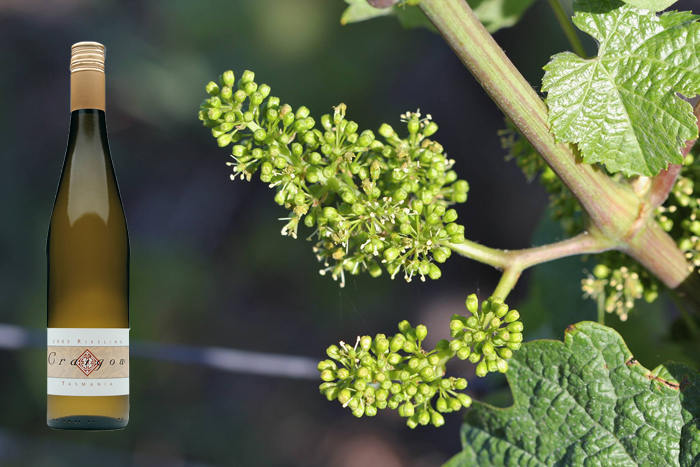 Craigow Riesling 2016:
One of the signature grapes of Alsace on the border of France and Germany, Craigow Rieslings exhibit the variety's European hallmarks, with a range of fragrant fruit and floral characters in the bouquet and a delicately crisp, elegantly structured palate.
Grown in southern Tasmania's Coal River Valley, Craigow's 2016 Riesling has star bright clarity and a green-tinged golden hue. Stunning pristine varietal fruit characters, a fine and focussed palate, terrific length and beautifully balanced acidity, make for a dry, lingering finish.
An ideal match for Tasmanian scallops, seafood, sushi, sashimi and vegetarian dishes, enjoy as a young wine or extend the cellaring to develop into a toast and light-honeyed mature expression.
Two Bud Spur Gewurztraminer 2012:
Located in the heart of Gardners Bay in the Huon Valley wine region, Two Bud Spur is one of Tasmania's most southern vineyards. With a philosophy of growing premium grapes to produce world class wine through low yields, Two Bud Spur recognises the benefits of technology while understanding the importance of tradition.
The 2012 Gewurztraminer is a great example of this, with fragrant rose petal, exotic spice and musk before a more delicate Turkish Delight flavour, with just a whisper of mid-palate sweetness and a fresh, crisp finish. Great to drink young, it will also age gracefully over many years and is an ideal partner for duck, chicken, pork, prawns and crab.
"It continuously surprises me how wine can change so much over time, even though it is hermetically sealed," says owner Craig Mundy. "The changes that take place are really very interesting."
Devils Brewery Deceptively Dry Cider:
Due for release in March and available from the cellar door at Margate Train, Devils Brewery's Deceptively Dry Cider is just that – deceptively dry. A selection of Huon Valley grown apples add complexity while the introduction of French yeast gives this cider a sense of sweetness, from the nose to mouth feel it drinks like a cider far from dry.
Those visiting the Apple Isle can grab a seat and soak up the ambiance of a bygone era at Devils' cellar door inside the 1950s Margate steam train, or enjoy the sun in the brewery beer garden with fantastic views across to Vince's Saddle and Mount Wellington, while sipping a cider or craft beer.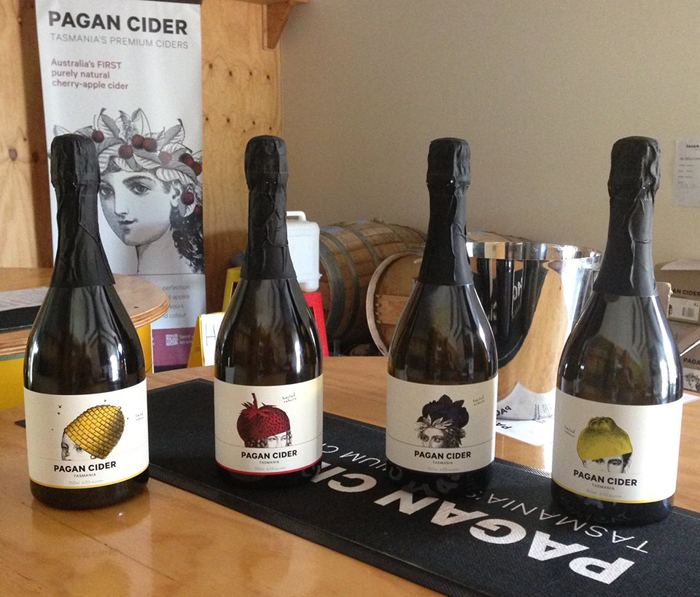 Pagan Cider Blueberry Limited Release Cider:
Using the tastiest fruit, fresh from trees grown in Huon Valley by fourth-generation orchardists, Pagan Cider employs modern cider making wizardry to produce brews of rare sparkle, clarity and balance. While flavours available vary on seasonality, the limited release blueberry cider ticks all the boxes as an enchanting Summer drop.
A blend of blueberry (60%) and apple cider (40%), this rose-hued beauty has aspects of a fine wine with spicy, herbal aromas and textures. Sweeter than wine, the blueberry shines through and a beautiful tannin and acid line add to the sophistication of this delectable cider (8% ABV).
Visitors can sample the entire Pagan range at the tasting shed on Channel Highway at Cradoc - just an hour from Hobart - from signature apple, pear and cherry blends to special small-batch ciders.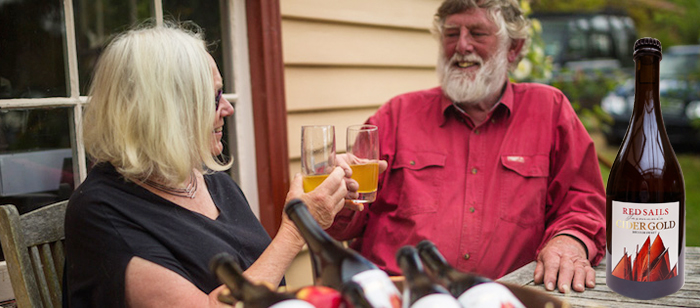 Pictured: Lynne Uptin and Dr Clive Crossley, Red Sails.
Red Sails Cider Gold:
Red Sails' award-winning artisan ciders are made from traditional apples grown on the Middleton estate and bottle-fermented to produce a natural sparkling brew. Located between the forest and seashore in southern Tasmania, century-old pear trees and mature heritage cider apple trees are at the heart of Red Sails' products.
Made using French methods, Cider Gold is golden amber in colour with characterful aromas of rich apple, overlaid with raunchy buckwheat honey. In the mouth, it is medium-dry with a smooth finish while the bubble is extremely soft and gentle, not at all fizzy. The robust flavours make it flexible to enjoy either as a sparkling aperitif, matched to main dishes, or as a finish with cheese and desserts (6.5% ABV).
Red Sails' Dr Clive Crossley retired from medical research about six years ago and now produces small commercial quantities of cider, combining his academic interest in fermentation and metabolism with an enthusiasm for cider making and drinking.
Planning a trip to Tassie and want to know more? Click for information on wine and cider trails.