By Leigh O'Connor.
September rolls around again – let's get ready to party hardy as Spring blooms into town, footy finals dominate our televisions and thoughts turn to balmy barbeque evenings with friends.
Australians know how to party with the best… icy cold brews, a glass of favourite red and dinner out at a favourite restaurant with someone special, or a group of good mates. Celebrate the change of season in style at some of this country's best dining destinations to party the night away and set the scene for the run up to the end of the year…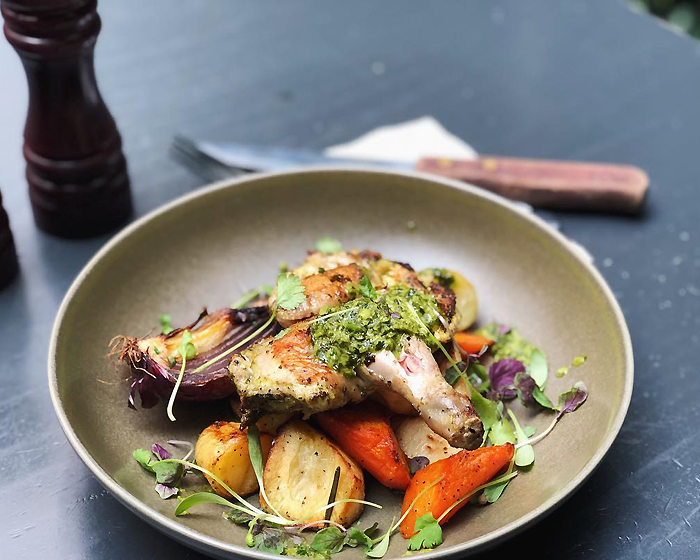 Dove & Olive Chef's Special, pan roasted spatchcock.
Neighbourhood NSW:
Craft beer and quirky pub fare await at Dove & Olive on Devonshire Street in Surry Hills. Step through the door and be enveloped in a warm, rustic vibe with hanging lights, pale wood tables and leather couch seating, opening onto a green courtyard where guests can perch on a stool with an ale in hand and catch up with friends.
Plating up Mod Oz fare with a hint of American comfort, chow down on loaded fries with pulled smoked beef brisket, gravy, sriracha, liquid cheese and sour cream; then indulge in slow roasted house smoked meats such as crispy skin pork belly and apple cider jus, along with sides of mashed potato, heirloom carrots, chargrilled corn cob and tangy slaw.
Want to party at home? Sharing the knowledge and experience of more than 35 years in the hospitality industry, CNI Catering provides much more than just basic refreshments to Sydney City and outer regions. From breakfast boardroom meetings to weddings and small at-home gatherings, CNI tailors menus to suit your group's needs and tastes, working with a blend of fresh seasonal produce and innovative techniques.
Expect canapes such as Peking duck pancakes, truffled mushroom arancini balls, smoked salmon roulade blini and tempura King prawns; or opt for a gourmet meat platter of Spanish chorizo, shaved ham, rare roast beef, chicken and turkey. Barbeque and buffet options are also available, along with a variety of salads and sides.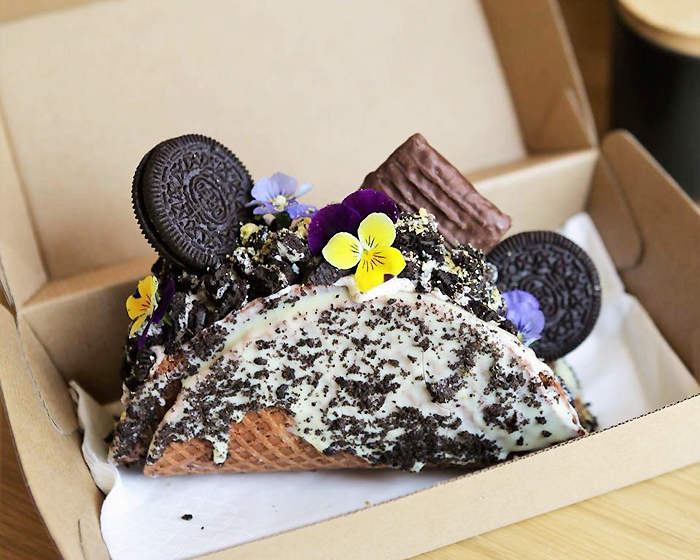 Chocolate taco at Duke of Grantham.
Vividly Victoria:
Make a party pit stop this September at local hot spot Duke of Grantham on Grantham Street in Brunswick West. With owner and barista Frank manning the espresso machine, diners are greeted warmly as they sip a cappuccino in a long and spacious dining room, where floor to ceiling windows allow in a flood of natural light and calming shades of blue make for an uplifting vibe.
Nothing says party like a dessert taco and at the Duke, they make the best with topping options like salted caramel, Oreo and Golden Gaytime. Not a sweet tooth? Don't worry there's plenty more on the menu to tempt all tastes such as all-day plates like a Reuben sandwich with beef brisket, sauerkraut, Swiss cheese and Russian dressing.
Kick up your heels in Carlton at St Charly on Lygon Street, where a cascading ceiling garden and potted greenery set an oasis-like vibe. A shady and welcoming kerb side greets diners looking to sit alfresco, while indoors an uplifting and playful interior of musk pink tables, plush forest green velvet booth seating and timber diamond pendent lighting beckons.
Wrap your hands around a St Charly chicken burger with Portuguese style marinated chicken tenderloin, Monterey Jack cheese, grilled pineapple, bacon, baby cos and sambal chilli aioli, teamed with French fries; or delve into the likes of sumac crusted lamb fillets, carrots and whey, warm du puy lentil salad, pickled turnip and salsa verde.
Raise a glass to Spring and join a lunchtime party at Chameleon Junction on Station Street in Moorabbin. A local hangout for a bite to eat at any time of the day, this restaurant is ideal for casual dining amid splashes of greenery, blond wood and glowing drop globes indoors; or chill out street side while sipping a drink of choice and snacking on mac 'n' cheese croquettes with spicy mayo.
Pasta lovers can twirl a fork around housemade beef brisket spaghetti Bolognese with shaved Parmesan, or go for a classic CJ cheeseburger, stuffed with housemade beef patty, bacon jam, secret burger sauce, cheese and sweet pickle - with a side of fries, shaken with red onion and parsley salt, charred jalapeno mayo and tomato sauce.
Testament to the cool and chic Melbourne lifestyle that spruiks fun, fresh and funky, Republica on Jacka Boulevard in St Kilda ticks all the boxes. Found in the Sea Baths complex overlooking Port Phillip Bay, this venue is an ideal place for people watching with an icy brew or cheeky cocktail, while listening to live music at the weekend.
Whet your appetite with a starter like grilled squid, nduja, white bean puree and bullhorn peppers; then move the party forward with rich slow cooked beef pappardelle pasta, orange and salted ricotta. Pizzalicious options like chipotle marinated Tiger prawns, chorizo and zucchini may tempt; finishing the occasion with salted caramel parfait, peanut sauce and buttered popcorn ice cream.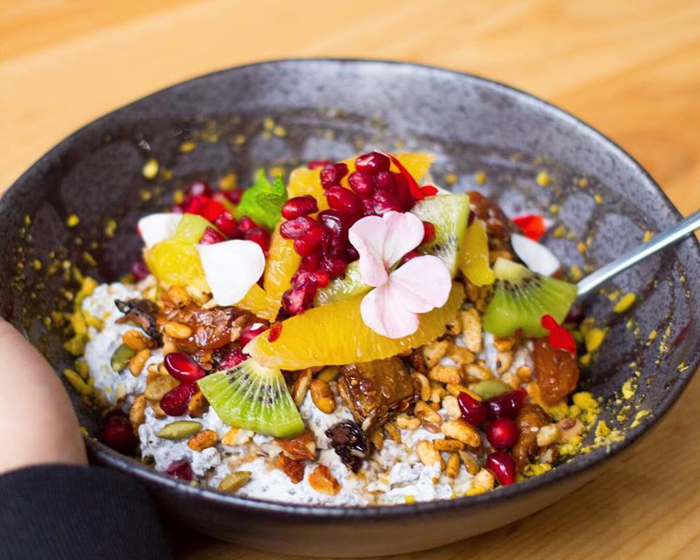 Fresh as Spring! COCO & Chia Pudding at St Charly.
Celebrate good times at Bonehead Brewing on Parsons Street in Kensington. What started out as a bonehead move with a simple make-it-up-as-you-go philosophy, has fermented into a brewery and bar that has locals hopping in to meet friends for a cold one. A relaxed, industrial vibe of high timber tables and stools, concrete walls and memorable artwork pinned behind the bar is guaranteed to fix what ales you.
Grab a can of everyone's favourite Prickled Pink – it will hit you over the head with a bat – and settle in for an evening of fun; when hunger pangs bubble to the surface, grab a bite to eat from the regular food trucks that visit, while Boneheads is also an ideal functions venue for your next beer session or party.
Whisk Away to WA:
There's plenty of die-hard Dockers and Eagles fans who will raise a glass or two come footy finals time and where better than at Black Brewing Co on Caves Road in Margaret River. Guests says cheers at this combined Wilyabrup restaurant, brewery, distillery and winery, in surrounds of wooden ceilings and doors and a large stone open fireplace setting a cosy ambiance.
In balmy weather mingle with friends on the large alfresco deck overhanging the water, while pondering a tantalising tapas style menu boasting share plates like smoked paprika grilled chicken thigh, rojo chimichurri, lemongrass and ginger rice and lime. Don't forget to try BBCo's cider braised pork belly, aji verde and lime, best teamed with an XPA beer or Apple Cider.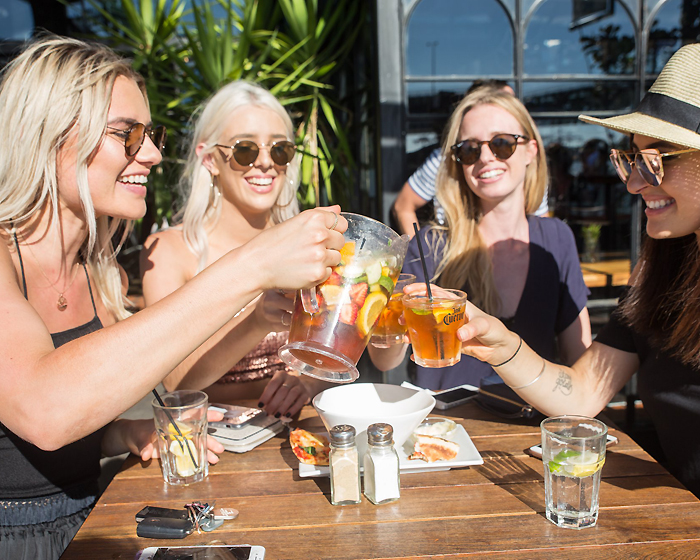 Sunday cocktails at The Left Bank.
Nothing says party hardy more than a lively beer garden where guests can soak up the sunshine, such as The Left Bank on Riverside Road in Fremantle. Perched on the banks of the Swan River admire waterfront views outdoors, or join other diners inside this tastefully restored heritage building, whether catching up for brunch, watching the footy or enjoying a sundowner as the sky turns a vivid sunset red.
Share a tapas plate of Serrano and roasted pepper bruschetta, Australian wild salmon tostadas, baba ganoush and Turkish pide; or pulled pork loaded fries, housemade BBQ sauce, cheese and dill cream; before picking up a slice of New York style pepperoni pizza, topped with olives and provolone cheese. From the grill come meaty tempters like aged rump with fresh WA crayfish, sweet potato, roasted onion and tomato with choice of sauce.
Perth's largest standalone venue on the Burswood Peninsula with everything under one roof, The Camfield on Camfield Drive is just 100 m from the new Optus Stadium and an ideal spot for a pre or after game party. Impressive in size with a micro-brewery, 175 beer taps, five bars and a beer garden, The Camfield rocks an industrial style fit out of high ceilings, exposed metal banisters and polished concrete floors.
While sipping a frothy beer of choice, peruse an all-day menu with light options like a lobster brioche roll, iceberg lettuce, Marie Rose mayo, smoked paprika and potato thins; or marinated local octopus, olive tapenade, chorizo, fennel and lemon. Exmouth Tiger prawns top a mouth-wateringly crispy San Marzano tomato pizza, chilli, lemon and mozzarella; while classic beer battered local snapper is also hard to pass up.
Queue Up in Queensland:
Hang out with friends under the stars at Kryptic Lounge Bar & Restaurant on Flinders Street East in Townsville. Making a mark on the local dining scene, Kryptic emanates a modern vibe from inside a heritage style building, drawing a younger crowd ready to party in five separate entertainment areas. Find a seat to enjoy cocktails while admiring views of the harbour and check out a menu of Italian inspiration, overflowing with rich flavours and complemented by a great selection of wine.
Opt to start a fun filled evening with local prawns, sautéed in chilli, garlic and white wine, served with sweet and sticky white rice; before a main party popper like tender pork cutlet, fennel seeds, pan fried Parmesan, topped with pear and cranberry sauce.
Nightly in the NT:
A local favourite for fine fare and live music, Manolis Greek Taverna on Smith Street in Darwin boasts authentic décor and fresh flavours. Walls adorned with images of coastal Greece welcome guests as they escape the sultry heat and kick back with an icy brew, while pondering an extensive menu of share plates ideal for party goers and large groups.
Get ready to smash a few plates as the party hits full swing, after delving into share plates like delicious Greek cheese saganaki balls, rolled in breadcrumbs and shallow fried; or keftethes meat balls with moussaka and traditional Greek salad. No one goes home without trying baklava, baked in Manolis' special syrup.
Sensational SA:
There's gin and then there's gin the Prohibition Liquor Co way. Celebrating all things gin in the heart of Adelaide's CBD on Gilbert Street, Prohibition serves up liquor and gourmet bar food in party ready rustic surrounds of reclaimed timber, copper and glowing pendent globes. Settle in at the bar and sip on a gin from Australia or overseas, while perusing a menu to taste tempters like an antipasto board of olives, Jamon Serrano, gorgonzola cheese, salami, provolone, bocconcini, cornichons, ciabatta, pesto, tomato and basil.
Team a blood orange gin spritz – with PLC original gin, Proscecco, Ambra Agrumello and blood orange capi – with an Italian toastie of Sopressa, provolone, tomato and olive tapenade, or vegetarian version of roasted eggplant, housemade pesto and feta.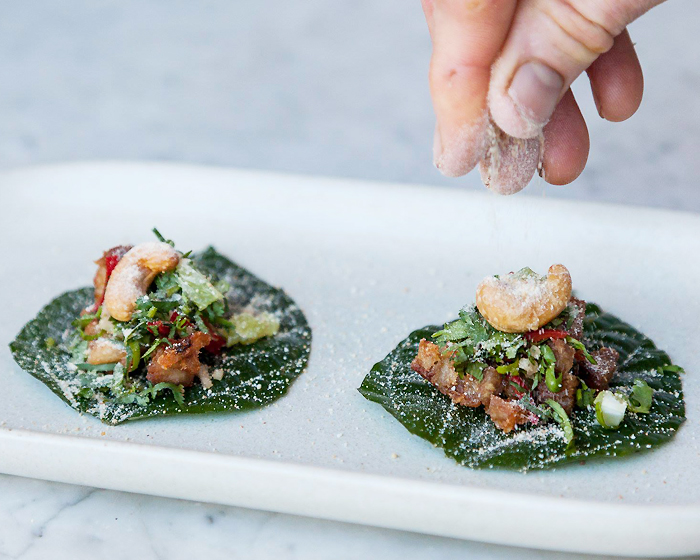 Betel leaves at Tipsy Bull.
Tremendous Tasmania:
Buzzing along on George Street in Launceston, Greenwood Bar exudes old English pub style ideal for group gatherings, celebrations or parties. Recently renovated and now back to its original roots, Greenwood sits not too far from the charming North Esk River and quaint City Park, boasting an ambiance where chilling out with a foaming pot of Boags Draught is expected.
If a cocktail is more to your liking, try a classic Blue Lagoon teamed with a kingfisher basket of crispy chips, golden calamari rings and fresh salad; or grab something more substantial like a juicy burger and fries.
Act Out in ACT:
With an ethos of good times and good food, the Tipsy Bull on Lonsdale Street in Braddon is a locals' party destination. A sophisticated, yet relaxed vibe of stylish finishes from a sleek marble topped bar and slatted wood walls, to a spacious courtyard filled with greenery, encourages merry revellers to enjoy a creative menu brought to life with seasonal, fresh and local produce.
When the mood strikes for tapas, say fiesta to soft shell lobster tacos, mango salsa and coconut chilli mayo; or arriba the night away with twice cooked pork belly, sweet and sour sauce and crispy shallots. Those with hearty appetites may choose to put themselves in the Chef's hands with an eight-course tasting menu sure to satiate all hunger pangs.
Looking for a party hardy restaurant near you? Check out our What's On Guide here.