By Leigh O'Connor.
It's the time of year to show your true footy colours as both the NRL and AFL gear up for the 2018 Grand Finals on the weekend of September 29 and 30. All around the country, fanatics will gather to cheer their teams on to victory, amid plates of footy fare and a beer or two.
For those hosting the ultimate grand final party, we've put together six recipes sure to kick a goal with even the most diehard sports supporters. So turn on the TV, pour a drink of choice and settle in for the Big Dance, while taking a spectacular mark with hungry mates with our footy fodder…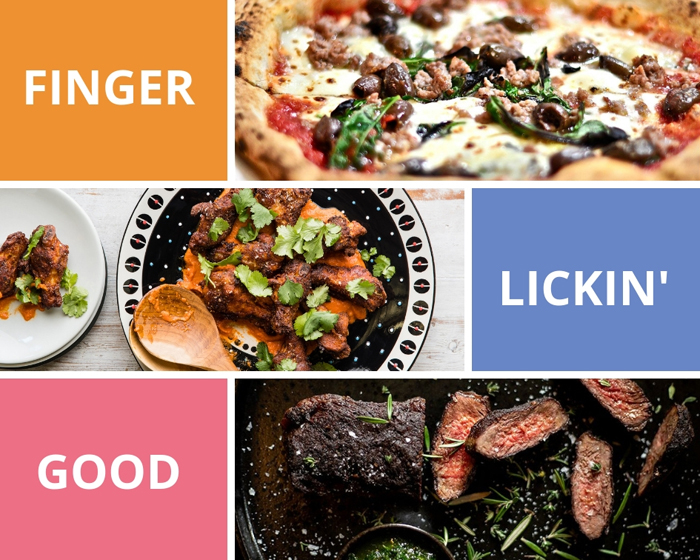 Watch the ball sail over the black dot while crash tackling a slice of Capricciosa pizza, a recipe provided by Terrazza Italian Restaurant & Pizzeria in Chatswood. Whether you want to drop kick the ball out of the park by making your own pizza base or not, nothing says fun times more than feeding the scrum with pie, topped with housemade Napoletana sauce, Italian shredded ham, mushrooms, black olives, marinated artichokes, mozzarella and fresh basil.
Baked spicy chicken drumettes with romesco by Luke Mangan, are about as easy as a Billy Slater sidestep – marinate them overnight if you have time to really get the most out of the spices, like sweet and smoked paprika, curry powder, oregano and ground black pepper. You might need to apply a sliding defence if you want to beat your mates to these finger-lickin' morsels, or throw a dummy and blindside the opposition with a high ball.
Bust tackles left and right with Wagyu rump with Argentinian chimichurri from Rare Steakhouse Downtown in Melbourne. Your guests will fend off hunger pangs with a goal line drop out of tender, melt-in-the-mouth slices of steak cooked with Wagyu fat, a side of chimichurri sauce and topped with salt flakes and fresh rosemary - this could be the minor premiership dish in your footy arsenal!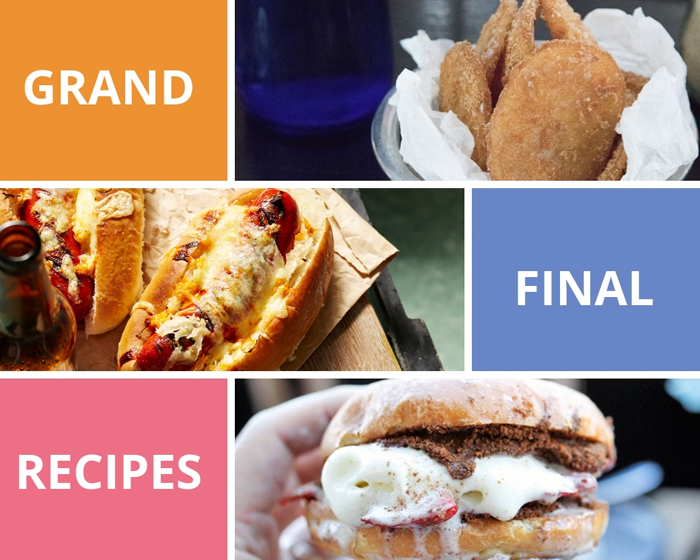 Pack down for kick off with salt and vinegar potato cakes from Melissa Cakes Cafe Bar, crunchy crisp scallops of potato coated in a salt and vinegar batter and deep fried. This powerplay combination of flavours is sure to see a great completion rate of empty plates and hopefully no biffo, as mates go one-on-one to snatch the last potato cake before fulltime.
These amazing hotdogs will have guests taking a voluntary tackle to ensure the outside backs get their fair share. Using cheesy Kransky sausages, sauerkraut, German currywurst sauce and Japanese mayo, the long white bread rolls smothered in grated cheddar cheese will be intercepted by ravenous fans as they engage each other close to the try line.
As the siren sounds and it's all over for another year, either celebrate or commiserate with a sweet treat like this Nutella burger, direct from those that know sinful best, Burgertory, filled with Oreo crumbs, sliced strawberries, ice cream of choice and Nutella on a toasted brioche bun – it's sure to be the best and fairest on ground during this year's finals.
Don't make a hospital pass come grand final weekend…hit up the middle with more of our favourite recipes by clicking here.