Interview with Fast Ed for BHG Live!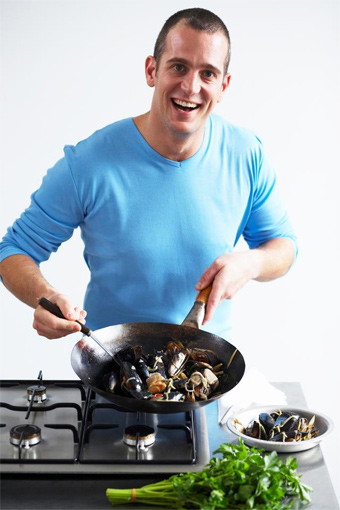 For 3 days only, from 20-22 September, enjoy Better Homes and Gardens LIVE at Sydney Showground,Sydney Olympic Park, including food demonstrations with Fast Ed.
For AGFG readers to book an Early bird ticket to attend Better Homes and Gardens LIVE for just $15, saving $5 off the door price, please click here.
Ed Halmagyi has been entertaining us on television for 10 years, his career as a Chef has seen him on radio, in newspapers, magazines and he has even written a few books of his own. He is best known as "Fast Ed" on Better Homes and Gardens, because he turns restaurant cuisine into recipes that you or I could cook at home.
Ed cooks by the motto: "When you do less, the ingredients can do more!"
Fast Ed will be at Better Homes and Gardens LIVE every day of the event, demonstrating his recipes live on stage along with Karen Martini at the Better Cooking stage. AGFG asked Ed a few questions to get a better insight into his career and life aspirations.
What do you love about your career?
For me the best part is the hospitality. I mean, I love food for its own sake, but the bit that really gels with me is the chance to take care of others. I love the generosity for cooking. By extension, you can be generous in storytelling and entertainment as well. I guess I just like putting a smile on people's faces.
What do you like about working with Better Homes and Gardens?
It's kind of special to be a part of a brand that is so big and so long-standing, 35 years of the magazine, 20 years of television, that's an incredible achievement. With such a large fan base we really get to be involved in helping to shape what Australians actually, build, do, cook and the plants and pets they choose. It might seem a little trite, but I like to think we really help people have more fun in life.
When you started cooking at age 15 what did you envision for your future? Was it anything compared with where you are today?
Not at all. The only job I ever wanted was to be a pastry chef - I love baking and desserts. But it's also changed quite a lot from the sense that there weren't really many people cooking on TV in the 1980's, and most of them were overseas. The idea of 'food media' is a really new thing.
Tell me the story of how you started to become in the spotlight, did you just wake up one day and realise that you were a celebrity chef, or was it something you were working towards?
I was working down at a restaurant on Sydney harbour when Sydney Weekender dropped by unannounced wanting to do a restaurant review. It was a busy day, and the request wasn't really convenient, but the idea of taking care of people doesn't change just because it's hard to accommodate. So we made sure they got what they wanted, and by chance the producer on the day was married to one of the head guys at BHG. Next thing I'm doing a screen test and it all happened from there. But don't be fooled by the appearance of luck. I reckon it's more than right place, right time. I think you also need the right attitude. Opportunities come to all of us every day, you just have to be open to them.
Who are your greatest inspirations?
In cooking, I'm mostly inspired by great home cooks. Those long-held intuitive techniques are the basis of all professional cuisine. Professionally, Thomas Keller, Bo Friberg and Kirsten Tibballs all make me want to cook better. Personally, my Dad is the guy I'd love to become –he's the most kind and generous person you could ever meet.

What's in the future for "Fast Ed?"
A new book or two. Hopefully a bakery before too long. Most of all, plenty of time with my kids.
Do you enjoy the experience of Better Homes and Gardens LIVE more than the TV show?
I love live work best of all. I enjoy making tv, but it is kind of distant and impersonal. The bit I love most of all is the dinner party challenge we do where I feed four guests a five course meal in 30 minutes form scratch ingredients on stage. It's the best of all worlds – entertainment, cooking, storytelling and fun.
How would you define your cooking style?
Relaxed and entertaining, and let the food be the hero. As I always say, "when you do less, then ingredients can do more".
What are your feature flavours these days?
I don't really buy into modes like that I cook the things I love when I want to cook them. Also, with the sheer volume of recipe development that I do, there's always something new happening. That said, spicy pork empanadas are big for me right now.
What ingredient could you not live without?
Flour. Must bake…..must bake……
What is one dish in your repertoire that you believe defines you?
Koign Amann. It's a traditional pastry cake from the Brittany coast. Rich, buttery, caramel and salty, it's technically challenging, but the perfect celebration of the art of baking. It also really channels my main theme – a handful of simple ingredients are transformed into art with good technique and a respect for the produce.