10am - 5pm on 28 & 29 July, 2012
Neil Perry Rocks the Mundaring Truffle Festival
Rockpool legend and one of Australia's most awarded chefs, Neil Perry is back at the Mundaring Truffle Festival again joining forces with Head Chef of Rockpool Bar & Grill Perth, Dan Masters to flaunt their culinary prowess this July. The dynamic duo will present a relaxed and informative gourmet cooking workshop highlighting the star ingredient – Truffle!
The 'Rockpool Rocks' presentation promises to be a crowd pleaser with plenty of tastings, lots of valuable advice and heaps and heaps of fun. Last year was a complete sell-out, and with tickets already on sale this year, seats are sure to go fast… Are you a lover of truffle?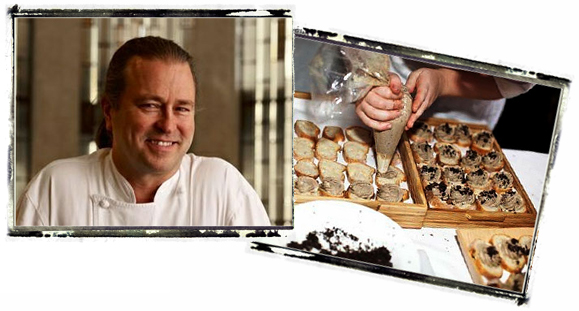 The Annual Mundaring Truffle Festival is a celebration of everything Truffle. Held on the weekend 28 & 29 July, 2012 (10am-5pm both days), general entry includes a variety of fantastic gastronomic adventures:
·Fresh TruffleandGourmet Produce Markets– For those keen to just wander about and find some treasure. Browse over 50 stalls and chat to the producers, taste their wares and choose from a range of quality artisan fare.
·Truffle dogsare back once again to delight the crowds.
·Al Forno– Delizioso! Get a little taste of Europe at the Al Forno, with cooking demonstrations and stalls brimming with coffee, cheese, bread, pasta and baked delicacies.
·Food Piazza- A place to chill out and relax in the dining area, with some of Perth's best chefs creating affordable delights and plenty of truffle dishes to taste!
Both days are jam-packed with truffletastic activities and events. Enjoy daily cooking demonstrations and competitions held on stage as well as an exclusive book launch from Nino Zocalli. Originally from Bunbury, Nino is renowned for his restaurants in Sydney - Pendolino and La Rose.
"Neil and I are excited to be participating in the Mundaring Truffle Festival in 2012 and will be presenting some of our favourite truffle dishes.
"WA black truffles are a constant source of inspiration to us and the festival is a great highlight of the culinary year in WA."Dan Masters
Tickets to Rockpool Rocks are $60 and include Festival entry. There is also an impressive list of other ticketed events including as the Masterclass with Alain Fabrègues, Guillaume Brahimi and Emmanuel Mollois, the Long Table Lunches, and fantastic advice from Margaret Johnson and Anna Gare.
For those of you that can make it, the Mundaring Truffle Festival is an event simply not to be missed. General entry tickets cost $16 online and $19.50 at the door. Pensioners are $14 and children under 16 are free with plenty to keep them occupied including cooking, umbrella painting, face painting and storytelling. For more information visit: www.mundaringtrufflefestival.com
If you can't make it to Mundaring, but you don't want to miss out on the celebration of taste that is black truffle, the Australia Good Food and Travel Guide has secured a limited supply of premium fresh black WA truffle and is making it available to you at the AGFG Shop for a strictly limited time.
The Australian fresh Truffle season is at its peak right now and quality is as good as you'll find. We had one French chef exclaim that this years WA truffles were as good as those from France. Secure your order of fresh truffle, available in small quantities and at specially reduced prices, right now. If you love gourmet products do not miss out on this one a year opportunity.