Within a climate of political unrest and street violence, Shanaka Fernando was educated in an elite Buddhist school rife with racism and inequality. When he migrated from Sri Lanka to Australia in his early twenties, he arrived with an ideology of kindness embedded within.
Twenty-plus years later, Shanaka remains firm in his commitment to seeing the human race not as a competitive breed, rather as human kind. On Australia Day 2007 he was awarded Australian of the Year in Melbourne as a local hero, acknowledging him as the founder of Lentil as Anything (fondly referred to as 'Lentil').
Shanaka literally started off Lentil with 'intent' while living in a tent. These days he has a formal roof over is head, yet Shanaka's open door policy remains even on the home-front.
His Dad role to Grace, age 8, and Spike, 10 months, is of utmost importance, and Shanaka's own Father in Sri Lanka considers him to be a 'successful failure'. Living by an Oscar Wilde creed, 'Life is too important to be taken seriously', Shanaka may not be married, own a car, or a house, but he laughs a lot and is constantly surrounding by family, friends and people in the community.
Beyond over a decades worth of Lentil chronology attributing to their social commitment, as further credit to their dogmatic approach, even the Australian Tax Office is on their side – they do not pay GST on donations.
With an annual turnover of over 2 million dollars, Shanaka freely confesses the fact that Lentil carries a $250,000. Confident in their initiative, he is an open book and notes that the average restaurant enterprise is $100,000 in the hole paying off assets.
Shanaka's Vegetarian Lentil Restaurants in Melbourne
Some have referred to him as the 'Jamie Oliver of Australia' because of the active philanthropy Shanaka displays within his three Lentil As Anything restaurants: Abbotsford Convent, Footscray and St. Kilda in Melbourne.
For those who aren't already familiar with Lentil, the restaurant group welcomes everyone and the payment system is a wooden box designed for donations, where customers pay what they feel is fair or can afford.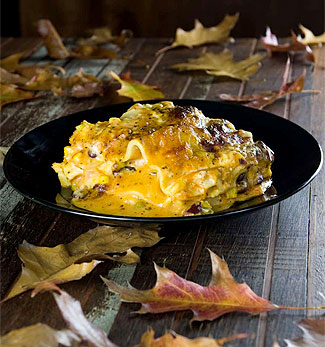 Rallying Forward with Vegetarian Meals and Vegan Food Options
It was a weekday when we spoke to Shanaka Fernando, and he had just returned from an early morning parachute ride. Having read his recent biography 'Lentil As anything: Everybody Deserves a Place at the Table', this seemed perfectly in character.
A non-conformist, global-travelling, humanitarian adventurer, his portfolio of community success continues to expand as his first publication, a cookbook entitled 'Lentil As Anything: Food, Community, Culture', continues to receive accolades. At the Gourmand World Cookbook Awards, it won the Australian 'Best Charity & Fundraising Cookbook in the Australian/Pacific region'; and 'FCC' is currently shortlisted for the 'Best in the World' title, same category - this announcement will be released on 23 Feb, 2013.
To the bane of his social circle at the cricket club, Shanaka Fernando does not drink alcohol and is strictly vegetarian (he's 'trying to give up not drinking'). Having always been a vegetarian, Shanaka designed his Lentil restaurants on this premise; it just makes sense as it's more affordable, sustainable and healthy.
AGFG: You're not a certified chef, so how much cooking are you responsible for at Lentil?
SHANAKA: I would hasten to say that the success of Lentil rides on me not cooking. It took a day in the kitchen at Lentil to realize my kitchen skills were shit. There have been times when I have had to stopgap measure and jump in the kitchen. I enjoy taking food to tables rather than the pressure of delivering 150 breakfasts in two hours. I'm not cut out for that coordinated, hectic work.
Vegetarian and Vegan Recipe Sensations
AGFG: Favourite dishes and why?
SHANAKA: It may seem boring here, but my favourite is the African dahl. It's the pride of the subcontinent, but the North Africans have taken it and changed it into something more appealing – I'm not sure the Indians would accept that. I can eat Chef Ousmane's version all on its own without any accompaniment, and with the heavy tomato base can be full in a really nice way.
From the cookbook, Chef Soma's eggplant curry is a very traditional Sri Lankan dish that takes eggplant and does magical things to it, like Ella Fitzgerald does to a song.
In the AGFG Recipes section, you will find 3 other samples to try at home from their cookbook, 'Lentil As Anything: Food, Community, Culture': sheer khurma, shitake stir fry, and okonomiyaki.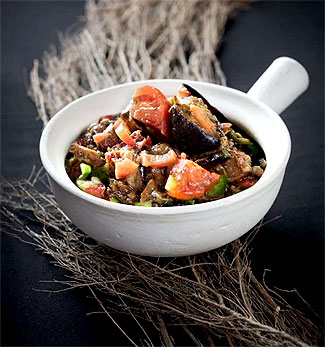 More on Vegetarian Meals and the Meaning of Lentil
AGFG: You believe that 'the inherent goodness in everyone is an abundant resource'; however, with a significant number of talented migrant and refugee staff, have you witnessed discouraging displays of racism even with the safety net of your Lentil As Anything restaurants?
SHANAKA: Over 13 years in business, only a handful of racist incidents at Lentil come to mind. We feed 2000 people a day and that shows the dominant love side of our business.
There are a lot of challenges because people tend to come from a mentality that encourages judgement and discrimination, thinking they're being discerning. There are times of conflict and misunderstanding and yet overall it is a wonderful thing to be a part of.
One woman came in and didn't want to be served by Africans. It's an unusual thing to say at Lentil because I'm African and so I had a chat with her. She had never met people from Africa and had a distinctive dislike of people when many factors were different. Since then the lady has become a volunteer at Lentil and has created a strong rapport with many staff at Lentil.
AGFG: As an anti-capitalist running three restaurants, what is the real end game from your point of view?
SHANAKA: I'm not anti-anything. I'm pro life in the pro human life sense… pro inclusion and pro diversity and pro ideals that we strive for; that we build our lifestyles in the spirit of our intentions.
I got into the restaurant business because of the food I encountered when I was travelling, especially in the third world where it is not a commodity. In cultures that live in forests there is a sense of pride and sharing; there still remains the breaking of bread as a gesture of oneness.
Thinking of Samuel Beckett's 'Endgame'… mine is to encourage human beings and every enterprise to take on theses values we are proposing. The people are the profits, not money, because it is more immediate and more satisfying.
People can gain a sense of community in a place where they didn't previously have that opportunity. Our focus on materialism and money has really subverted the foundation on which we build. It is essential that we align our focus on the values that historically have shown us the way.

AGFG: Does living in Melbourne correlate to the authentic Lentil experience?
SHANAKA: Eating in tribal situations I noticed people wanting the person sitting next to them to have the better portion. It's a gesture of how we are inherently as people. I wondered… could I make that happen in Melbourne?
I think that generosity and trust are conducive anywhere where there are human beings - Melbourne is not the only fertile ground. Every place has the capacity for a strong sense of community.
I'm sure that any place in the world would respond to food being made available without a focus on making money off of it. The joy in my day is the diversity of people I encounter. People who I don't naturally expect to be generous often jump on board with such a strong social enterprise.