4th February, 2013
A New Vegetarian Restaurant Model
By Shanaka Fernando
Lentil as Anything began as a hangout for performers and other creative artists. Many would be broke one week, but receive contracts or sell artwork the next. Any payment was a cause for celebration, and provided a chance to pay bills and to stock up on supplies. During the less abundant weeks patrons would be welcome to eat, drink, and find support at Lentil as Anything.
What developed was a sense of 'Lentil Unity'. In the more abundant weeks patrons would share with fellow artists by paying a little extra, and in so doing a balance and accord was created to offset the leaner times.
And so, the 'Magic Box' was born and soon became a symbol of the system of trust that had developed—patrons were free to choose how much they would donate. It was a system that proved to be both fair and sustainable, and one that allowed for everyone, without exclusion, to become part of a community and to share in the same 'Lentil Credit'.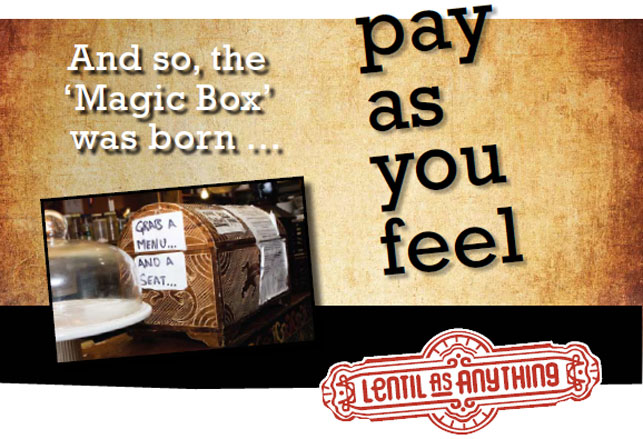 The Lentil as Anything ideology has sustained for more than a decade, and has grown to include several restaurants across Melbourne that provide fabulous food, employment for staff, education for volunteers, and support to the wider community through services and assistance such as legal advice, training, counselling, housing, fundraising for charities, and catering.
Acceptance has always been at the core of the Lentil philosophy and is what helps it flourish. Acceptance means being all-inclusive—everyone is welcome. And that's why today anyone of any social standing can be found eating at Lentil as Anything. And the 'Magic Box' still finances everything, from the delicious meals made with love, to paying wages, and to funding the community projects.
Now that Lentil as Anything has come so far, it is even more important, and ever challenging, to keep sight of those early principles and endeavours. Lentil as Anything has helped shape our cultural identity as a community-based, not-for-profit organisation that relies solely on the donations of its patrons and guests. As in those very first days, guests are invited to make an agreement with their conscience,
to take a moment to reflect, taking into consideration how much they enjoyed the food and deciding the extent to which they want to support the philosophy and the work being done, and by so doing, each donation, each thought, brings us closer to the values that Lentil as Anything was founded on.
By supporting Lentil as Anything we become part of a unique social model that is based on values of trust, generosity, and respect. Lentil as Anything is an organisation that gives people the opportunity to eat and to interact regardless of their financial or social situation.
Lentil as Anything was the Australian winner for 'Best Charity & Fundraising Cookbook in the Australian/Pacific region' in the Gourmand World Cookbook Awards. It is shortlisted in the same category for 'Best in the World'.Recipe Samples from Lentil As Anything: African dhal, okonomiyaki, and eggplant curry.