October 2012
King of Spanish Cuisine
Melbourne's dining scene spiced up in 2002 when Frank Camorra opened his flagship MoVida restaurant, now a 2 hatted establishment. With MoVida Melbourne's success, Frank landed the coveted Chef of the Year title and the brand has branched out significantly.
Running seven establishments, Frank has still been keeping his fingers in the pot working with his kitchen staff at least two nights a week. With MoVida Sydney opening its Surry Hills doors in a couple of weeks, Franks's lifestyle is about to undergo a dramatic shift. As will Sydney's dining scene.
Frank is relocating to Sydney where he'll work full time for the next six months; needless to say, this will be his last big endeavour for awhile. Excited about extending his Spanish reach to Sydneysiders, Frank took the time to speak with us about Spain's cultural influence on his business and the momentum of his new MoVida restaurant over the state line.
AGFG: At the age of 5 you migrated from Andalucia, Spain to Australia with your parents. After an influential revisiting of Spain in 2000, you brought modern and traditional aspects of Spanish cuisine to Melbourne with MoVida – and it worked. How did you make the fiery foods and fiesta spirit of Spain come alive, with serious staying power?
FRANK: At the time Spanish restaurants in Australia were ethnic, with paella on a menu that wasn't wide ranging or original otherwise. There were so many Spanish dishes, recipes from home, that didn't get done. Mum's recipes are in all my restaurants and books; for example, potato salad with alioli, pickled garlic & palitos de pan.
AGFG: After ten years the passion remains, as your business keeps expanding. What do you love the most about this industry?
FRANK: Cooking food that I grew up with. Investigating and learning more about it and outing it into an Australian context. Local considerations are a challenge, and we're always finding ways of doing what we do at MoVida and making it better.
AGFG: How do you describe the taste sensation of food by Frank Camorra?
FRANK: It's Spanish food as a starting point and what's in season. It starts from there, and we keep things simple. Not too many flavours on one plate. Classic Mediterranean flavours of tomato, anchovies and bread are there, and I play with nice, strong and intense flavours. I have a signature anchovy sorbet and love making tomato sorbet as well.
AGFG: What are traditional Spanish recipes every home cook needs to know?
FRANK: Like parmesan cheese to Italian and umami foods to Japanese, for Spanish cooking you need to know about the different varieties of paprika. The original MoVida cookbook really touches on the basic ingredients used to make alioli and other key sauces.
AGFG: What local and international flavour combinations are creating a major buzz from your foodie customers?
FRANK: The Spanish idea of bocadillos, never being raised past simple. We'll do a calamari sandwich, making the baguette-style bread roll beautifully, lining it with Basque peppers. Our bocadillos come with other ingredients as well… truffle or buffalo mozzarella, or ham and cheese extending much further than people would normally eat.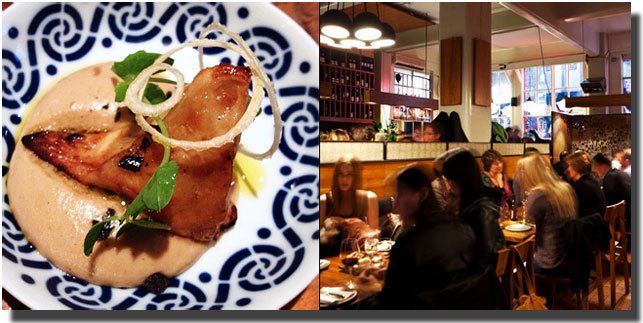 AGFG: What are the key elements of Spanish culinary culture that Australian diners can't get enough of?
FRANK: The ingredients such as sherry, olive oil and paprika. The Spanish way of dining. It's very relaxed compared to other countries, with amazing food and amazing wine and an informal atmosphere.
Spanish culture is most interesting because of the Northern African influence. After eight hundred years of Moorish occupation, that massive influence is there in the spices and flavours that are used: sugar and saffron, cumin and cinnamon, and the types of rice. There was also the new world influence, the Seville gateway for tomatoes taken to Western Europe.
AGFG: What is your source of inspiration translating to fresh ideas on the plate and how do you inspire others?
FRANK: The market dictates what we do, so we simplify things; that's the key. What's the Spanish strategy? What's in season that I want to use? Make it delicious and don't overcomplicate it.
My chefs have been with me for many years, so they know my food well and it's really a matter of discussing and tinkering. Time spent with them allows me to manipulate it a little bit. For young chefs… you have to please yourself first and have to be happy doing what you do. You'll do well doing something you enjoy and that's the first step in doing well.
AGFG: What's new-fangled and most exciting about your third book, MoVida Cocina?
FRANK: Watching the people in the restaurants…. Watching how these chefs have progressed, working as apprentices to putting it all together on the plate. It shares with readers the food we do in our restaurants.
AGFG: Before we go on to discuss your books a bit further, would you embellish a bit on bringing a taste of Spain to Sydney?
FRANK: MoVida Sydney is our fourth restaurant by that name and opens in the next couple weeks. Each restaurant has its own distinctive food and flair, so we're making sure the dishes we serve in Sydney have progressed to show the best we can do. We may not focus on Spanish food as much in Sydney, but the essence of the place will feel like the original MoVida. Sydneysiders enjoy MoVida Melbourne and have been begging us to open one in Sydney - they're about to get what they've been asking for.
Want to take the MoVida experience home with you?
Frank's three cookbooks have become so popular they've led him to a new recipe column in the Sydney dailies. Read Frank Camorra's reflections, try a sample recipe and take in our book review of his latest MoVida Cocina.