October 2012
Spanish Fiesta for your Mouth
The king of Spanish cuisine in Australia has paired with writing colleague Richard Cornish to release Movida Cocina through Murdoch Books, which came out late last year - Frank Camorra has done it again.
MoVida restaurants are committed to serving foods that have progressed to be the best they can be, served in the Spanish way with Australian fresh produce sourced as a primary influence. MoVida Cocina includes recipes that represent what you'll find on their menus; after ten years in business some dishes have definitely stood the test of time and all of them will stand up to trial by fire of your tastebuds.
Try a party paella sample recipe from Movida Cocina in our AGFG Recipes section.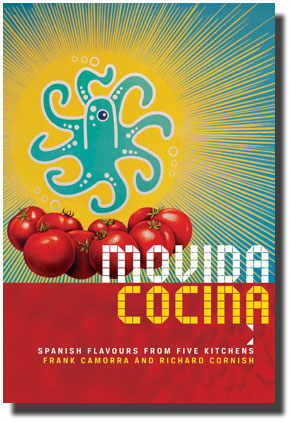 This "Paella de Fiesta" dish stems from MoVida Aqui's annual Christmas parties, where the chefs and front-of-house staff celebrate on the sunny banks of the Yarra River. The inviting vision of dozens of people mingling around the gas burner and paella pan evokes the sense of the casual Spanish spirit and untiring fellowship.
MoVida Cocina is a food story that naturally extends from the creativity in not one, but five kitchens. There's companionship surrounding Frank Camorra's professional stovetops, and there's no question that his long-term chefs have been well mentored (many from apprenticeship) and that they get his food. This is Frank's third cookbook, giving home cooks a chance to do what they love and get what Spanish cooking and eating is all about.
This book includes tapas style foods akin to those at MoVida Next Door, nice and easy recipes such as roasted vegetable and anchovy rolls, "Bocadillos de verdures con Anchoas". MoVida Cocina also gives you a chance to discover a great combination of dishes from Spain that are more robust but simple, characteristic of MoVida Aqui.
Novice cooks beware... some recipes in MoVida Cocina are indeed hearty while emphasizing simple flavours, but are certainly not effortless in the making. Preparation needs to start three days in advance for their pork and pepper Catalan sausage with black beans and piquillo peppers, "Butifarra" (the name Frank originally wanted to call his first restaurant).
If you're new to Frank Camorra's cookbooks, previous publication MoVida Rustica literally brought the pillars of Spain's culinary spreads to Australia based on vast travels from Madrid to Andalucia while the original MoVida covers the basics.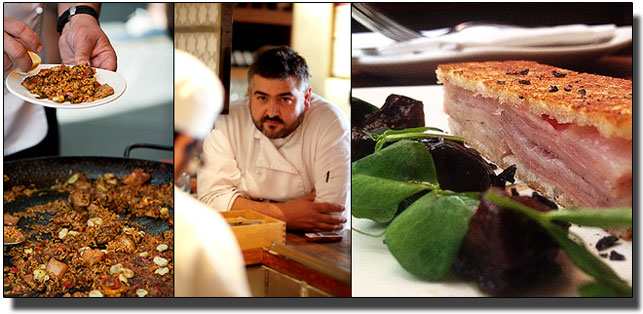 With all the forward momentum, Frank had this to say about his book and the trade.
AGFG: You've released three books through Murdoch, all co-authored with Richard Cornish who looks at food diversity, significance and taste. He specializes on looking at the producer, chef and consumer relationship and you're the chef, so how does the writing pan out between you two?
FRANK: The more I work on the books the more I enjoy writing stuff. MoVida Rustica was written in a car travelling through Spain, and Richard makes it come together as a written work. We spend so much time writing together, we have a good relationship and obviously I work out the recipes beforehand and then we test them out together. We're friends and colleagues so I look forward to the next project.
MoVida Cocina offers simple and complicated recipes – it depends on the readers' ability. It shows what we do in the restaurants and gives you something delicious to make at home, such as our Catalan spinach dish with raisins; add lemon juice and season with salt and that's it.
More complicated examples include the potato and bacon terrine with smoked eel. Whatever the level of cook, it's all in there. A few rice dishes like our Aqui paella are complex and can be cooked for 20 or 30 people, and there are Italian rice recipes to try. Our award winning air-dried wagyu with truffled potato foam and poached egg is too complicated for home cooking, but some may want to do it at home, so you'll find it in MoVida Cocina.
AGFG: Being awarded 2 hats for your original MoVida restaurant in Melbourne bodes well for the brand and your recognition as one of Australia's great chefs. With MoVida Sydney opening up this month, what are you saying when you stand on the soapbox?
FRANK: When we first opened people's perception is that we weren't serious. We do put hard work into our Spanish food. It's not French, it's not Italian, but it's just as sophisticated.
After we won the 2nd hat, perceptions changed and people had expectations. We had to meet them in the middle so that our casual and relaxed Spanish dining was maintained amongst their fine dining expectations; we had to make it more formal because people were expecting a certain standard of service. MoVida Next Door was opened and became more like the original MoVida, like a local bar in Madrid. We found that balance without losing what we about.
AGFG: After a really long day, what's your guilty pleasure?
FRANK: I do eat a lot better than I used to… but I have a big soft spot for a really good terrine and chorizo. When it comes to wine pairing, a dry sherry with salty tapas with ocean flavours.
Pick up a copy ofMovida Cocina (Murdoch, 2011)and replicate Frank's favourite terrine and other Spanish delights in your home kitchen.
Read the full interview with Frank Camorra in our AGFG blog.