October 2012
A Tropical Foodie Affair
This spring inspire everyone with lustful flavours by serving flamboyant spring dishes that exude sex appeal for your senses. Long bananas and short plantains offer varied visual and textural temptations; depending on your preferences, consider lining them on the circumference of a round dish centred with a cherry laden snack or salad to enjoy the Freudian essence of chaste tastes beckoning to be plucked.
Did someone say tropical cheesecake? Try out this melt-in-your-mouth recipe... and there are more where that came from.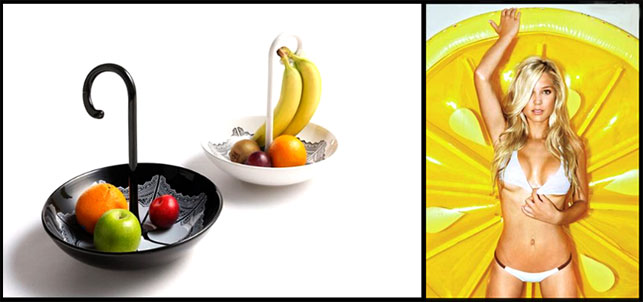 Outfit Your Plate for Passionate Eats
Food fashion naturally inspires a gastronomic love affair, a lifestyle aspect too tempting to ignore. The blissful connotations of a smooth cold soup on a sweaty day will sooth and seduce you, leaving you begging for more.
"Vegetables are interesting but lack a sense of purpose
when unaccompanied by a good cut of meat."
-Fran Lebowitz
Tantalizing Springtime Tapas
Onto the next course and then the next… throw formality to the wind and let your tasty escapade be an exuberant jazz fest for your lips, a veritable Spanish style spring fling with tapas food. If a parental type ever wagged their finger at you in 'don't play with your food' form, we now encourage the opposite – play with your food, dammit.
Maybe a sordid coupling in a Bali-esque hut where you picnic on the very sarongs you were just wearing. Perhaps a love affair with your boyfriend, girlfriend or life partner – a wild imagination never lets a longtime relationship stale – where you get fresh with gourmet foreplay in the form of crisp vegetables and feast on a rude interlude of strawberries and chocolate.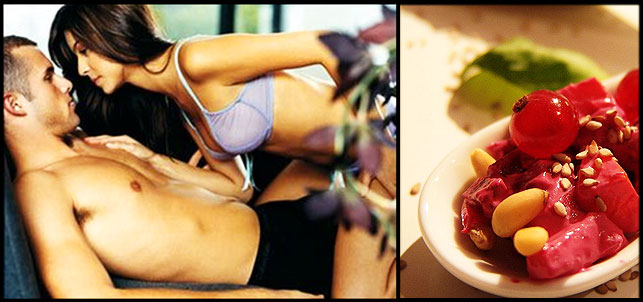 Palatable Pleasures this Spring
Food designers across Australia are inspiring passion with their colourful dishes, making out between courses, feasting their senses, then enjoying a love fest all night long. Spring leaves us pining for long hot evenings and we're full of foodie anticipation because there's romantic promise of tantalizing tastes and sinful desserts.
When you're serving, perhaps plate up foods on 1960's inspired kitsch crockery with blocks of colour in mind – dress up for the drama and you'll be the hottest dish of them all. With that wicked imagination of yours, get thematic with your gastronomic shenanigans, amping up for serious springtime tropical sexcapades:
•Apricots are just starting to come into season, a little tough on the inside but ready to ripen in the spring sunshine – so let the sun shine in andsoften through that strong exterior.

•Peaches are on their way in, so definitely go for the tart (peach tart that is).

•Kick away your inner conservative and have yourself a morning smoothie even before you pop the berries in the blender.

•Oranges, papaya and passionfruit are sticky-sweet-in-season-fruits whilst pineapples are ripe and ready to be opened wide, with a quick pounding or comfortable tenacity.
"After all the trouble you go to, you get about as much actual 'food'
out of eating an artichoke as you would from licking 30 or 40 postage stamps- have the shrimp cocktail instead."
-Miss Piggy
•Artichokes, Asian greens and asparagus are best suited to get steamy in the kitchen, so go that route and get set to perspire.

•Go exotic by day with the tastes of loquats, lychees, mangoes and melons – in no particular order – and spend a bit more time sucking on their sweet nectar than you normally would. No need to rush your afternoon delights.

•Sweet corn and tomatoes are the key seasonal ingredients for a flirtation with fritters or a hot pursuit with vegetable patties, in the latter case eat organic and opt for nice, soft buns.
Springtime is all about "socialising" like rabbits. Gone are the lazy times, replacing complacent and sedentary existence with kitchen romps, food fashion and seasonal flavours.
Tropical season twists are a cinch for foodie escapists to mastermind, and with a preconceived notion of your just desserts those dishes you serve up will inevitably induce delicious and sultry results.
Read What's In Season to satisfy slutty springtime cravings, while our spring recipes will surely make your mouth moist.