January 2013
Lands MasterChef 2012 by
Choosing to Learn
Electrician turned cookbook author? Part of the MasterChef prize package is creating your own cookbook and Andy Allen released The Next Element late last year, under a publisher pressure cooker deadline to meet the 2012 Christmas rush.
Unbeknownst to Andy, there was a new form of MasterChef on the rise, which may explain the unprecedented time crunch imposed on the sparky turned writer.
On the whole MasterChef 2012 experience Andy Allen asserts that the way to winning was choosing to learn. He took it in stride and soaked it all in along the way, proving to himself, Australia and the world that anyone can definitely learn how to cook.
Akin to his tone in The Next Element, our interview with Andy about Australia's most famous television competition and his new book was straight forward yet relaxed.
AGFG: You became MasterChef 2012 by fighting to push the limits in the kitchen. Your new book The Next Element shows that your cooking knows no bounds, even at home. What's been your greatest achievement throughout the MasterChef experience?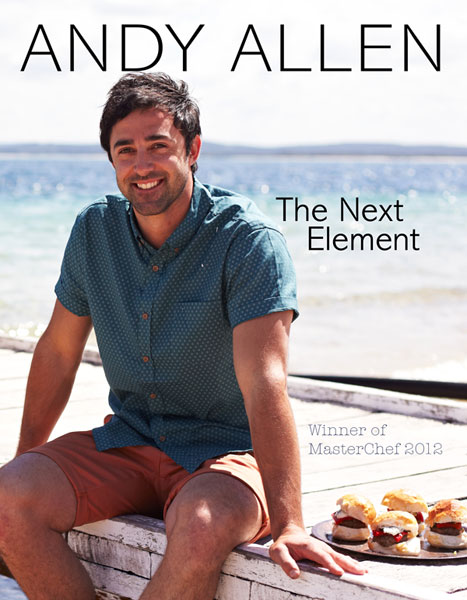 ANDY: I was fortunate to play basketball at a high level and you don't make those teams if you're not competitive. On MasterChef I was competitive with myself, not so much with the other contestants.
One of the biggest achievements of my life is finishing The Next Element. The publisher said "Andy you have 6 weeks to write a book…we need the recipes." It was maybe even more of an achievement than winning MasterChef because there was no coaching at all.
AGFG: On MasterChef, under the mentorship of Mark Best (Marque Restaurant, Surry Hills), you released a 3 hatted status signature dish of confit of ocean trout. What type of food will we find in The Next Element?
ANDY: The food in my book is really basic because I didn't want to put hard dishes in. The first chapter is midweek meals for the family and the second is for friends, barbecuing when boys come around.
The third and last chapter is a 'New Direction', with more advanced food and some dishes from MasterChef. Braised beef shin with pomme puree, bone marrow & vegetables and the $20, 000 fish pies are in there – the MasterChef dish that raised money for charity. This last chapter was by far the easiest to write.
AGFG: How was the cookbook writing experience for you?
ANDY: Until I had to write a cookbook, I had never measured things up and it was hard to know how much to put into my dishes. So I took an educated guess and then tested it out. Also, I experimented with some new stuff I hadn't even cooked before.
But I don't have much of a sweet tooth and had to incorporate a few of those, so Chloe came in on that side. We're friends from the show and do a lot of pop up restaurants together so she was more than happy to get in there and share.
AGFG: There's rumour of you and your MasterChef mate, Benny, going into the restaurant business in Mexico. What's the real story here?
ANDY: One day we would like to open a restaurant and really get our hands dirty, but right now we're nowhere near opening one. It's a lot of work getting into the kitchen, working out the business side of things, and running a service.
Being a sparky, we read a few books but we don't write them. But with the deadline in place I wrote The Next Element in 6 or 7 weeks, which is unheard of for MasterChef - New Holland was really cracking the whip.
At one stage I was literally freaking out – I'm 24 years old and haven't been cooking all that long. Ben helped and we broke it down into recipes and then it came down to the writing. I've given him a bit of a sum for his helping hand and you'll find a number of his Mexican recipes in the book.
Ben and I are actually heading toMexico- it is definitely going to happen - and there's a TV show in the works.
AGFG: You maintain a basic philosophy about food - simple but not predictable. What surprises are in store for fans within The Next Element?
Simple is my main food philosophy… and tasty. It needs to taste like you've been preparing for hours on end.
I like to be part of the party so I designed meals that you can do before the party starts. I'm really big on barbecues and gatherings on the weekend.
I don't believe in fame and am still the same person no matter what's happened over the past 20 months. It's all been a massive whirlwind but I don't call it 'fame'. I feel like life is different and I have a lot more mates but I'm still the exact same person.
The Next Element is 100% Andy Allen, winner of MasterChef 2012. Being the social kind of guy that he is, he's also included a number of delicious recipes from his talented friends, published by New Holland, rrp $45.00.