January 2012
Andrew McConnell - Food for the Way We Eat Now
As Executive Chef and owner of three remarkably distinct restaurants in Melbourne, Andrew McConnell has made a name for himself in the city where he was born & raised, and beyond. With more than 20 years of experience under his belt, including over half a decade working abroad in London, Hong Kong and Shanghai, McConnell now applies European and Asian cooking influences with expertise and purposefully presents simple food combinations in an unforgettable style that's all his own. You'll find varied representations of Andrew McConnell's cuisine at award winning Cumulus Inc., Cutler & Co., and Golden Fields.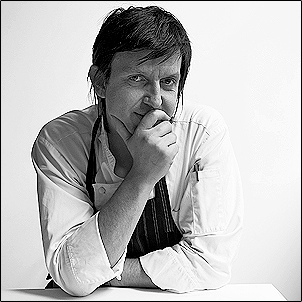 All three establishments are designed with an open motif, though that is where the similarities end. Located in different Melbourne districts, with diversified menus and dining experiences, Andrew McConnell's restaurants afford him the privileged position of independently representing an unrestrained repertoire of different fine dining styles to the public. On a fortuitously sunny day in Melbourne, Andrew McConnell kindly stepped out of his busy environs to take a leisurely walk in the park for this causal interview with us at the AGFG.
Almost akin to asking a parent if they have a favourite child, of your three restaurants is one in particular your pet project?
No, I like them all for different reasons. I like the independent nature of the three businesses and where they sit in the landscape of Melbourne within their various locations. Cumulus Inc. in Flinders Lane shares the building with a performance space and is a perfect precursor to a visit at the neighbouring art gallery. Cutler & Co. in Fitzroy was considered to be in the dead end and now defines this industrial area after hours, illuminating the barren streets at night. Golden Fields in St Kilda brings my interpretation of Asian experiences alive in this popular tourist district. Each of these businesses is connected to the surroundings and to the community.
Your name, Andrew McConnell, is now a reputable institute in Melbourne. As a celebrated Australian chef, have you been offered brand building restaurant collaboration opportunities with luxury hotel chains?
I've had offers but the 'B' word is something I avoid. Each of my restaurants has its own unique expression and personality rather than having concepts that are used across the board – that's a linear aspect that I've avoided. Nevertheless, these offers are flattering and I take them seriously. It's important, I suppose, to stick with what I believe in so I'm decidedly independent.
You create food for the way we eat now within fine dining echelons; can you describe cuisine by Andrew McConnell in your own words?
It's based on European techniques with our own modern approach. We work closely with quality growers, influencing what we put on our menu. Keeping things fresh and looking for the best way to bring the most flavour out of produce is key.
October 2011 marked the release of your first book, 'Cumlus Inc.', and signed copies are available at the restaurant. Your cookbook revolves around a day in the life at Cumulus so for those who've yet to visit, or purchase the new book, can you give us a snapshot?
Cumulus is part of the arts district and contributes to Melbourne's massive coffee culture and nouveau fine dining; we work with local artist Ingrid Tufts, offering her handmade ceramic cups that fit a standard 8oz takeaway lid as a fun eco-initiative. Our restaurant has won a place in many hearts because people know it as a welcoming, non-conformist environment that blurs the lines between café, restaurant and bar all day long – we're open for a snack and a glass of wine if that's what you want.
Since all your restaurants win favour in your heart, why did you choose to base your first cookbook around Cumulus?
I was waiting for the right time to release a cookbook that reflects what I do, pared back for the home cook. Cumulus offers the right creative ground considering its relaxed and informal setting, so the decision came quite naturally. I tell a story with the recipes gathered, showing food for the way we eat now – an idea that works like a charm – and spent over a month working with trusted photographer, Earl Carter, shooting the food, restaurant and everyone within in it. Penguin understood my vision.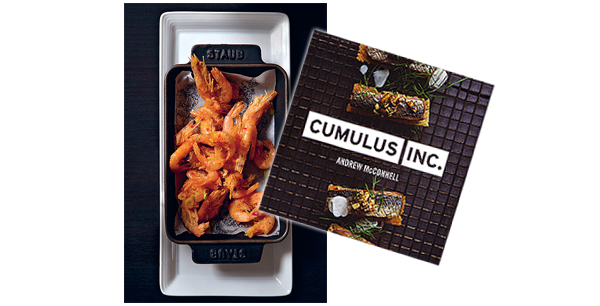 Based on your experience, how is Melbourne making its mark in the global culinary sphere?
In the past we've followed Europe, though that's not the case anymore. There's enough confidence in Melbourne and nationwide, so chefs are now exerting their own style. What we have in Australia is a lack of boundaries and there's a great sense of adventure; as such we have a different depth to our cooking. Ingredients from Southeast Asia are accessible and influence the way we cook and eat. Interestingly enough, a lot of those ingredients are now a staple for many people.
Compared to Cumulus Inc., a vibrant casual dining collaborative in the heart of Melbourne's art and fashion precinct, Cutler & Co. is a noble vision manifest in an area previously untouched by fine dining culture; in the evenings Cutler & Co. is the antithesis of industrial Fitzroy, exuding laughter and warmth from the kitchen in an after hours area otherwise bereft of social interaction. How does Cutler & Co. work?
Melbourne diners are very daring and that's what we bank on at Culter & Co. We took a risk moving here, captivated by the large space that was available and it's paid off; attributing to our successful vision, we won the 2011 Gourmet Traveller Restaurant of the Year. Situated in a revamped metal works factory, we cater for a specific demographic offering a more planned dining experience. We know the people we're cooking for and offer an ongoing degustation.
Our fixed Sunday lunch showcases a flexible menu based on Saturday's trip to the farmer's market – what's available dictates. We have a rough idea of what we'll prepare then cook spontaneously based upon the ingredients at hand. From a chef's perspective, it's a very satisfying once-a-week foray from the standard a la carte menu.
Having worked overseas, what is your most memorable travel experience?
It's hard to put my finger on. In Asia I travelled a lot… I really enjoyed the food in Vietnam – the lightness, that health component. Raw and very fresh, I found it quite different and was taken aback. I base a trip's success on how many bad meals I've had and in Vietnam I only had one, and that was at a hotel.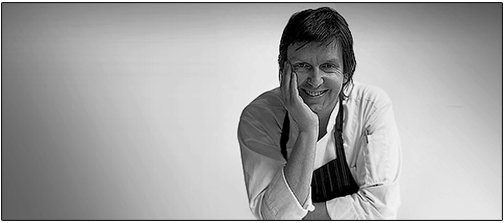 Golden Fields is off to a good start, recognised as the 2012 Age Best New Restaurant award winner. Tell us about its Asian inspired menu?
I'm lucky to get this chance to showcase Asian food influences at Golden Fields, inspired by my travels and professional experience abroad; the restaurant and food is really accessible. As a chef, it's incredibly stimulating to be able to be able to work with true Asian flavours here, then cross the river and work with creative modern Australian fare using the best ingredients.
What comes first, the space or the food?
Putting together a restaurant, the location and the food have to complement each other, considering the guest that's going to be sitting in the space eating the food. Design has been pared back; as with cooking, it's what you leave out. When do you stop adding a layer? You develop your own sensibilities as you learn and grow. My first restaurant sat 45 people. If I had opened for 100 people back then I'd have failed. Success is a gradual experience.
You've evolved from previous restaurants Three, One, Two; Mrs Jones; and Diningroom 211, successfully establishing the three independent award winning restaurants we know today. What is your advice to young apprentice chefs?
My biggest thing is for people to be patient and put time into their training, then continue with their training. It's an ongoing endeavour. I coach all my chefs to keep striving toward a goal, to look at what they're doing and how they're doing it, and to keep motivated. Food becomes a statement. Their commitment makes for a more dynamic workplace.
I always knew I'd own my own restaurant, so earlier in my career I'd experience something on the job and think to myself, "when I own my own restaurant that's not how I'm going to do it", or, "that's perfect and I'm going to take that with me". I took it all in, remembering, documenting… In my restaurants, I am essentially recreating the good experiences within my own ideal situations.
Where do you envision yourself in ten years?
Hopefully, still doing the same thing. I still enjoy what I'm doing. No doubt about it. If the way to a man's heart is through his stomach, what simple food combination would you recommend to a friend cooking to woo a new beau?
(Long pause.) You learn a lot about someone based on what they eat… Oysters are always a good one and red meat. Something simple with good quality. It doesn't need to be too technical. The whole emphasis cannot be on the food… and execute with confidence. A large part of it all is confidence.
When seducing a woman with culinary talent (or at least an attempt), what dish can you recommend to blokes trying their hand in the kitchen?
(Discerning…) Probably a salad to start with a piece of raw fish; something simple, once again. But something you wouldn't have every day.
When you're putting something together for yourself, what are we likely to discover on your plate?
When I cook for myself, I always consider health. Give me pieces of fresh fruit with a glass of champagne and I'm happy.