A Day in Life at Cumulus Inc.
Just as Andrew McConnell always knew he would be a chef, he always knew he would write a cookbook; when was simply a matter of time. A year after opening two critically acclaimed restaurants, Cumulus and Cutler & Co., the time arrived and Andrew sunk his teeth into 'Cumulus Inc.', preparing it for the official release through Penguin in October 2011.
When we spoke to him, he acknowledged that the process of creating a cookbook was sometimes quite difficult, especially considering that he wrote with the domestic cook in mind; he considered that the majority of his readers would be working with his recipes at home in a typical kitchen.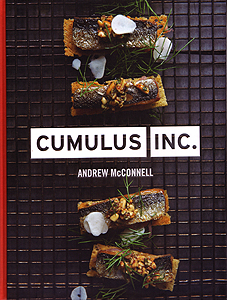 Andrew's recipe collection comes equipped with forthright introductions that make each recipe seem approachable, and he's ofttimes humorously anecdotal in his experiential reflections. This leaves you with a sense of Andrew's innate funniness (complement to his great talent in the kitchen); in his smoked eel and miso turnip intro, he explains that they made way too much (as in kilos) of miso butter for a guest chef so he came up with this recipe as a solution to use up every last tablespoon. Andrew's really honest about the way things work around Cumulus. And he knows how people think. With certain premonition, McConnell often calls readers on common substitutions they'll be tempted to make, imploring them to stick with the program for most delicious results.
'Cumulus Inc.' is a read with panache, emulating style and sophistication with every turn of the page. Though McConnell eschews the 'b' word, you will find signed copies of the book on sale at the restaurant, reverent and readily available, front of house. Because Cumulus is situated amongst boutique shops within Flinders Lane, a popular art district in Melbourne's CBD, it seems natural that patrons can pick up a piece of Cumulus on their way out, as they would art memorabilia from a nearby gallery such as Arc One, a neighbouring business residing in the same building.
This book is an artistic pursuit that allows loyal customers, and those with their finger on the pulse of modern Australian cookery lit, so-desired access to Andrew McConnell's recipes. Some have been around since the early days of Three, One, Two. 'Cumulus Inc.' is not a branded commodity; rather it's perceived as a gift from Andrew and co. who understand their customers. Some restaurant regulars have actually "been known to threaten the chefs at Cumulus with dire consequences if [said dish] were ever to be taken off the menu!" (It was salt cod soup with parsley that raised demands for a repeat performance and yes, the recipe is in the book for perpetuity.)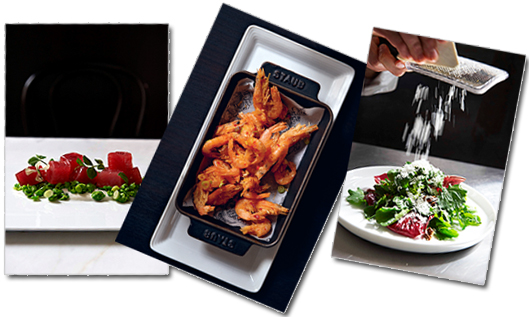 Whether foodies are delving into their own copy of 'Cumulus Inc.' in the comforts of their own home or not, they're still coming back to the restaurant time and time again because nothing beats the real thing – Cumulus is an open venue that defies boundaries by being café, restaurant and bar altogether. Readers will discover this cookbook generously provides unique Andrew McConnell recipes encapsulating the eminently independent flavour of the companion restaurant by the same name.
Be it the sweet, salty and bitter goodness of rocket and radicchio salad with salted ricotta and caramelised walnuts, the Tetsuya Wakuda inspired tuna tartare with crushed pea salad plated harmoniously with goat's curd, or the crusty caramelised lamb shoulder to share, there is an elegant simplicity to Andrew's dishes, yet they never compromise in taste. McConnell's renowned chef status is based on his individualised expressivity with food built on professional maturity. He has an understanding of spice, knows how to balance out a dish and can design intriguing menus with depth; the same skills have been applied in the making of this book.
'Cumulus Inc.' is more than a cookbook because of the collaborative design effort involved in accordance with the restaurant's emergence; McConnell's two business partners had their say, Pascale Gomes-McNabb offering acute understanding of hospitality, and Jayden Ong bringing a discerning palate. Having the accomplished triumvirates as consultants, as well as Round design studio – responsible for launching the original Cumulus identity – impacts the book's authenticity.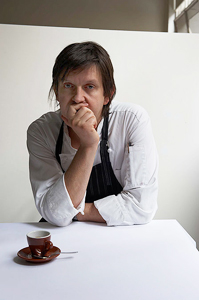 Furthermore, Andrew worked with trusted photographer Earl Carter for about a month to present the right shots of their industrial exterior and the artistic elements within; we're left with inviting imagery of the 'any time of day' space and decor. Since Cumulus is as much about the people as it is about the food, we are shown the owners, chefs, front of house staff and guests placed amongst tantalising food shots attesting to the photographer's prowess.
A book that places as much emphasis on vegetables as it does on meat is a sign of changing times and as 'Cumulus Inc.' is cooking food for the way we eat now, it's representative of modern Australian cuisine at its finest. Salads and comestibles aside, this book naturally progresses start to finish beginning with breakfast – including one that Andrew himself would include in his final meal if he was on death row – and finishing with dessert. Charcuterie, sometimes a favourite late at night, is right at the beginning probably because the standout flavour combinations can be subtle or dramatic, depending on the combination you after.
Melbourne based, if you haven't been fine dining at Cumulus, constrained by proximity or otherwise, then this cookbook is a considerable option as 'Cumulus Inc.' is literally defined as 'a day in the life at Cumulus. As such, you'll feel satiated having tried out these divine recipes and perused photos of the space and people that work and dine within it.