By Leigh O'Connor.
Growing up in a big family in Vietnam, life was hard for Ennis Le. They survived on little as the country was still recovering economically from the war – it taught Ennis a little could go a long way and how to cook with love.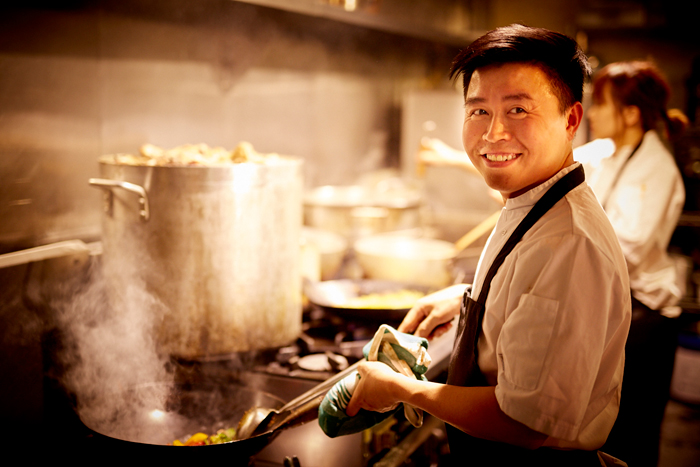 Now this tough little Chef, who is the brainchild behind Port Melbourne's Hanoi Mee Kitchen & Bar, has come full circle. After 10 years in Australia, he showcases his home country's cuisine in dishes that brings gasps of appreciation when they arrive at the table, earning him the respect of some of the top Chefs in the country.
"In my early years I learnt how to work very hard from very early in the day to very late at night," he tells AGFG. "I also learnt how to make ingredients go as far as possible in as many dishes as possible, without wasting anything."
Ennis began cooking at age 15, mainly at wedding functions to earn extra cash to support his Bachelor of Marketing and Diploma of Hospitality studies at Ho Chi Minh University. Moving Down Under in 2009, his big break came two years later when he began working at Dandelion in the Melbourne suburb of Elwood – in 2017 he became Head Chef.
"When I first came to Australia I didn't have a place to stay, or a job for three months in the middle of a Melbourne Winter. I was so lost, scared and sad. I was only 24-years-old and didn't know anyone. I stayed in a hostel in the city, but life was terrible – I was always being threatened and having my possessions stolen.
"I almost left and went home, but I met someone who helped me find a place to live and over the next six months I travelled two hours each way every day for a job without pay. I was getting ripped off and feeling so alone, but I was determined to succeed so I could prove to my Mum and family I made it in Australia."
Ennis remembers going to job interviews knowing he could cook really well, but the employer not even looking at his resume because he was Vietnamese, small and not really good at speaking English.
"One day I turned up at a place called Dandelion in Elwood, applied for a job and the owner gave me a trial. Six years later I was still there… it shows if you try, try and try, you can sometimes win and succeed."
Opening a restaurant of his own was a very big deal, his family sees him as a success and even though just starting out and with a lot to learn, Ennis is determined to bring a taste of his homeland to all who enter Hanoi Mee.
Drawing inspiration from fellow Vietnamese Chef Luke Nguyen, Ennis identifies with his background and how he persevered to make his culinary dreams come true.
"Luke has remained true to himself and always goes back to his grass roots and home cooking. He often talks about his young days – there is so much love in his cooking."
Vietnamese cuisine has evolved tremendously in Australia over the last decade and is more popular than ever, a fact Ennis attributes to dishes being more fusion in nature to appeal to the local palate.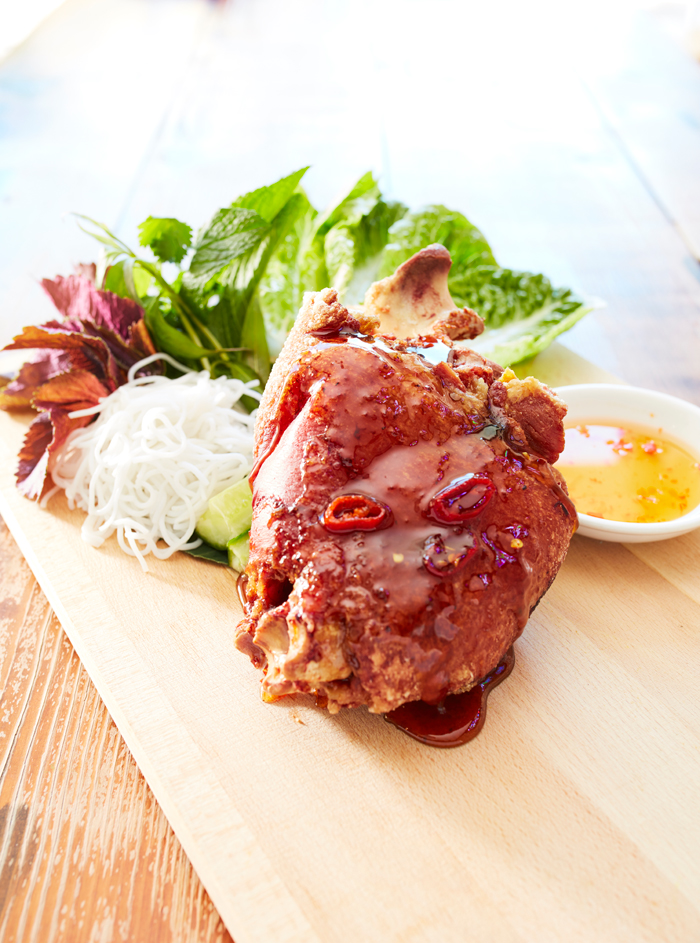 The recipe he has chosen to share with AGFG is caramelised pork hock with tamarind sauce. While Pho is the most well-known dish in most restaurants, this dish combines all the flavours of home in a melt-in-the-mouth offering that is sure to become a family favourite.
And of course, there's fish sauce in there – the one ingredient Ennis says he can't cook without, as it adds depth and balance to most recipes.
Asked what his future ambitions are, there is no doubt this young Chef has simple dreams for success.
"I don't know what tomorrow will bring, I take one day at a time. I hope my small, but honest business will continue to grow and new customers will come to try and enjoy my food. Maybe one day I will partner up with another big Chef and do something on a bigger scale, but for now I am happy and content."
So, what does this driven Chef do in his spare time to relax?
"Hahaha! Sleep, sleep and washing! I love spending time with my beautiful Cavalier King Charles Spaniel, Lilly. I also try new places to eat and see my friends when I can. I am simple and humble, I don't need much and don't expect much."