From surf to Surfers Paradise
The most populous non capital city in Australia, the Gold Coast is full of long sunny days, long beaches, long island iced teas and long legs. Located in south east Queensland south of the state capital Brisbane, the Gold Coast is a one of a kind destination full of activities, attractions and events to suit all ages. With an endless supply of entertainment and adventure, the Gold Coast is renowned for its warm inviting beaches, luscious rainforests, shopping hotpots and, of course, being Australia's theme park capital. From surfing the waves on the aptly named Surfer's Paradise to indulging in boutique shopping in the number of surrounding malls, the variety of entertainment on the Gold Coast is second to none, making it an essential destination on your holiday itinerary.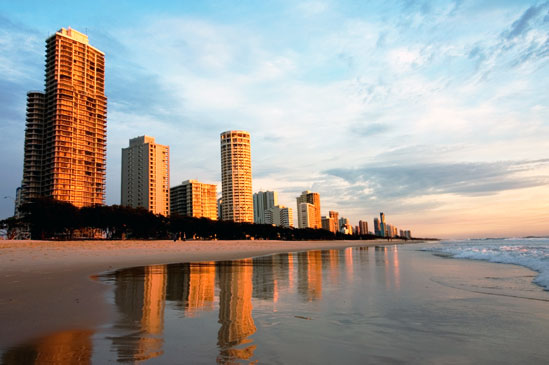 What can I do on the Gold Coast?
Famous for its nightlife, the Gold Coast holds a plethora of clubs, pubs and nightclubs for the party animals, the majority of which are located in Surfer's Paradise and Broadbeach. Additionally, a number of pub crawls are run throughout the Gold Coast, taking you around the biggest and best hotspots for a drink and a dance.
A busy and buzzing destination at any time of day or night, it's not unusual to see street performers, markets and arcades open and active long after the sun has disappeared. Star Gold Coast offers the glitz and glamour for families, couples or the lone traveler, promising a memorable night of entertainment with a changing variety of shows, music and comedy. For a night of good food and wine, the Gold Coast has a number of fine dining restaurants, cocktail bars and waterfront dining options available.
For more information on the Gold Coast, head to our guide