A quick word with George about MasterChef Season 5 and life beyond.
Just like food has soul, elegance, substance, technique and above all, respect and understanding of the product… MasterChef Australia has stood the test of time, embodying similar characteristics in the realm of TV. Here at AGFG we were able to catch up with George and talk to him about MasterChef Season 5 and his future.

AGFG: In your PR for MasterChef there is a strong publicity vent of males versus females with a 1950's elegance. Is this a theme designed for the debut of MasterChef Season 5 or will it carry on throughout the season?
GEORGE: It's just a new angle, something different from what we've done before. The theme was not really designed to carry on throughout the season. Let's not forget that MasterChef became a talking point from the get go; labourers bantering, what we want to do is be controversial, to address and discuss what we don't talk about. In the end we just want to address these contestant's dreams and help them become a reality, while influencing the country as well.
AGFG: What have you learned from Matt and was it hard for you two to be mates (being that off screen you're a restaurateur & chef, and he's a reviewer and critic)?
GEORGE: Well way before MasterChef, I worked at and owned many restaurants, but Matt never reviewed my restaurants. However, Gazi opened and he came in, I asked for the bad things because I trust his judgement 100 percent, because he has an amazing palate and he knows what's going on out there. Chefs and restaurateurs don't always see what's going on out there, but Matt does. It's always good to get honest opinion, answers and honest feedback.
AGFG: Your slogan "Food is Family, Family is Life, Life is Everything" lines the Press Club homepage, tell me how this is relevant to MasterChef season 5?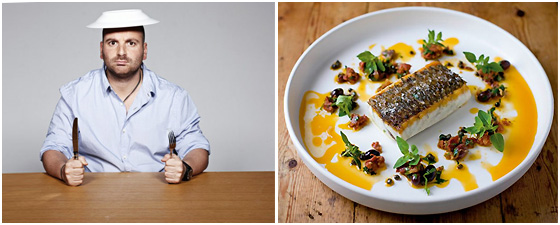 GEORGE: Food brings us all together, it's a diverse multicultural boiling pot of flavours, colour and religions. I try and bring this through my cooking, but MasterChef typifies this. It is Australian, it is Muslim, it is Italian, it is everything and that's why our show is loved around the world. It identifies with everyone from all over the world, we were in South Africa and Dubai and they understand it, it also has a phenomenal following in Jakarata and Indonesia, because it appeals to a wide demographic, which is just brilliant.
AGFG: How will you impart that wisdom into your home chef contestants while emphasizing their need for technical precision (which they may be lacking a bit without formal training)?
GEORGE: I've been gifted with the opportunity to be on the best cooking show in the world. When the waves slowly roll off the shore, I'll slowly step off; I'm back in this morning with my team; I love being in the kitchen. That's who I am; not to teach them how to cook; to inspire them; to support them; to spank them; do all those things I need to do as a leader. I wouldn't be on the show if I didn't and I also like to legitimize critique because I also get critiqued.
AGFG: When you two first auditioned, Gary picked up that ego wasn't required and that dominating who you're with wasn't necessary and interaction was golden. How have you and Gary maintained and developed this over the years while shooting?
GEORGE: I worked for Gary for over 7 years and now we're collaborative and have a lovely relationship; I asked him into Gazi to check it out and I value our friendship. He is a true technician and true chef. He manages, directs, teaches and nurtures. I can work for him for so long and I have grown so much, I can now give back to him and offer ideas.
AGFG: What do you want foodies to know about Gazi and the Greek street food you're serving here?
GEORGE: Well MAdE is a great business. My father's teacher taught me what business is all about; its all different; we're not a chain; all my restaurants have their own soul. I have amazing partners that love and believe in the dream. It's all about being a bit of a think tank, a creative space only for food and creativity. I want people to constantly dream, to constantly put their head in the clouds and make things happen. As a chef, you go through rough patches, that's just how it is but as long as you dream it will get better.
AGFG: Looking at your own quote: "This should be the 11th Commandment: 'Good food should be concluded by mopping up the plate with bread… Amen." We had MasterChef Professionals and audiences have really high expectations for Season 5, what's the best bit about this season that will mop up the plate for viewers?
GEORGE: MasterChef has been the most amazing eye opening experience and I have been blessed to have such an opportunity. I hope we have changed the eating habits of all Australians as well as influencing the world. We hope to have at least left a legacy that we can all be proud of.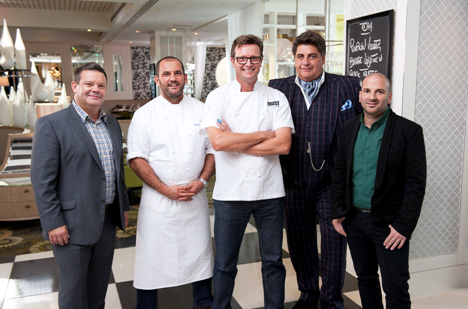 Gary Mehigan, Guillaume Brahimi, Russell Blaikie, Matt Preston, George Calombaris.
On Monday July 1st at 7:30pm one of our award winning Chefs, Russell Blaikie will be cooking for the judges on Masterchef. As owner of Chef Hat Awarded restaurants, Must Winebar Perth and Muster Bar & Grill Margaret River, Russell will be cooking in a nerve wrecking immunity challenge against one of the MasterChef contestants. AGFG met Russell at Truffle Kerfuffle during June and spoke to him about his book Must Eat which features French bistro food - food that is carefully sourced from long-trusted regional growers and suppliers. Be sure to watch what he plates up on Monday night on Channel 10.