By Sean Melrose.
So much to do, such little time! We're here to make sure you don't miss out on anything at Festivale 2017, which also happens to mark their 30th year in operation, so it'll be a year not to miss. For those who like to walk and munch, Festivale is your ideal event, with over 75 stalls offering something tantalising, you'll be in good company; and for those that like to dine, indulge or learn, we have the hottest events listed for you below.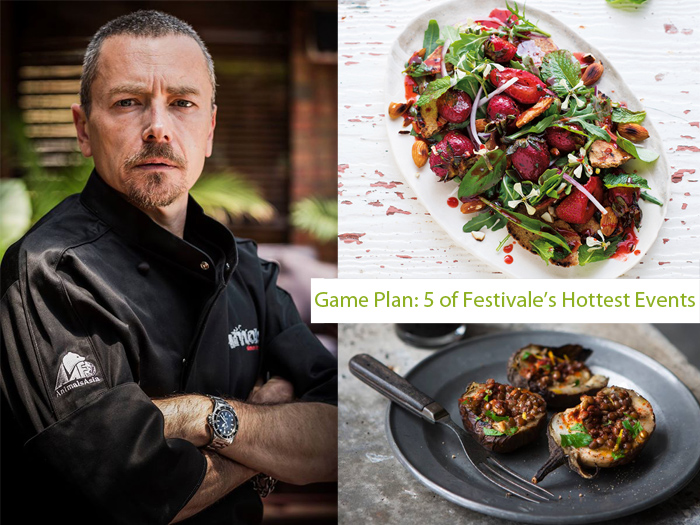 Simon Bryant Cooking Demonstration, Sunday: 12.30pm – 1.30pm at the John Hart Conservatory
Top of the list has to be a masterclass at the John Hart Conservatory with guest Chef Simon Bryant. Well known from ABC's The Cook and the Chef, which he co-hosted with the renowned Maggie Beer, Simon will be giving the low down on Asian inspired family fare. Drawing on his time in the land of the rising sun, the impending Festival Director will present a Summery Japanese crumbed chicken with wasabi mayonnaise. Stillwater's Chef Craig Will, as well as Fiona Hoskin from Fee and Me will also be on the pans, as part of The Tasmanian Food Co's much anticipated Conservatory Cooking event. If you'd rather dine with Simon instead, he'll be hosting a lunch at Stillwater on Friday, February 10 (12 – 3PM), get your tickets HERE.
Indulge - Chocolate and Wine, Saturday: 4.00pm – 4.45pm at Design Tasmania on Tamar Street
The next word after anyone says chocolate and wine, is usually . . . where? Natasha Neiuwhof from Goaty Hill Wines is partnering with Theresa Streefland from Cocobean Chocolate to create the ultimate form of indulgence. As they've said, these are two of life's great pleasures and the idea of Tasmania's typically cool climate wines along with carefully crafted, Tasmanian artisan chocolate will no doubt lead to an early queue. Learn the ins and outs of great wine and just as importantly, great chocolate; remember, just like the perfect mixtape – a good chocolate and wine pairing is an art form. Purchase your tickets HERE.
James Morrison, Sunday: 1pm – 2pm on the VJAM Stage
Morrison, an Australian Jazz icon who has rubbed shoulders with the likes of Ray Charles and Dizzy Gillespie, is quoted as saying "if I did a Miles Davis impersonation and was very serious, I'd probably get a lot of applause from some of my peers and the serious jazz critics but, in fact, I'd be selling out. For me, the day you see me arriving by helicopter, parachuting out playing a trumpet and landing on the stage with fireworks going off, that's when, basically, I'm being really true." For jazz fans that love some great improvisation and passersby that want to see what a trumpet can really do, drop by the VJAM stage to take a peek at a trumpeting virtuoso in full flight.
Best of the Best, Sunday: 10.30am – 11.15am at Design Tasmania on Tamar Street
The judges for the Festivale Wine Awards will be on hand to run attendees through the illustrious list of 2017's winners and explain why they've been crowned, 'the best of the best.' There will no doubt be plenty of dazzling wine tastings over the weekend, though the opportunity for a guided tasting tour through the year's best, as chosen by the discerning palates of Curly Haslam-Coats from Vintage Tasmania, Rebecca Duffy from Holm Oak Vineyards and Stillwater and Black Cow's James Welch, will be hard to beat. Purchase your tickets HERE.
A Visit to Hellfire Bluff Distillery Stall
In a landscape dominated by great wines, fantastic cheese and smooth whiskeys, Hellfire Bluff and their Tasmanian potato vodka, dry gin and limoncello liqueur stand out as something unique. Hellfire Bluff is the rocky outcrop overlooking the ever changing Marion Bay and the location for one of the few remaining vodkas that are still created using the traditional method of farming and using potatoes. They are also known for a London dry gin with notes of juniper, orange and coriander, as well the limoncello, made from locally sourced lemons that are soaked for 3 months.
Festivale's full 2017 program is HERE.
For an interactive map to find all the stalls you're interested in, click HERE.