Truffles are the heart of Tasmania's Terry family.
Even from a young age, all Henry and Anna wanted was to be amongst the truffles. Henry was known to pull off a very convincing stomach ache to get out of school so he could go truffle hunting and was there when the first truffle was harvested in Australia in 1999.
While sister Anna has been creating recipes with enticing black truffles since she was four years old and would put them on anything she could, resulting in some 'magic and absolutely horrific' combinations over the years.
The story of the family business Tasmanian Truffles began in 1992 when the siblings' father Tim Terry was on a fishing trip with a friend and the simple question of why not grow truffles came up in conversation.
Why couldn't a black truffle be grown in the southern hemisphere? How could it be done? Where would you begin? These questions set in motion a series of events that would culminate in the harvest of their first black truffle, seven years later.
A lifelong farmer, Tim understood the soil and the forces of nature that bring life to the land, but he'd never grown a crop like this. He studied the traditional European art of truffle growing and with an inventiveness born out of necessity, Tim and wife Adele brought their own innovations to truffle growing, pioneering new techniques to suit Tasmania's unique climate, soil and conditions.
It's a skill that has now been passed down to the next generation of the Terry family – Henry and Anna.
"We are so fortunate to have grown up on the truffle farm," Anna says. "When we were younger, we used to go out hunting with Dad and we would both get so excited. It was like hunting for buried treasure (literally)!
"I guess our passion for truffles comes from growing up around them and understanding all the labour and love that goes into growing them. We both love the mystery that comes with truffles – you don't know where they are, how many there are, or how big they are going to be until you get them out of the ground."
Since that cold Winter's afternoon in 1999 when Tim harvested his first black truffle from the rich soil of the Deloraine farm, Tasmanian Truffles has become the country's premium producer of this exquisite delicacy.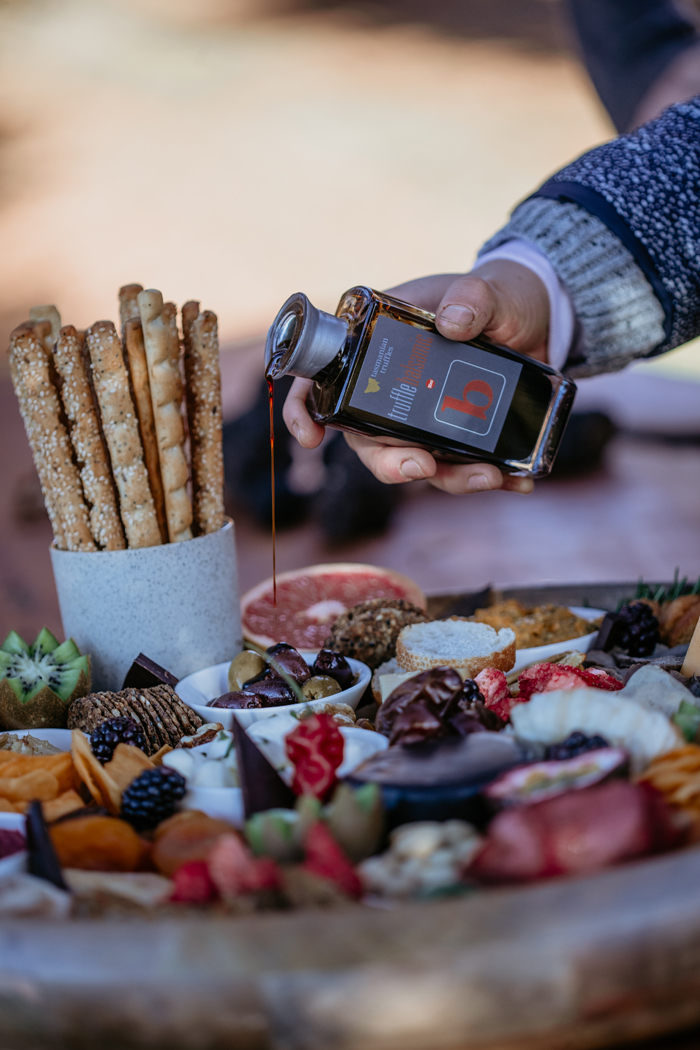 They are sold at a family stall at Salamanca Market and also supplied to restaurants and providores. A large portion of each harvest is retained and made into a variety of products from truffle crème, salt and honey, to oil and balsamic.
"Our most popular product is our truffle crème," Anna explains. "This is like an oil-based butter and is very versatile. We like to smear it over cooked steak, melt it through pasta or add it to risotto."
Tasmania's cool climate, pure air and water and fertile soil create the perfect growing conditions for black truffles. The Terry family farm at the foot of Tasmania's Great Western Tiers, nurtures truffles grown slowly and carefully in optimum conditions.
"Our truffles grow in the most pristine environment in the world. The mild Summers and cool Winters make for slow-grown truffles that result in rich flavour and aroma," Anna says. "Truffles form on the roots of oak or hazelnut trees. We inoculate our trees as seedlings and wait from 5-15 years before the truffles actually, start growing."
The fruit of the fungi that forms on the tree roots, truffles take a little less than a year to form and then reach full maturity. Most of the growth happens over the Summer months, then they lay dormant in the soil until cold Winter frosts trigger maturity, releasing the flavour and aroma that signals the harvest.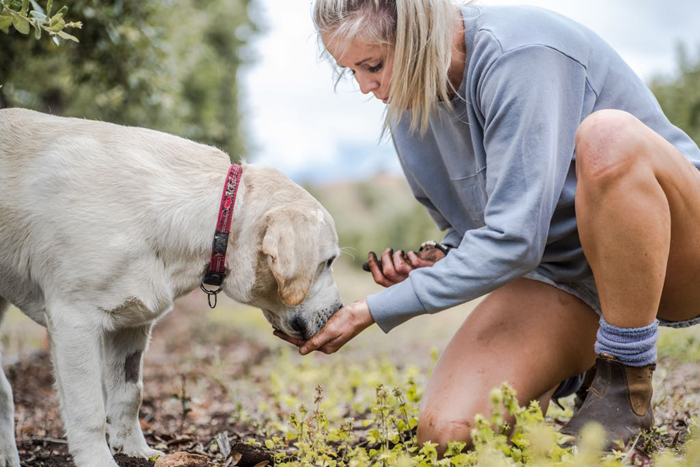 They are unearthed at the perfect moment, guided by the finely tuned senses of the Terrys' highly trained truffle dog and chief hunter Doug. Each one found is gently lifted from the soil by hand – harvested with care and devotion.
"We also employ harvesters who have their own dogs," Anna says. "A good truffle dog needs to have a good relationship with their owner and want to please them. This relationship is also vital in terms of the harvester reading the dog and understanding when it needs a rest or is having a lapse in concentration.
"Over the years we have had a variety of dog breeds and have found that the breed is not as important as the character of the dog. It is important to have a dog that has a good sense of smell, but that is secondary to their work ethic. Through training, truffle hunting becomes a game to them and it's important to keep them engaged and excited about it."
Anna's simple recipe for truffle brie combines two of her favourite foods – cheese and truffles – and is something she throws together during truffle season to serve for nibbles with friends, or add to pasta and omelettes.
"I always recommend this combination to someone if they are trying truffles for the first time. My best advice to everyone, whether it be a Michelin-starred Chef or someone learning to boil potatoes is to always keep it simple.
"Truffles are so unique and special and don't need to compete with fancy flavours. They work best with fats (milk, cream, butter, cheese) as the fat carries the aroma of the truffle and spreads through the dish."
The flavour of the truffle changes depending on what food it is in – combining it with savoury dishes such as scrambled eggs or pasta results in a subtle earthy sweetness, while chocolate or ice cream makes the flavour take on a whole different dynamic.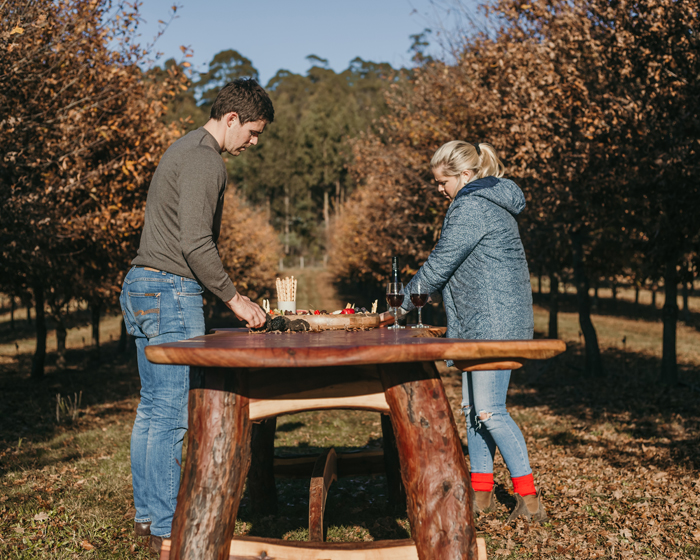 The Terrys recently introduced tours of the farm and are excited at the interest shown in how a truffle farm works. On this experience, visitors walk with the dogs and hunt for truffles, getting the chance to unearth some black gold with their own hands.
They also learn about the industry and its history in Australia, as well as how the truffles are graded; before tucking into a decadent tasting and lunch platter of Tasmania's finest produce.
As for the future, Anna and Henry want to continue to show people their little part of the world and what they and their parents before them, do. There are plenty of ideas and plans for the future, but right now they are doing what they love on the farm and feel lucky to have been given that opportunity.
We can't wait to see where the future truffle road takes them.
Images supplied by Tasmanian Truffles.