By Leigh O'Connor.
At 14 growing up on the Greek island of Kefalonia, curiosity led Natalia Gaspari to grab a kitchen pan and start cooking… years later, she has never stopped.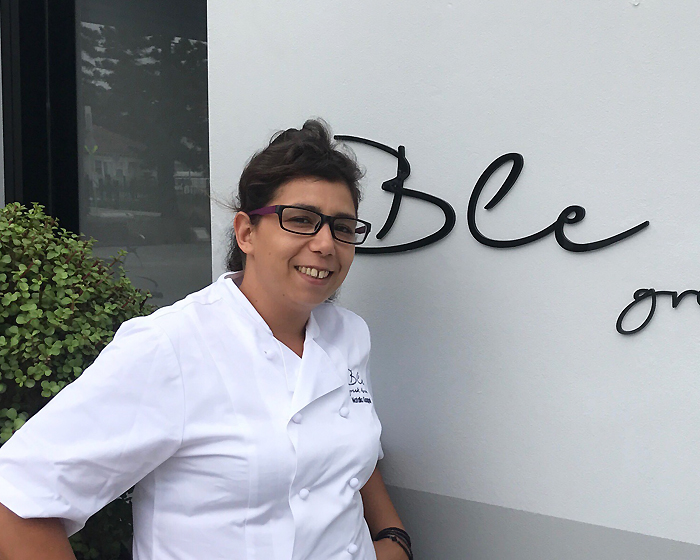 Natalia Gaspari outside of her restaurant.
Now Head Chef at Ble Greek Kouzina Restaurant in the Sydney suburb of Ramsgate, Natalia has created a menu reflecting an appreciation for the traditional Greek kouzina, infused with influences from her island roots.
"Growing up in Greece and travelling around gave me the opportunity to learn the authentic way to cook and this classic culinary style is something I am proud of," she tells AGFG. "Arriving in Australia at age 21, full of energy and ready for new challenges, I started improving my skills to become the Chef I am right now."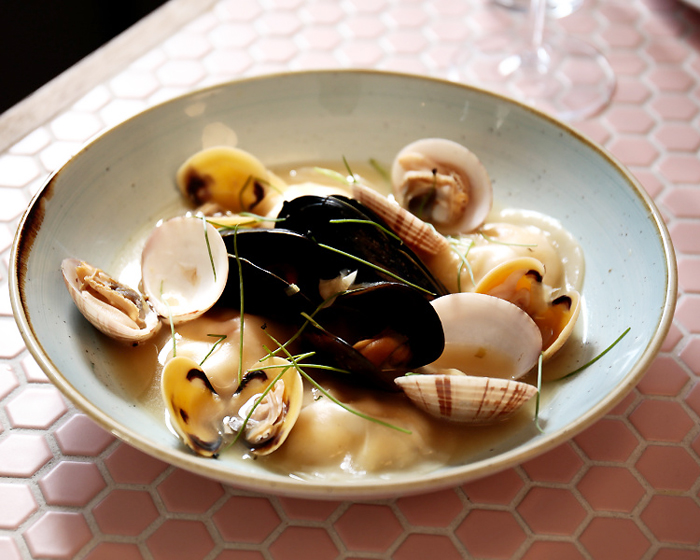 Lobster ravioli with halloumi cream, Kinkawooka mussels, clams and Kakavia broth.
Opening Ble was the realisation of another goal for Natalia, after years of hard work in other Chefs' kitchens.
"The feeling of working hard for your own business is totally different. The hardest thing, in the beginning, was to find a good team. I have given my life and soul to Ble and it means everything to me, but I won't stop there.
"I feel very grateful for what we have achieved, and I believe I have everything that makes a human happy. The most important thing for me is my family overseas, who have never stopped supporting me and my other half Yiannis Xenopoulos, who is always next to me encouraging me every step of the way.
"I'm full of energy and passion and the next step to reach my goals will be in Melbourne in the next few years."
Natalia says at the beginning of her career she faced a lot of adversity but has never looked back.
"My advice to Chefs beginning their careers is 'don't be afraid to fail.' Stand up and fight for what you love, nothing will come easy. Humility is everything, work hard with respect for what you want to achieve."
A seafood lover, her favourite traditional Greek dish is Xtapodopita – octopus pie – from her home island, with its rich flavours from pure ingredients and the combination of different aromas, taking the diner on a heavenly journey.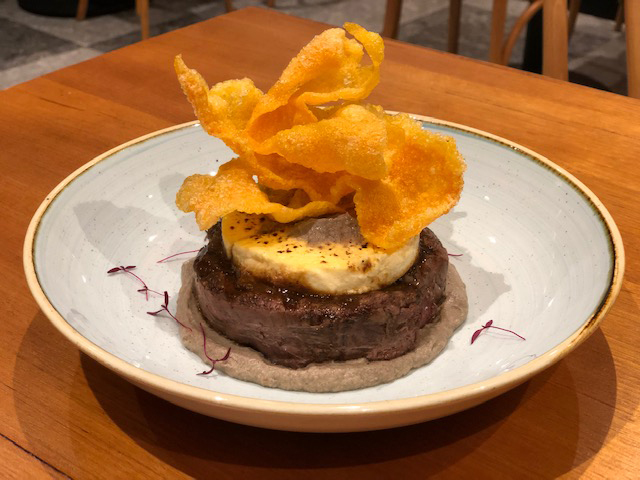 Eye fillet moussaka.
It is her recipe for eye fillet moussaka she brings to the AGFG table:
"This is a very special dish for me and has all you need in a meal. It's inspired by traditional Greek moussaka and has all the components in it but in a modern way. Moussaka was created by Nikólaos Tselementés in 1910 and my goal in 2019 was to give it a good update for our generation."
With a love of gardening and travel, that's where you'll find Natalia in any spare time…
"These days, there isn't much time available for other things. But if you are organised, you can find a spare moment to fit everything you love doing into," she reflects.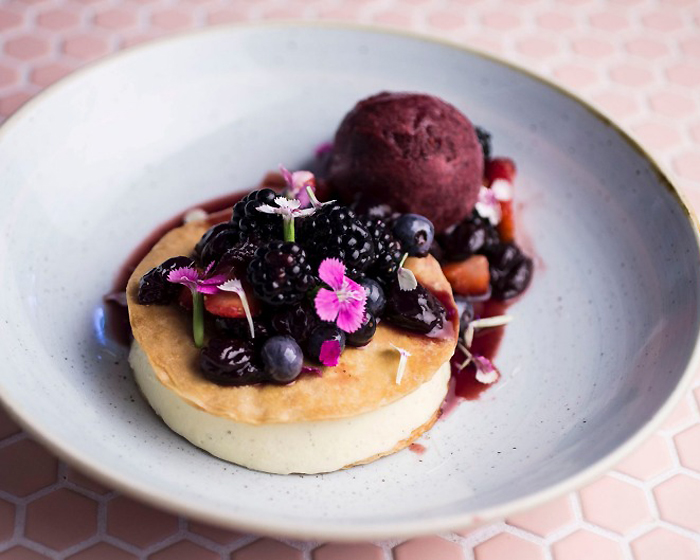 Galaktobouriko: mastic custard, coconut filo and wild berry sorbet.
Organisation is definitely something this Greek Chef is passionate about, she confesses to being obsessive compulsive about a clean, tidy and organised kitchen, with everything labelled and dated. She also strives to bring this consistency to the plate, wanting her dishes to look the same, taste the same and smell the same.
With such drive, energy and passion, Natalia is sure to be a force on the Australian culinary scene for many more years.