Since 2017, Winston Zhang and Christine Chen have dreamt about opening a Japanese restaurant in Melbourne.
Now a reality with
Akaiito
on Flinders Lane in the heart of the city, Winston says the restaurant was inspired by combining the cooking styles of both the open fire grill and modern Japanese cuisine.
A dazzling 'Red Thread of Fate' light fixture twists its way across the dining room pointing guests in the direction of the hidden underground bar and the beautifully designed interior projects a moody vibe of black marble, dark granite and plush grey banquette seating.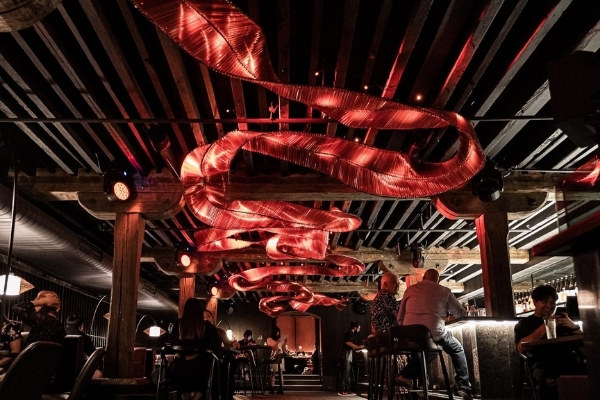 Originally from Shanghai in China, Winston came to Australia when he was 25 and his love for food began in Sydney when he discovered the diverse selection of produce and ingredients this country has to offer.
He began his culinary studies shortly after arriving and gained experience working as a kitchenhand in one of Sydney's most iconic restaurants Lucio's.
After Head Chef roles across Sydney, Winston explored further opportunities with Christine opening multiple restaurants in Shanghai. Following the success of these ventures, the pair began working on their passion project – Akaiito.
"Originally, Christine planned to open a yakiniko-style restaurant. That concept changed after a business trip to Sydney when I introduced her to my favourite restaurants Fire Door and Sokyo, which inspired us to create a new image for Akaiito," he explains.
"Combining the cooking styles of both the open fire grill of Fire Door and the modern Japanese of Sokyo led to the birth of our robatayaki specialist restaurant."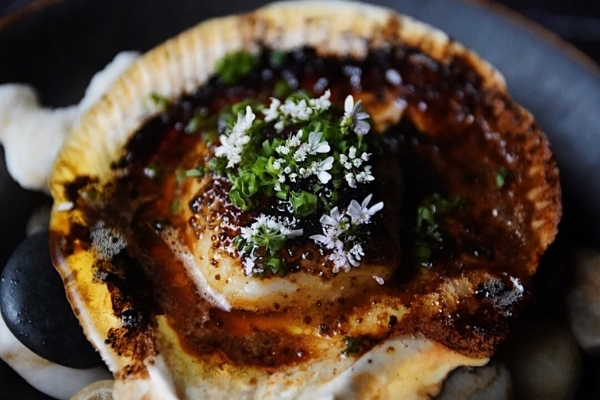 Winston defines his culinary style as Modern Asian, having grown up in Chinese culture but learning and training in Australia.
"I love the changing of the seasons and the new seasonality of ingredients that brings. I always want to try to complement seasonal ingredients while creating new flavours along the way."
His signature dish of
Akaiito robata scallops
with seaweed butter, yuzu and chives has been flying out the door, combining fresh Hervey Bay scallops with Japanese flavours and textures – it is a simple but 'oishi' (so good) recipe you can replicate at home.
Shio kombu, seaweed paste and yuzu juice are available at most Asian grocery stores in the Japanese section; and Winston says any leftover seaweed butter is always great on toast.
"Present the dish however you want, at Akaiito we place our scallops on a bed of rocks to give the plating inspiration of under the sea," Winston says.
This is one Chef who won't be saying sayonara to the Melbourne dining culture any time soon!