Words by Annabel Rainsford.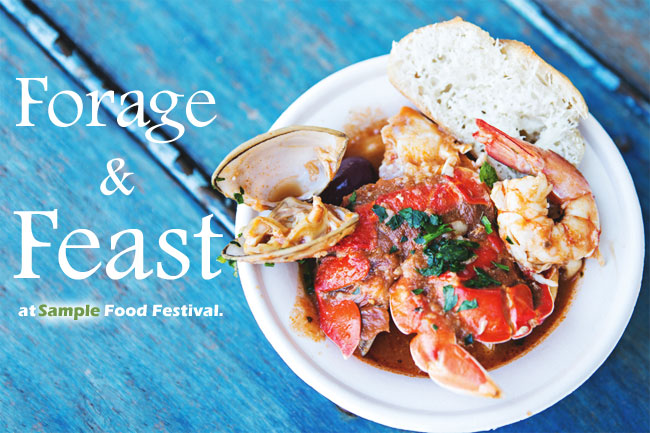 Local Seafood Tasting Plate [supplied].
"It's wonderful we can bring back native ingredients foraged for thousands of years and share in it together again - that's what food is all about." ~ Harvest Chief Forager, Peter Hardwick.
[LIVE: 02/09/16 2pm] Celebrating in high spirits with the weekend just around the corner, the attendees of Bangalow's "A Forage then a Feast" luncheon welcomed the coming of the town's sixth annual Sample Festival with a decadent soiree.
A taster of the festival to come, the degustation kicked off with a performance by indigenous dance crew, the Deadly Bunarms, before introducing a selection of wild grown ingredients to be tried and tasted both at the luncheon and at stalls throughout Sample festival the following day. The luncheon's six-course feast included native and feral grown ingredients foraged from the surrounding area by Harvest restaurant's Chief Forager, Peter Hardwick. Snippets of finger lime, sea blite, chickweed, Bunya Cone vinegar, feral guava, lemon myrtle and scrambling lily as well as Brookfarm Macadamia Oil and Olsson's Sea Salt saw the menu resonating with distinctly regional flavours.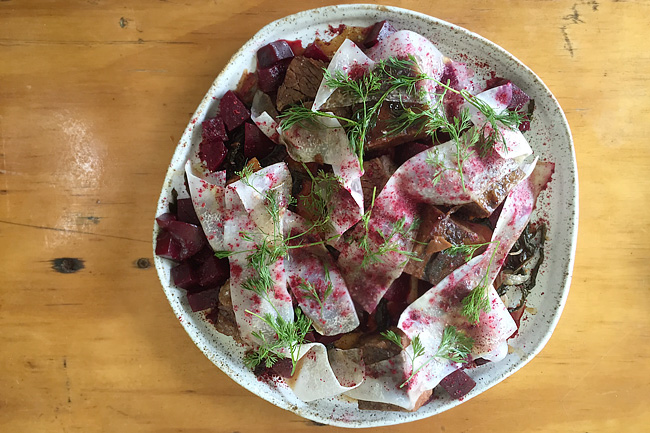 Braised brisket, smoked beetroot, aged feral coffee leaf vinegar, kohlrabi, Davidson plum and sow thistle.
Each course was a picture of elegance, crafted by the expert skills of talented regional chefs, including Clayton Donovan of Jaaning Tree, Bret Cameron of Harvest, Monique Guterres of Seaweed Cuisine, Sarah Swan of 100 Mile Table and Katrina Kanetani of Town, all paired with Devil's Corner wines and locally brewed craft beer thanks to Stone & Wood.
The luncheon highlighted the importance of Sample Festival not only as a means to promote the region's collective palate, but to participate in a sharing of vibrant cultures and providing an opportunity to recognise the region's growing culinary talent in a fun and family-friendly environment. To find out more about Sample's preview luncheon as well as the Sample Food Festival click here, and be sure to plan your visit for next year.
Spring in Full Spring at Bangalow's 2016 Sample Food Festival.
[05/09/16] Spring is now in full swing, and what better way to spend it than celebrating at a local food festival? The residents of Bangalow rejoiced at Winter's end by way of the sixth annual Sample Food Festival, held at Bangalow Showground over the weekend.
Visitors travelled from far and wide to attend, and the day put on a glorious burst of sunshine that saw thousands filing in through the gates. This year's festival drew the likes of celebrity Chefs and restaurateurs, renowned native ingredient foragers, regional Mayors and even international movie stars – yes, even Chris Hemsworth and his family were spied among the cheerful crowd.
"We love coming here for the huge collection of local farmers, growers [and] great regional Chefs promoting sustainable produce. It's also a great place to bring the kids." ~ Chris Hemsworth.
Festival-goers enjoyed the day perusing through the wares of 200 stallholders, offering fresh produce and delectable cuisines, with food stalls giving particular focus to showcasing indigenous ingredients alongside stalls displaying artisan handmade products and all sorts of collectibles and clothing.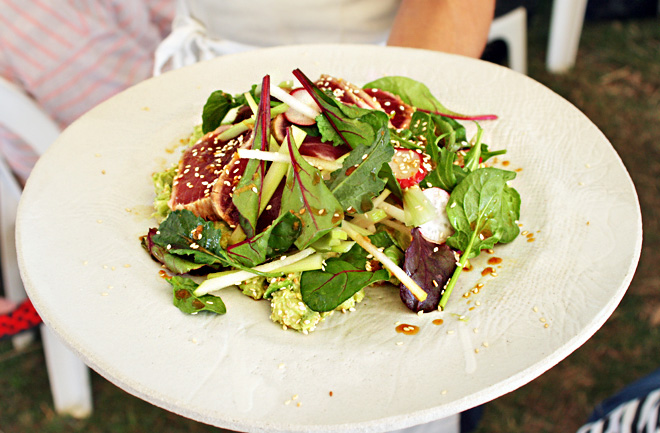 Chrissy Freer's tuna tataki with ponzu.
Adding entertainment to a tempting array of stalls was a stage for live music, creating a buoyant atmosphere with tunes from bands and artists like Abbie Cardwell, Lady Slug, Broadfoot and Who Else. On the other side of the festival stood the Olsson's Salt marquee, filling with audiences keen to observe cooking demonstrations from Chefs likeChrissy Freerwho created a tuna tataki with ponzu dressing and fresh beetroot leaf and avocado salad from herlatest cookbookin under 20 minutes, and Kate Walsh demonstrating a variety of techniques to get the most use out of locally grown macadamias.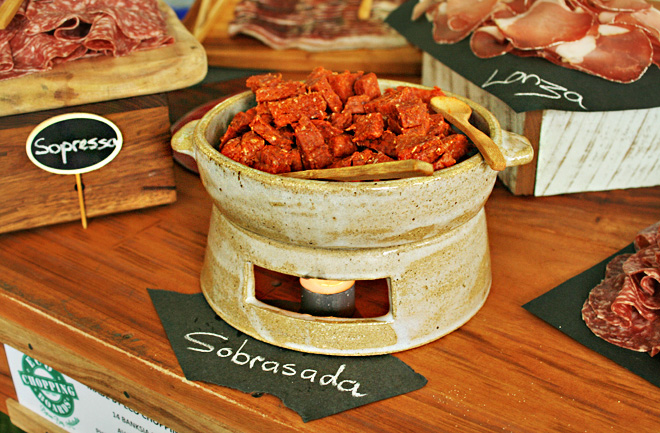 Salumi Australia's Sobrasada.
The Olsson's Salt marquee also hosted a 'cook-off' stage for Spencer Patrick and Samantha Gowing in a Mystery Box Challenge, My Kitchen Rules 2013 winners Dan & Steph versing the locals of Bangalow Sweet Pork and Salumi Australia for crafting delicious sausages, and a place for Adele Wessell of Sothern Cross University and Pam Brook to hold talks about the regional food network.
Other highlights included the First Food Co. hosting indigenous inspired cooking demonstrations with the North Coast Tafe students and the day's grand finale, two rounds of the My Mayor Rules cook-off with local Mayors and Chefs going head-to-head to create delicious dishes from a selection of local ingredients.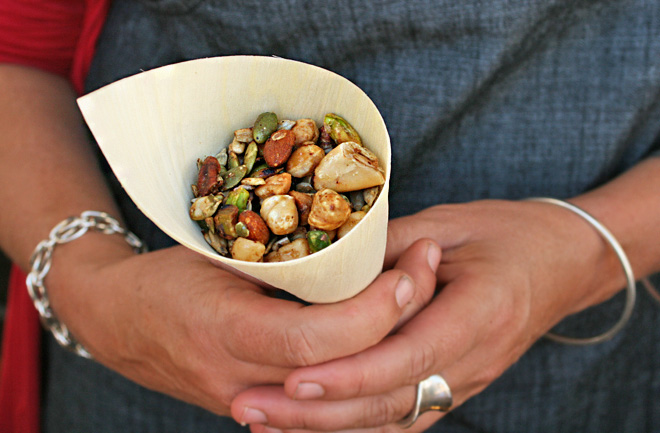 Brookfarm's mixed nuts.
Those through the gates early were sure to make a quick dash first-up to boutique coffee roasters like Moonshine Coffee in search of a caffeine hit, followed by breakfast – perhaps toasted and seasoned macadamias and mixed nuts from Brookfarm's stall or100 Mile Table'ssignature bacon and egg butties (burgers) served on a corn roll with house made tomato jam. Those visiting later with stomachs growling for lunch were not disappointed, choosing a bite to eat from stalls likeThe Stockpot Kitchen(winner of the best $10 dish), Hungry Like the Wolf andJR's Smokehouse BBQ.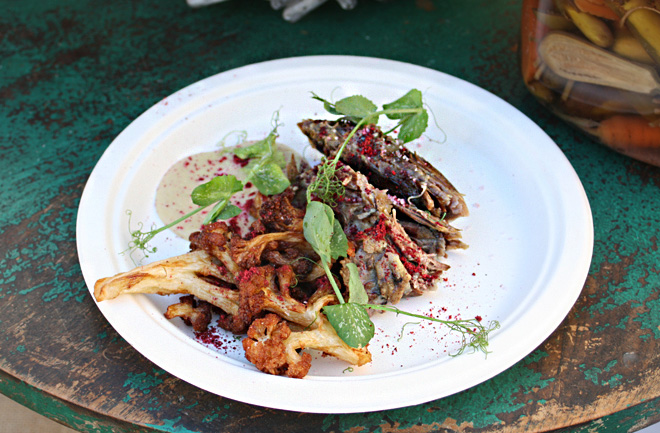 Harvest's 12-hour braised lamb shoulder.
In it's second year as a stallholder at Sample, restaurantHarvest's plate of succulent 12-hour braised lamb shoulder was a crowd pleaser. Paired with a side of sweet onion sauce, fried cauliflower and Davidson plum dusting, the dish was not only visually stunning, but sure to satisfy. Back at home base, the restaurant was fully booked out, but the team at Sample were happy to be there, and sure to be back again next year.
"The festival really brings everyone together; there's a broad range of people that come to Sample that haven't necessarily been to Harvest, so it gives them a chance to know us." ~ Harvest Head Chef, Bret Cameron.
A standout dessert was most certainly Town's enormous pavlova, with raspberry and macadamia cream, lashings of chocolate and Davidson plum sauce topped with crushed macadamias and toasted coconut. However, for a smaller, yet equally decadent sweet treat,Pure Melt Chocolateoffered a luring selection of glossy truffles. Though recently opening a new dessert lounge bar in Mullumbimby, passionate owner Sarah Wheeler was sure to attend as a stallholder at this year's festival to showcase her treats.
"Everybody comes here to enjoy the best of the area all in one place – it really is a wonderful showcase." ~ Owner of Pure Melt Chocolate, Sarah Wheeler.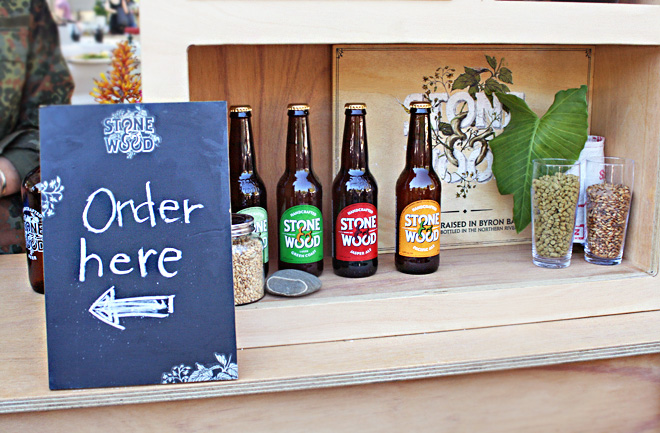 Stone & Wood.
With the sun high in the sky, visitors hardly searched long to find a refreshing beverage selection, including, boutique wines, craft beers on tap byStone & Woodas well as Byron Bay Wild Cider, debuted at Sample by co-owner and celebrity indigenous Chef, Clayton Donovan. For those in need of a drink without the alcohol, the Native Drink Co offered a carbonated drink infused with native local ingredients like Davidson plum and finger lime to really put a zing to a thirst-quenching slurp.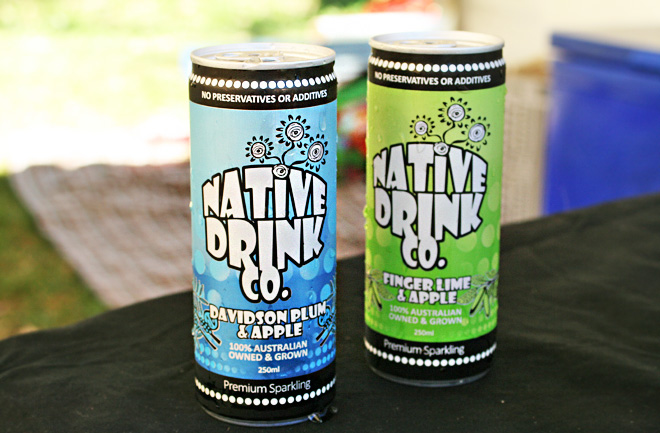 If you happened to miss this year's Sample Food Festival, be sure to grab your diary and schedule in Sample Food Festival for 2017.
Photography by AGFG Resident Chef, Shawn Sheather and Annabel Rainsford.