Cast a line in some of Australia's clearest waters
With more than 3000 lakes and rivers, pristine waters and clear lakes, Tasmania offers a myriad of fishing hotspots and impressive catches, with the state upholding its reputation as a great wild fishery. Surrounded by water, Tasmanians own more boats than other Australian and also happen to land more fish per hour of angling. Cast a line and discover what's in the water that makes this island so fish friendly.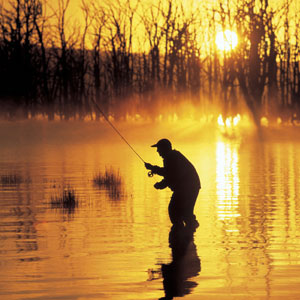 Where are some fishing hotspots in Tasmania?
Trout is plentiful in the Tasmanian waters, particularly in the lowland rivers of the northern midlands and lakes in the central highlands. Arthurs Lake in the centre of the state is a hotspot for brown trout amidst a native bushland. Nearby, Great Lake is rich with rainbow trout, best caught by means of boat fishing.
Pirates Bay in the Tasman Peninsula is deep water fishing territory, with game fishers coming in search of the most prized species, the southern bluefin tuna. The rougher the water, the more the tuna seems to bite so in order to have a higher chance of catching a winner, it's best to go with a fishing charter to target the fish. Tasmania's east coast river's offer some of Australia's best bream fishing, with the Derwent River running south through the state filled with Atlantic and Australian salmon along with trevally and flathead although species can vary depending on your river location.
One of the most popular waterways for recreational fishermen is that of the D'Entrecasteaux Channel, situated off the south east mainland. Plentiful with Tasmanian scallops, the channel is also a hotspot for whiting, flathead, trumpeter and salmon. East of Hobart, Frederick Henry Bay and Norfolk Bay are favourite spots for leatherjacket, flathead and flounder.
Find out about fishing in Victoria here, http://www.agfg.com.au/Blog/post/2007/05/20/Fishing-in-Victoria.aspx