Compiled by Freya Ensbey.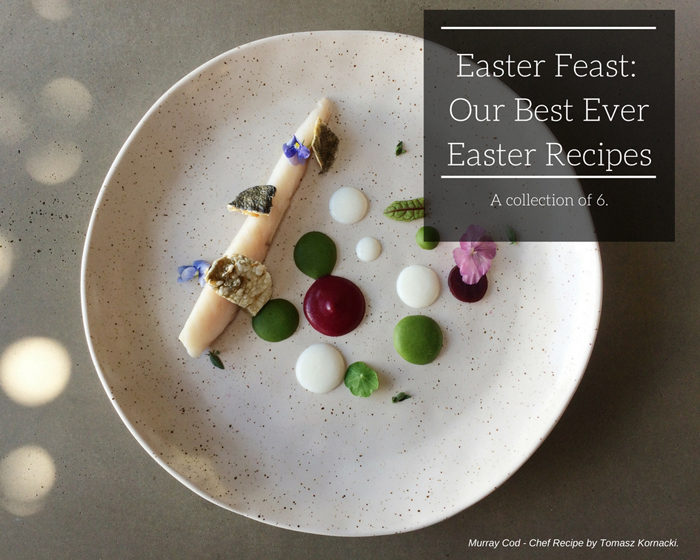 Easter lunch has long been celebrated with good food and great company. Traditionally it is frowned upon to serve meat, with seafood taking precedence, and what better way to take advantage of creating a light and healthy feast celebrating the abundance of seafood we have at our finger tips here in Australia. The best thing about loved ones gathering for a shared meal at your own place are the leftovers that you can keep enjoying and reinventing for days to come.
Murray Cod Cooked En Papillote
For an impressive dish that brings a tropical element to your lunch, serve up these scrumptious fish parcels laced in flavours of buttered chilli and lime. Brought to you by Ryan Squires from the esteemed Esquire restaurant, plate the Murray cod still wrapped in its parchment, fresh from the oven and allow your guests to open the parcels to release the steam, bringing with it a burst of fresh aromatics to stimulate the appetite.
Ceviche Seafood Salad with Avocado, Coriander and Jalapeno
Served as an entrée or even an afternoon snack, Neil Perry's ceviche is packed full of flavour and texture, guaranteed to be a crowd pleaser. Perry grants creative license with this dish, suggesting the use of replacing the stronger tastes of salmon and tuna to suit ones liking to subtler tastes of snapper, scallops or even lobster if preferred.
Sure, Easter lunch is usually the customary meal to celebrate, but don't forget the most important meal of the day before skipping out for an Easter egg hunt. Wake up with this recipe from Berowra Waters Inn of a refined and sophisticated bacon and eggs to serve to your visiting guests. A smooth bacon and onion puree makes for the vehicle to soak up a flavoursome potato broth with the paired texture of Parmesan crust, all topped with gooey steamed eggs.
Vegetarian Spring Rolls (Bean Curd)
If seafood is not your thing, why not try your hand at making a vegetarian spread this Easter? Whip up a tower of Kylie Kwong's vegetarian spring rolls to offer as a finger food option or add to the table as a side for any main. Packed full of protein and vegetables, they are ideal to keep your guests satisfied.
Black Fig, Mozzarella and Basil Salad
Make the most of plump and juicy Autumn figs in season over Easter and create this colourful salad. The addition of mozzarella brings an element of creaminess to this dish, complementing the punchy flavour of the basil, whilst the figs are brought to life with a wine vinegar and olive oil dressing.
Murray Cod with Beetroot and Herb Soup
This is the best of Australia on a plate thanks to Tomasz Kornacki from The Peak Restaurant at Spicers Peak Lodge. Inspired by memories of his childhood, Tomasz has created an unforgettable dish using beetroot, river mint, pepperberry, fermented honey, buttermilk and the star of the dish, Murray cod. This recipe is best enjoyed at the restaurant, but for those well-seasoned, home cooks reading, try your hand at this outstanding dish.