Compiled by Freya Ensbey.
Easter is a time that is rich in tradition, for those celebrating the religious connotations, as well as those who simply see it as a holiday to enjoy time together, while indulging in the sweeter things as a family.
A lot of us may chomp down on chocolate eggs over Easter, but little do most know where this tradition came from. Originally eating eggs was not allowed by the church during the week leading up to Easter, known as Holy Week, so any eggs laid over this time were saved and decorated to make 'Holy Week Eggs,' and then given to children as gifts. This tradition soon turned into creating the symbolic eggs with chocolate so that the children could still enjoy eating them.
However, we believe that no one needs permission or an occasion to justify celebrating with chocolate, but we do believe the amount of time one can spend perusing pages of chocolate recipes cuts into precious indulging time, so we have done all of the hard work for you with these chocolate recipes that will make for the most decadent Easter yet.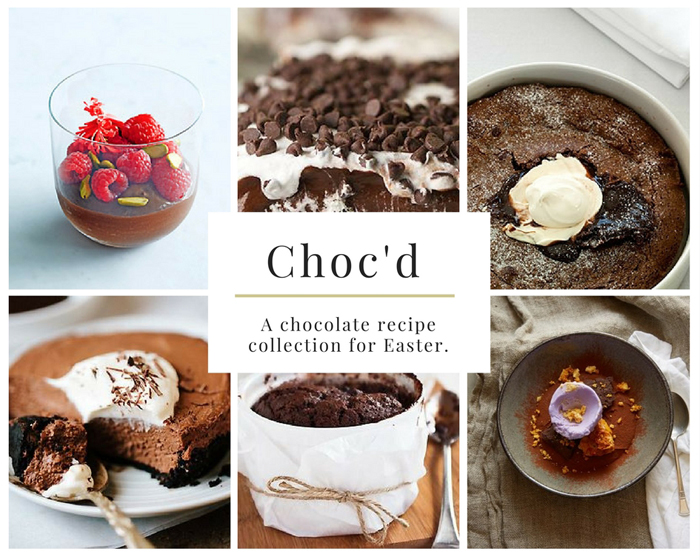 Used as a side to any dessert or a standalone star of the show, a smooth and creamy mousse recipe is a great tool to have up your sleeve. With minimal ingredients and no need for baking, this decadent chocolate mousse from Perth restaurant, Post, melts in the mouth and has the added nutrients and good fats of avocado. The added crunchy texture of chopped pistachios on top will make this your go-to favourite raw recipe to whip up in a breeze.
This dark chocolate pudding recipe will bring on the oozy sauce, so all you have to do is add the deliciously cold ice-cream to cool things down. Made in individual ramekins, it means that there is no need for sharing this decadent dessert with anyone.
Chocolate Mousse with Violet Ice Cream, Honeycomb and Aero
Darren Purchese has let us in on his secrets to the perfect mousse as a component in this visually stunning dessert, also sharing with us his ethos behind it; "everyone needs a great, simple chocolate mousse recipe up their sleeve. This one is quick and easy to prepare but silky smooth and decadent. It's a soft-set mousse for pouring into and serving from glasses or dishes, so just increase the gelatine if you are planning to unmould the mousse. Remember to use the best-quality chocolate that you can afford for the best results."
Semifreddo is translated in Italian as "half cold." Used as a base, this recipe is easily adaptable for adding in nuts, chopped pistachios work well or pieces of fruit and can be topped with any silky sauce of your choosing. It is also a fool proof way to substitute the timely practice of making an ice cream and does not require an expensive churner.
For a fuss-free dessert to whip up after a long day of activities during the Easter holidays, try George Calombaris' chocolate fondant recipe. With a chewy top, cracking into a soft and gooey centre, this fondant is sure to warm the hearts of all the family and makes for a great way to get everyone involved in the process.
If you think that lasagne can only be savoury, think again. We have found the ultimate Italian chocolate devotee's dessert with this chocolate lasagne, layered with crushed Oreos, choc chips, cream cheese and chocolate pudding. We suggest serving a generous portion into a bowl and topping with a scoop of good quality vanilla ice cream.
Kid Friendly Recipes
With the kids, usually on school holidays over Easter, it can be demanding to keep them entertained. Getting them involved in the kitchen is a great way to keep their hands busy, helping to create masterpieces they will be proud to show off, so we have created a list of our favourite kid friendly recipes to keep the little bunnies busy for hours.
Peanut Butter Chocolate Chip Popcorn