Ooey Gooey Gifts & Hampers
There are many ways to make Easter long weekend a memorable one, and gift giving is part of the tradition. Whether it's your partner, the kids, or a cherished family member, beautiful and unique Easter gift baskets with a home-made element will not be forgotten. Taking an ooey gooey chocolatey approach, we've compiled some melt-in-your-mouth recipes that you can whip up at home and present in ornate thematic wrapping, sharing the holiday spirit with the important people in your life.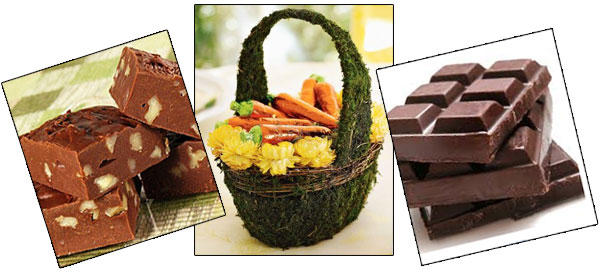 Australians can't go wrong giving chocolate. As a nation we nibble down 4.5kg of chocolate every year and rank 9th globally for per capita consumption of this silky smooth & sugary sweet something. With the meaning and traditions of Easter being close to the heart for many who enjoy the involved spiritual celebrations and secular festivities, the holidays are commonly associated with gleeful chocolate memories. Easter is the 2nd highest chocolate selling holiday.

Chocolate Made Simple & Sophisticated
Keep it simple and don't underestimate the impact of a classic home-made chocolate recipe, displayed in colourful wrapping with soft hues of yellows and greens, pinks and blues. Treats like cookies and truffles will spread the chocolate love; however, the enthusiastic response you'll receive from the perfect brownie will not be forgotten. It's reported that American actor Ashton Kutcher tasted a Parisian brownie morsel and was hooked on first bite – he had an order flown overseas from Europe just for his birthday.
Gourmet Pamper Packs with Fairtrade Products
Turns out Aussies are looking for more ethically sound products, as Oxfam polls indicate Fairtrade Easter chocolate sales were up 50% last year compared to the year before. That means we're justly filling our faces with goodies laden with that famous tropical Theobroma cacao ingredient. Sourcing Fairtrade chocolate recipes is not only fashionable and conscientious, it's an appetizing gourmet approach to pampering your loved ones with a little package you put together just for them.
Fun Easter Baskets for the Bubs
It seems 88% of Aussie adults are big kids at heart, carrying on the tradition of creating Easter baskets for their bubs in a fashion that resembles their own holiday memories from childhood. One thing to keep in mind when adding chocolate to children's baskets is to opt for snack size chocolatey bites so that they can eat a few here and there. When planning to bake the signature treat yourself that gives you full control over portion sizing and display.
Here's a Chocolate Fudge Recipe the bubs will be nutty for (in a good way).
Quirky & Yummy Low-Cal Alternatives to Flowers
Find yourself in good company and opt for something much healthier at Easter. Creating a mix of fruit and chocolate in festive gift baskets has become such a popular trend that pre-purchased hampers with this design concept are among the first to be sold out. The gorgeousness of this yummy gift idea is that you're making them with your loved one in mind and can put in their favourite seasonal produce, bringing the gift basket to life with magical hues that offset whatever chocolate delight you're baking for the centrepiece.
Visit our online recipes section for comprehensive What's In Season information and read more about chocolate eggs in our Celebrating Easter with the Family blog.