Uniting People to Protect the Planet
Earth Hour 2012 will be upon us once again on Saturday March 31 between 8.30PM and 9.30PM in your local time zone. Grab your candles, pack your basket of bevies and snacks, and get your group together in the community for a hot date night with friends from all over the world, including Miranda Kerr of KORA Organics who has been announced as a Global Ambassador for Earth Hour 2012 – would you like to take her "I Will If You Will" challenge?
This year marks the fifth annual event and Earth Hour is now a global phenomenal; it is purposefully planned around the equinox when sunset times in both hemispheres nearly coincide for the most dramatic "lights out" event. Brought to you by the Australian World Wildlife Fund (WWF), it occurs every year on Saturday night in the last weekend of March.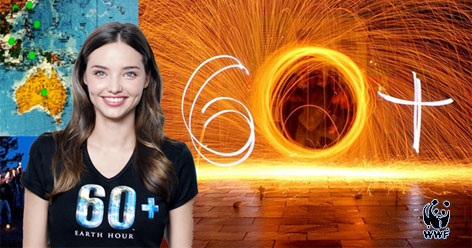 In Pursuit of a Better, Healthier World
During Earth Hour participants turn all non-essential lights out as a symbol of their commitment to finding and implementing environmental solutions in a world that has growing climate concerns. It's an opportunity to get together with like-minded thinkers and literally witness the success of a great idea – originally conceived in Australia. When the lights go out on Saturday, 31 March, it is an awe inspiring demonstration of global networking with expanding considerations for environmental concerns.
[youtube:FovYv8vf5_E]
Starting With An Idea
Do you have any idea how much of an impact your lifestyle has on the environment, from conscious use of energy, the fuel efficiency of your car (if you use one), or consideration of reusing, reducing and recycling? These are big questions for individuals and important questions for the government and corporations; so much so that the Earth Hour movement as a global community initiative.
Spearheaded by WWF Australia in 2004, they were aghast at serious scientific data on the issue of climate change. They began consulting with Leo Burnett Sydney about creative advertising solutions to engage Australians on environmental issues. The large scale switch off concept was pitched as "The Big Flick" in 2005 and evolved into the more inclusive idea of Earth Hour that gained support from Fairfax Media in 2006.
In 2007 The Stern Report is released to alert governments of the negative economic consequences of global warming and the inaugural Earth Hour is held in Sydney, supported by 2.2 million Sydneysiders and 2, 100 businesses.
[youtube:9bz3Nuyy-_E]
Witness Earth Hour Landmarks and Get Involved
Getting involved gives you the chance to be part of a massive movement. Last year more than 5200 cities, towns and municipalities took part across 135 countries – 9 of the 10 most populated cities in the world participated. In 2011 we also saw 1700 landmarks go dark, including iconic sites.
Sometimes you have to see it to believe it, and last year's demonstration of commitment included the switch off at a number of world renowned places: Sydney Opera House, Bird's Nest (Olympic Stadium) in Beijing, Eiffel Tower in Paris, The Las Vegas Strip, Christ the Redeemer in Rio de Janeiro, Buckingham Palace and Big Ben, The Acropolis in Athens, The Coliseum in Rome, Empire State Building, and Table Mountain in Cape Town.
If Earth Hour hits home for you, spread the word and participate – it's easy to make the switch and start considering climate change on a personal level on the community front.
Participate in Earth Hour 2012 and spread the word.
Read last year's Earth Hour blog for a greater sense of how it feels taking part in this global initiative within your community.