01 April 2012
Opportunity Within Shiraz Misfortune
One of the oldest wine regions in Australia, the Hunter Valley is renowned for standout Shiraz and brilliant Semillon. These wines represent a large majority of the annual yield from landmark vineyards in this reputable area of New South Wales, but the Hunter meets with challenge, especially this year.
Regional winemaker Andrew "Thommo" Thomas claims, "The Hunter Valley has been unfairly tagged as 'old fashioned' and our wine styles out of touch with consumer tastes. We are also in a 'catch 22' situation where the trade aren't stocking Hunter wines because apparently the consumers aren't asking for them, yet consumers tell us they're not buying Hunter wines because they aren't readily available on retail shelves and wine lists."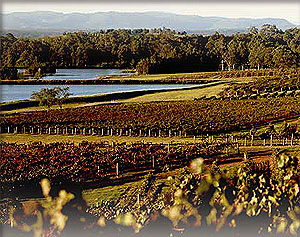 "Hunter Valley Shiraz has really gone through a transformation over the last 10 years or so. Whilst still very much a medium bodied, food friendly style, our best producers are delivering wines with a real focus on fruit brightness and vibrancy, without compromising the long savoury structure for which Hunter Valley Shiraz is renowned," Thomas embellishes about their token variety.
Reality is no one will see many bottles of 2012 Hunter Valley Shiraz on the shelf due to this year's challenging climate and poor red grape harvest.
The Hunter Valley is characterized by rainy periods interspersed with heat waves, a climate that supports swelling domestic vineyards in combination with the right terroir. This year has been a challenging vintage because there was an incredible amount of rain that carried on well into the spring; combined with an extremely cool summer, the impact was devastating on red grape vineyards.
With regards to harvesting reds this year in the Hunter, tempranillo grapes were this year's saving grace and some merlot were salvaged from the vine for the creation of rose. Larger wineries, like Audrey Wilkinson, will be sourcing the majority of reds from their vineyards outside the Hunter Valley.
Jeff Byrne, Chief Winemaker at Audrey Wilkinson Vineyard, reflected on the coolest summer he's seen in 14 years, "Some people did harvest shiraz, but we left ours on the vine… 2012 is a different year and a bit of a learning curve, that's the farmer's life."
The Hunter is an ancestral home for Shiraz, but most winemakers had a problem perfectly ripening this important grape even though it is typically versatile. With the majority of Shiraz written off for this year, winemakers are looking on the plus side; the grape harvest for whites was only down 20-30%. Semillon off the vine fared well and the uncharacteristically cool summer suited Chardonnay just fine.
In reference to this year's white grapes from the vine Byrne had this to say, "The natural acidity in the grapes is spot on, so we don't have to add acid this year - we're pretty excited about that."

Andrew Thomas' winery, Thomas Wines, is situated as the crow flies from Audrey Wilkinson. He's part of an innovative joint venture marketing campaign called "Not Your Usual Winemakers" that represent the New Generation Hunter Valley. Despite the 2012 shiraz harvest disaster, they are pre-empting their east coast promotional campaign that runs throughout April and May, toting an optimistic message about their "new breed" of Hunter Valley wines.
"One of the most important things these days, whether you're a large or small wine producer, is staying connected with your consumers so they can rediscover what's happening in the Hunter Valley," explains larrikin winemaker Andrew Thomas.
Based on this year's harvest winemakers will still stand strong on their Semillon. "Hunter Valley Semillon has been described as Australia's unique gift to the world of wine. Citrus and grassy varietal purity are the hallmarks of this style which can be enjoyed during the freshness of its youth or allowed to cellar during which it develops an amazing toasty complexity which is so unique to our region," Thomas depicts.
Sure the Hunter has signature varieties, but there are a lot of other varietals as well: Tempranillo, Barbera, Chardonnay, and Gewurztraminer to name a few. Like its winemakers, there is an abundance of spirit, personality, and variation in Hunter Valley wines.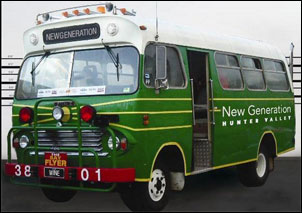 Their Caravan of Courage will hit the road again - this is their second year - showcasing dedicated and passionate winemakers who represent the new face of the oldest wine growing region of Australia.
"We aim to show both the trade and consumers more modern styles of our signature varieties as well as a whole raft of new styles from some emerging varieties. The wines will be presented in a fun and relaxed environment, breaking down the 'snobbery' sometimes associated with wine," remarks Andrew Thomas.
Purchasing 2012 Hunter Valley wines will be the perfect opportunity for consumers to try out unique styles beyond benchmark Shiraz and Semillon. Hunter Valley varietals are produced with reliable quality, though many have remained a best kept secret. This year's low shiraz grape yield means connoisseurs have no excuse not to buy alternative varieties to fill that gap on the shelf next year when the 2012 harvest (or lack thereof) is bottled up and distributed.
Read more about how to win The Ride of Your Life with six lovable winemakers from the Hunter Valley. The New Generation Hunter Valley aims to reveal all the delicious secrets that lie in Hunter Valley vineyards by travelling around in their Caravan of Courage.
There are two spots available on their wine tour bus, promising quick-paced adventure full of Pop Up Wine Bars & Dinners, not to mention a boot load of wine.