By Leigh O'Connor.
Look down into the waters of Venice canals today and the view is clear, there are tiny schools of fish and plants waving in the current as nature takes back a city that had become overwhelmed by humanity and tourism.
With no cruise ships or souvenir stalls due to the corona virus lockdown, La Serenissima's waterways have become a haven as seen in images of sea life frolicking in the canals, broadcast on television screens around the globe. For those of you who saw images of dolphins swimming from canal to canal, sorry to say, this was 100% fake news!
It is the water that surrounds her that keeps Venice separate from her neighbours, something that Venetians – a fiercely independent people – aren't perturbed about in the slightest. According to Nino Zoccali, this spiritual and geographical independence has kept the romance of the city alive and well for generations.
"Venice is a floating cultural incubator. A living fossil," he says.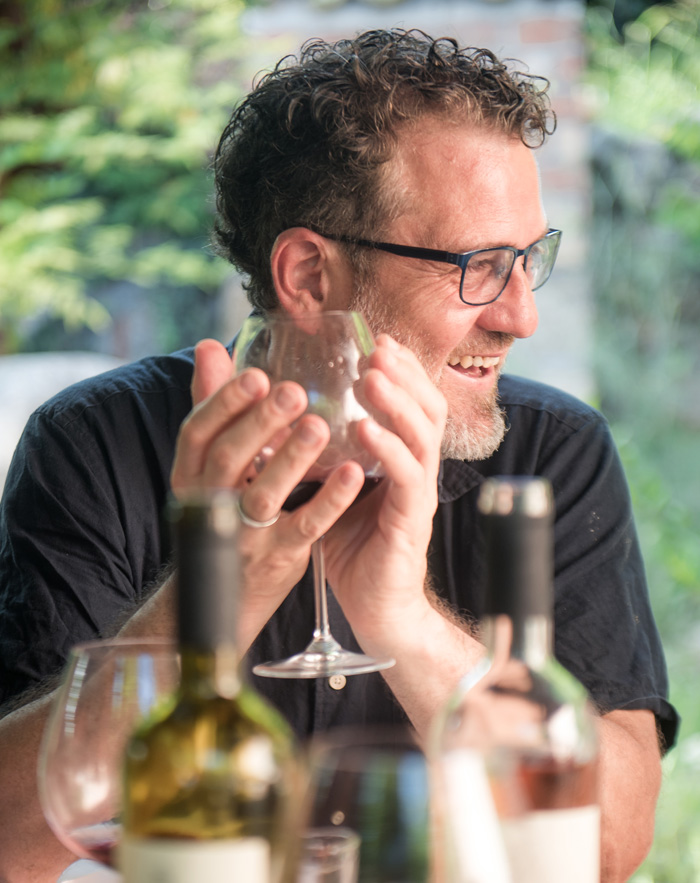 At 21, undertaking a 12-month sabbatical in Southern Italy, Nino Zoccali visited Venice and an obsession with this floating city was born that has spanned decades.
Originally from Bunbury in Western Australia, Nino has since built a career as an Italian Chef and restaurateur, all the while returning to the Venetian Republic on many occasions.
"Along the way, I've also fostered a keen interest in art, music and history and nowhere in the world are these more beautifully represented and nurtured than in Venice," he says.
Part culinary journey, part cookbook Venetian Republic, dishes up rich and evocative recipes and stories from this part of the world, celebrating all things Italian in a way only Venice can.
"My obsession with Venice is about more than just her artistic and architectural blessings," Nino explains. "It's about how it all came to be. How did such a small place grow to not only enjoy such unrivalled opulence, but also play a defining role in shaping the culture and cuisine of her Mediterranean neighbours."
What makes Venice's revered status so remarkable is that it was born from desperation in 421 AD, when Roman refugees fled Barbarian conquerors for the city's relative safety. They used the marshy lagoon for protection and joined the 'lagoon dwellers' – fishermen who made a living from the fruits of the waters.
With countless canals and waterways, Venice was well protected from attack or invasion; but it was the people's proficiency in water and shipbuilding that put the city in a unique position where she became an incredible facilitator of trade.
The Venetian Republic was born… and for a thousand years, the ships and merchants of the Republic dominated salt, silk and spice trade routes.
In his latest book, Nino shares recipes steeped in history from the four key regions of the Republic – Venice and the lagoon islands, the surrounding Veneto, the Croatian coast and the Greek Islands. These dishes are from the days when Venice was a world power, enjoying unrivalled wealth and prestige.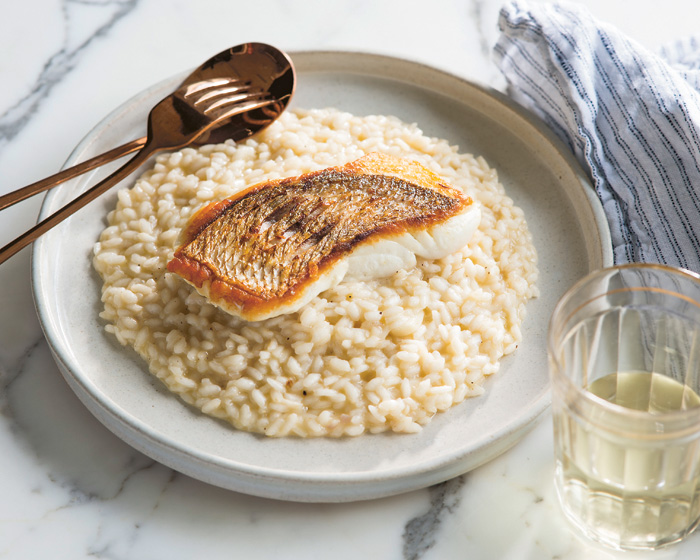 Risotto can be made with any number of white-fleshed fish, but in Venice it is commonly made with red snapper like this dish of Venetian Prosecco and snapper risotto. As with all risotto, the key is the quality of the stock and in this recipe, it is enhanced with snapper bones.

"Another classic fish risotto, risotto di go, utilising whole small lagoon fish and cooks them until they almost completely disintegrate," Nino explains. "Most foreigners, while appreciating the intense flavours of classic dishes like this, don't understand how it can be a fish risotto without any visible fish in it.
"I've done my best to please the traditionalists and those who eat with their eyes, by including seared snapper fillets, so it not only looks more satisfying but can also be served as a substantial main course."
Steamed shellfish with baby artichokes is another beautiful, simple dish that relies totally on the quality and freshness of its ingredients. Italians call recipes like this salad, even though they are made almost entirely of seafood – as in this instance – and include only baby artichokes as the vegetable.

Any seafood or species of fish can be used – crab, mussels, vongole or razor clams, prawns and scampi – along with good quality olive oil, such as Isola delle Rose from the Venetian island of the same name, which was built during the Fascist era and now boasts an amazing resort, as well as a 100-year-old olive grove.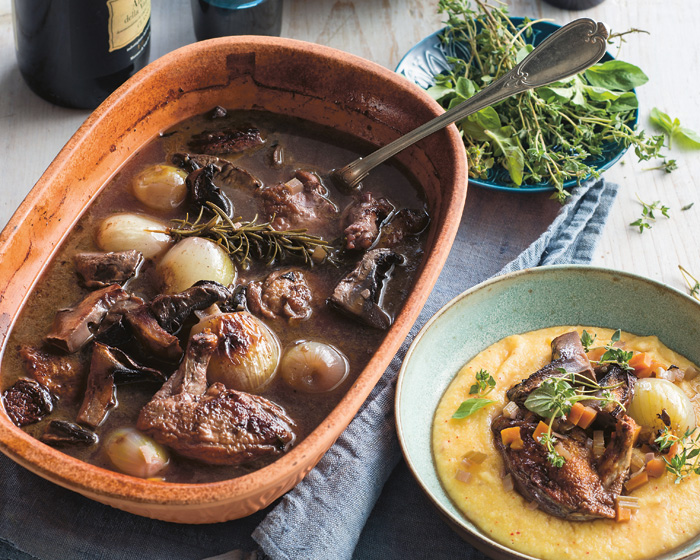 Drunken spatchcock and mountain mushroom fricasee is a Padovan version of the iconic French dish coq au vin, a family-friendly heart-warming plate to serve in cooler months. The spatchcock needs to be marinated in red wine and Cognac for at least 24 hours, to allow the flavours to seep into the meat creating an intense flavour.

Served on soft red corn polenta infused with Parmigiano Reggiano, with vegetables and fresh herb garnish this is the epitome of Venetian cooking and sure to make you popular at the dinner table.
Beautifully illustrated and with informative comments about each recipe, Venetian Republic is a must-have for those Italian foodies among us.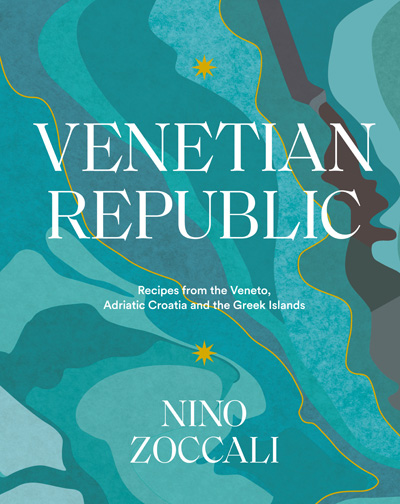 Images and Text from Venetian Republic by Nino Zoccali. Food photography by Alan Benson and styling by Vanessa Austin. Murdoch Books RRP $49.99. Available now.