Take a dip with the famous forest kelps
Home to some of the worlds best temperate waters both clear and charming, diving is an ideal activity to undertake in Tasmania, described as having some of the most enchanting waters in Australia.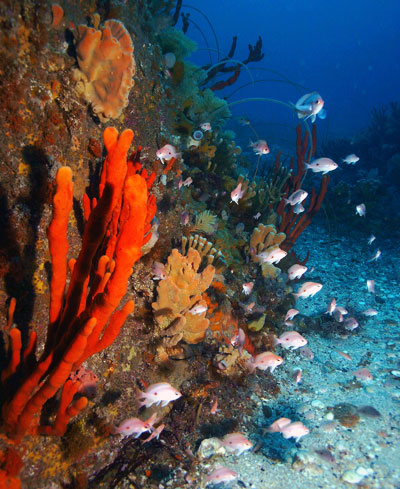 Where can I dive and snorkel in Australia?
To the east of Bicheno, Governor Island encompasses the rock formations, 'hairy wall' and 'the castle', both of which are home to an array of Australian wildlife including fur seals, penguins and seagulls. The waters at Governor Island are cold and clear, with underwater corals encompassing an array of bright colours. When diving around Governor Island, particularly within the area of the Canyon, expect to be surrounded by a garden of sponges, butterfly perch and huge rock lobsters. To the east, a diving spot called Bird Rock encompasses grand caverns and swimming spots, where seahorses, boar fish and marble fish are abundant in the water.
Even within the busy centre of Hobart, diving remains a popular activity to discover the secrets of the Bass Strait. Kianinny Bay is best explored during high tide, a 17 metre sandy shore with big boulders. Teeming with aquatic life such as sharks, puffer fish and bull rays, ensure you dive when the weather is good to avoid poor underwater visibility. To see Tasmania's famous forest kelps, the best place to go is Tathra Pinnacle. With two distinctive pinnacles, this site is also home many varied schools of fish, seahorses and octopuses.
For diving amongst reefs as well as wreckage, head to Wynyard, one of Australia's most popular diving destinations. Situated in Tasmania's North West, Wynyard is accessible by boat and remains a mecca for those looking to explore amongst the remains of the SS Southern Cross while being surrounded by sea stars, blue coloured leather jackets, yellow goatfish and draughtboard sharks.
For information on diving and snorkeling in Western Australia, see

here