Explore amongst the internationally renowned reefs
If you want the feeling of being in a Disney movie under the sea, look no further than diving and snorkeling in Queensland. Overflowing with beauty, the Queensland coastline is home to some of the most beautiful reefs, waters and marine life in the world, and holds within it the largest coral reef system, the Great Barrier Reef. Diving and snorkeling among the state's coastline is one of the best ways to experience the beauty, tranquility and diversity of Queensland's reefs and its accompanying marine life. Given that discovering the beauty of the Great Barrier Reef is a must do for every visitor, Queensland's additional diving and snorkeling destinations are just as majestic, with plenty to explore and observe.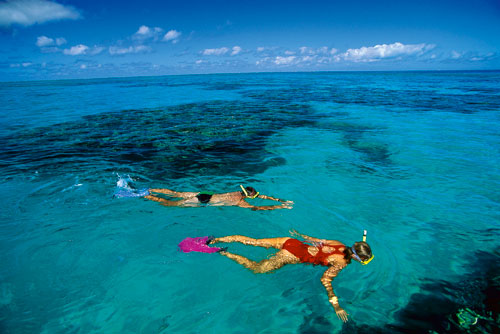 Where can I dive and snorkel in Queensland?
With crystal clear waters, you will have no trouble snorkeling or diving in Queensland, with the tropical north being the most popular destination. Located in the Coral Sea, the Osprey Reef can be explored near Cairns and is home to a diverse range of shark life and soft, bright coral reef which can be seen all year round. Additionally, the tropical north waters are also home to Cod Hole in the Ribbon Reefs at the northern tip of the Great Barrier Reef. Here you can spot an abundance of marine life, most notably that of the large potato cod which reach up to 30 kilograms.
Wolf Rock on the Sunshine Coast consists of four volcanic pinnacles that rise from 40 metres, providing an excellent location for diving, snorkeling and exploring amongst soft and hard corals and an array of fish. An underwater adventure, exploring the depths of Queensland's coastline is a must do activity for every visitor regardless of which season you find yourself in.
Read up on diving and snorkeling around Tasmania