Australia's tropical tourist capital
Continuing in the glory of tropical north Queensland, Cairns is one of Australia's major tourist cities, a starting point for many visitors to the Great Barrier Reef. Located in the east coast of the Cape York Peninsula, Cairns is a tropical tourist paradise and in recent years has blossomed in its visitor intake, becoming the fourth most popular destination in Australia for international tourists. Cairns has a variety of natural attractions, from the skyrail rainforest cableway to the Undara Lava Tubes alongside a selection of adventure activities, cultural attractions and a buzzing nightlife so why not brace yourself for the humidity and head north for some sun and adventure.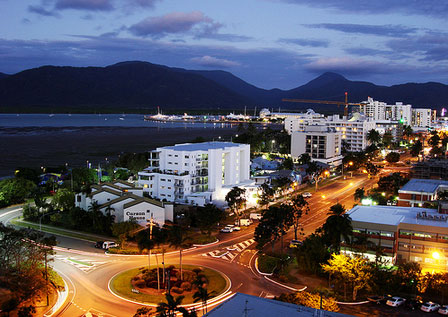 What can I do in Cairns?
Exploring the Great Barrier Reef is a Cairn's essential, mostly undertaken in the cooler months when the waters are calmer. Adventure activities reign supreme in Cairns, with a variety of adrenaline pumping activities such as skydiving, bungee jumping and four-wheel driving available for the holiday thrill seeker. Home to a profusion of natural wonders, from the Daintree rainforest to the popular swimming holes of Babinda Boulders and Crystal Cascades, Cairns has a great outdoors both vast and varied, to cater for even the fussiest of travelers. After a day's worth of adventuring, why not indulge in one of Cairn's award winning restaurants, cafes or bars, or head to the Cairns casino to try your luck.
During summer is tropical north Queensland's 'wet season' so expect a fair amount of humidity, monsoonal rain and sometimes powerful storms. Winter in Cairns – from June to August- is usually the best time in which to take a visit, when the sun is still shining and a cool breeze accompanies.
From coast to country, read up on Queensland's Western Downs