By Freya Ensbey.
"I'm a busy working Mum of two boys aged 11 and 13 and the recipes in this book are a collection of our family's favourites, along with lots of ideas that my boys and their friends thought should be in the book." ~ Katy Holder.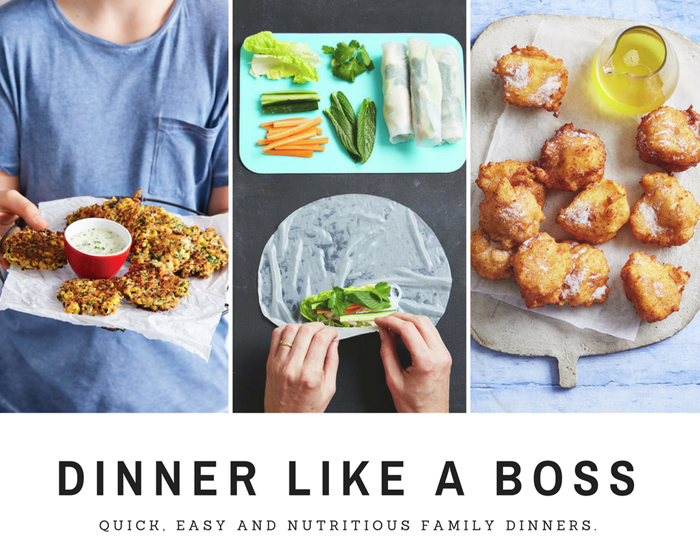 When it's been a long day for the whole family, and you're juggling after school activities, house work, homework and family down time, no one wants to be spending hours in the kitchen cooking.
Food writer and stylist Katy Holder has created a solution to this evening juggling act with her latest cookbook, Dinner Like a Boss, which is designed to encourage families and kids to explore new flavours and eat well by giving them quick, easy and nutritious meals to create for dinner.
Ensuring this book was well planned out and easily accessible, Holder has made every recipe, with the exception of the light meals and desserts, a complete meal; with each dish containing at least one serve of protein, carbohydrates and vegetables.
Dinner Like a boss is broken up into four easy chapters, from noodles, pasta and rice to mains including heartier meat dishes like slow cooked lamb, fish recipes and vegetarian options like frittatas and Indian fritters, right through to delicious desserts and afternoon snacks which can be whipped up and enjoyed upon returning home from school.
However, as we celebrate all things street food, our focus has turned to the light meals and snacks, eliminating the need for any cutlery and inviting you to enjoy some finger licking good food any time of the day. Why not think outside the box and fix up these recipes to take to training during the week for the kids to enjoy court side, to the office to share among work colleagues or as a fun weekend activity to keep the kids entertained when they have friends stay for a sleepover.
The kids will love getting their hands dirty with these hands on Chicken and Noodle Rice Paper Rolls with Hoisin Sauce – Peanut Sauce. Pre-prepare all of the ingredients onto platters on the table for easy access and have the family gather around as you each create your own rolls filled with different ingredients each time. Any leftovers can also be rolled up as a simple and healthy lunch box snack for the following day.
As quinoa is gluten free and high in protein, it gives these Crunchy Quinoa and Vegetable Fritters with Lemon and Herb Mayonnaise a naturally crunchy and crumbly texture. Perfect as a quick snack or with the addition of a fresh salad or side of mash, these fritters will be a well requested household favourite time and time again.
A sweet dessert treat is always a great fallback of negotiation when trying to get kids to eat healthier, so be sure to have this Sweet Ricotta Fritters with Orange-Honey Syrup found on page 130, up your sleeve. The orange-honey syrup is optional if you are short on time, as you can always drizzle with a little maple syrup or just plain honey.
No matter what your taste buds, or how fussy your kids are, there will be something in this book to suit any taste and have your family putting the fun and playfulness back into meal time. Dinner Like a Boss by Katy Holder is available online now.