By Leigh O'Connor.
When we think of street food Down Under – what is more Okker than the humble backyard sausage sizzle. From surf club fundraisers outside Bunnings to neighbourhood block parties on a hot and steamy Summer night, sausages have been sizzling on the Australian grill since the beginning of our days.
Nowadays, we aren't just talking pork or beef – there is a gourmet sausage out there with your name on it, from vegetarian to outrageously patriotic snags like Vegemite and cheese. Slap them on a buttered slice of bread or roll, lathered with sauce and watch them disappear; or serve them on a platter, surrounded by cheese, olives, sun-dried tomatoes and artisan sourdough.
One thing will never change though… sausages, beer and good times will always be in style!
Many of this country's providores, butchers and delicatessens have their own recipes for the ultimate gourmet snag – we take a look at some of the varieties on offer for your next street food fiesta…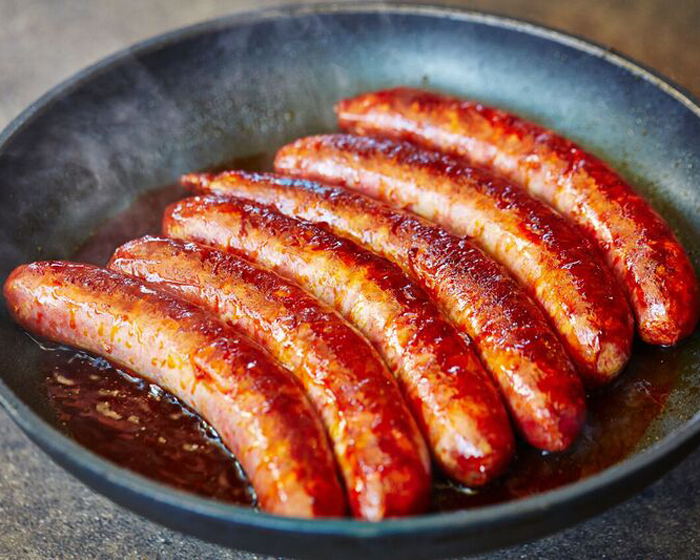 Salumi Australia provides an award-winning range of products, taking inspiration from European techniques to craft an impressive selection of locally made meats and sausages. Available around the Northern Rivers region and across Sydney delicatessens, numerous stockists across the country and online, Salumi's free range smoked chorizo sausages deliver smoky tones of paprika and pork.
Naturally cold smoking the semi-dried chorizo for 24 hours of the 48-hour fermentation process, accentuates and broadens the flavours, making them ideal to add to sauces, soups, stews, pasta and rice dishes – or simply barbeque and enjoy by themselves.
Perhaps try salsiccia fresca, traditionally coiled pork sausage in a natural casing, best cooked on a medium to hot grill to allow the oils to release. Make sure not to overcook this delicacy so it doesn't dry out – it is also available uncased in mince form, for easy inclusion in sauces and a ragu.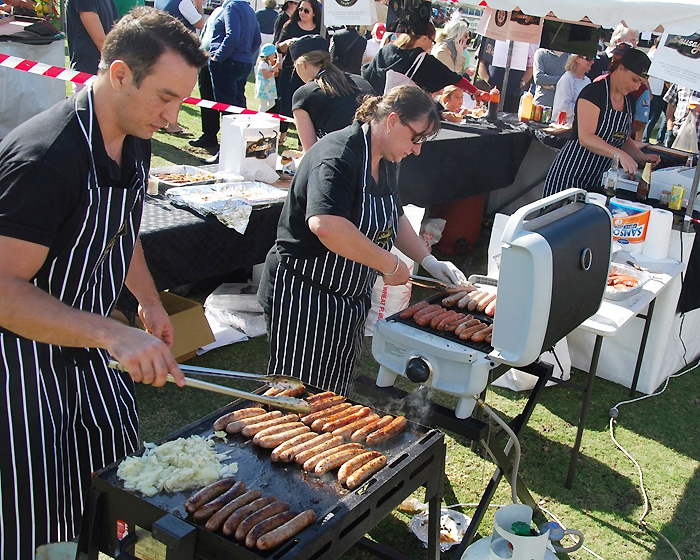 With a long-standing passion for traditional handmade sausages, Sydney's family-owned The Gourmet Sausage Company was born in 2012. Every sausage is lovingly created from time honoured family recipes, with exactly the right lean-to-fat ratio, with natural casings and no artificial ingredients, colours or flavours.
Available from the company shop in Glendenning, Sydney and a range of local retailers, expect snags like chicken, feta, pistachio and rocket; Parmesan and tomato beef chipolatas and lamb Shiraz with Middle Eastern spices. A range of gourmet beef burgers is also available, along with tempting barbeque recipes such as pork sausage hotdogs with caramelised onion.
For those who fancy a taste of Germany on their sausage sizzle, Wagners Fine Foods in Hoppers Crossing delivers traditional bratwurst, made from 100% Australian pork. Mildly spiced with a touch of pepper, enjoy these bad boys straight from the pan or grill, sandwiched between bread or roll of choice, lathered with mustard.
Wagners also makes Munich weisswurst – pork with a touch of parsley, garlic flavoured kransky and smoked frankfurter-style Vienna hot dogs. Migrating to Australia in 1989 and settling in Melbourne, managing director Tom Wagner brings a family tradition of German smallgoods Down Under and also operates an event catering business to outdoor events in Victoria, as well as Adelaide and Sydney.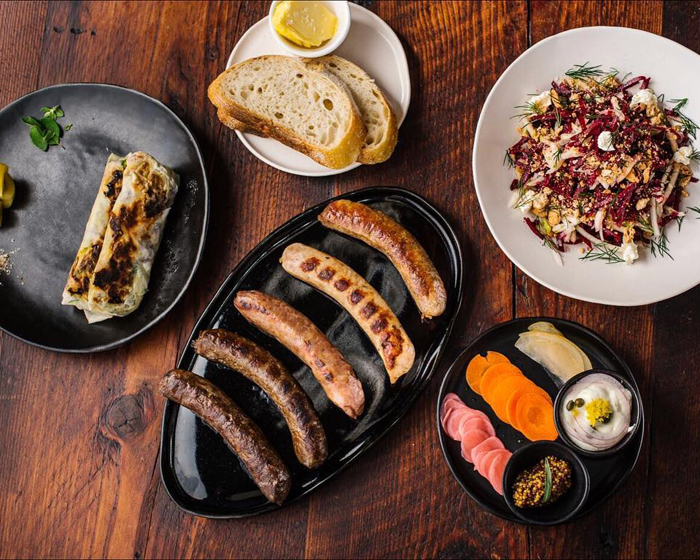 The Sausage Factory in Dulwich Hill is home to Chrissy's Cuts – flavoursome gourmet sausages that are delicious enough for adults and nutritious enough for kids, so the whole family can have dinner together. Hand twisted in small batches and made from real meat, these delectable morsels are available to eat in house or take them home to share with family and friends.
Catering to the inner carnivore with tasty, chunky snags like pork, bacon and maple syrup: kangaroo, Dorrigo pepper and aniseed myrtle, and lamb, sumac and mint; vegetarians are also not forgotten with Italian milk cheese sausages – made from scarmoza, zucchini, almond and currants.
Providing traditional smallgoods and sausages to Australian families since the 1970s, Hahndorf Gourmet in Royal Park showcases a range of fresh and cooked produce with European, Baltic and Continental flavours. Expect choices such as old English pork sausages, chicken and bacon with parsley, onions and carrots, South African Boerewors made with coriander and pepper and German bratwurst.
For something different, throw some chevapchichi skinless snags – made with pork, beef and spices – onto the barbie and listen to the sizzle. Hahndorf's also has pljeskavica hamburger spiced beef patties and a range of cooked sausage options like bockwurst, Spanish chorizo, Hungarian csabai and Continental Polish sausage with paprika, garlic and cracked pepper.
Combining his own authentic recipes with Australian produce, Mick Ferrero has created a range of gourmet delights to assuage any hunger pangs through The British Sausage, Ham & Bacon Co. This third generation UK butcher who immigrated here in the early 90s, Mick's first snags were whipped up as a treat for his new found friends in the back of the neighbourhood butcher shop.
Now he has a range of smallgoods available at retailers around the country, all made at the company premises in Bibra Lake. Within a few short years, what started out as banter about bangers over a beer has grown to become a product that people are ravenous for, made with passion, pride and quality ingredients.
So next time you go to throw a sausage on the barbie, be adventurous and try something outside the box!