From the thumping chop of helicopter blades in 'Tour of Duty' to the surfing scenes of 'China Beach', Vietnam invokes a myriad of visions of a country torn apart by war and put back together again. Those who have travelled to this bustling and beautiful area of the world, know firsthand the welcoming nature of Vietnamese people and the amazing flavours they put on a plate.
Whether cruising down the Mekong River, marvelling at the scenery in Halong Bay, or firing an AK47 after crawling through the tunnels at Cu Chi, Vietnam appeals to tourists on all levels. Once back home in Australia, the taste memory of a steaming bowl of beef pho or traditional crispy prawn pancake, leads us on a search for the best restaurants to relive our experiences.
Australians have embraced Vietnamese fare in recent years - its distinctive flavours of lemongrass, ginger, mint, coriander and chilli can be found in most dishes and with minimal use of dairy and oil along with a reliance on fresh herbs and vegetables, it is considered one of the healthiest cuisines worldwide.
Looking for a local restaurant to try Vietnamese food? Let's take a scooter ride around the country and stop off at some of the best venues to get your pho fix…
NSW: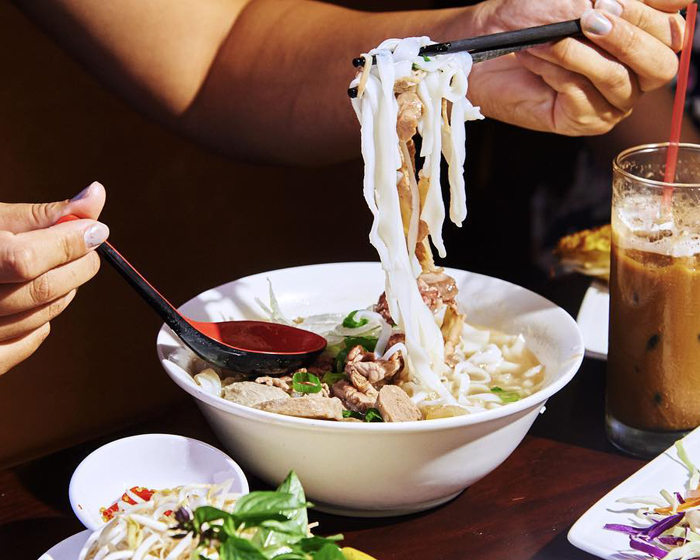 Pho at I Love Pho.
Specialising in traditional dishes, I Love Pho on Willoughby Road in Crows Nest has an impressive menu spoiling diners for choice with more than 100 authentic offerings, originating from both North and South Vietnam. With rice hats and vibrant artwork on the walls, take a seat under softly glowing pendent lights and kick start a flavoursome adventure with fresh smoked salmon rice papers rolls, filled with vermicelli, lettuce and mixed mint; or perhaps lightly battered and deep fried soft shell crab.
Move on to mains such as 'I Love Pho' shaking beef – eye fillet beef, stir fried with onion, garlic and sesame oil, served with a garden salad and tomato; or Chef's specialty marinated crispy pork belly, with steamed Kailan vegetables. No visit would be complete without a bowl of Pho Bac Biet: a combination of rare beef, flank, tendons, tripe and beef balls in a traditional noodle soup.
Fragrant modern Vietnamese cuisine awaits at Mr. T restaurant on Glenmore Road in Paddington. Warm and inviting in appearance, this trendy venue is fitted out in soft wood panelling with a bar in golden honey tones and glowing overhead lights, luring in hungry guests with a stream of tantalising aromas inspired by both regional and well-known favourite dishes. Quench thirst with a selection of beers on tap, before savouring an entrée of steamed kimchi buns, filled with crispy chicken, drizzled with housemade spicy mayo and topped with fried onion.
Those with hearty appetites may be enticed by main offerings such as eight-hour slow cooked beef brisket, bok choy, mushrooms and holy basil, then wok fried in garlic, watercress and black pepper sauce; or delve into a yellow duck curry, cooked in the clay pot with cherry tomatoes, bamboo and mushrooms.
With a hanging bicycle on the wall, bold coloured louvres and stooled seating, Saigon Senses on Crown Street in Wollongong presents an energetic atmosphere to soak up appetising aromas from the homeland. A humble store front opens to reveal a contemporary fit out, softened by potted greenery, where diners can choose from a traditional menu designed to be shared, making this restaurant an ideal venue to dine with friends.
From streets to eats, guests are invited to dip a spoon into chicken noodle pho soup, before snacking on slow roast five spiced pork rice paper rolls; while a local favourite such as a combination vermicelli salad with sesame pork, lemongrass beef and barbeque pork may also appeal. Quench thirst with Vietnamese style iced coffee, or perhaps housemade peach iced tea.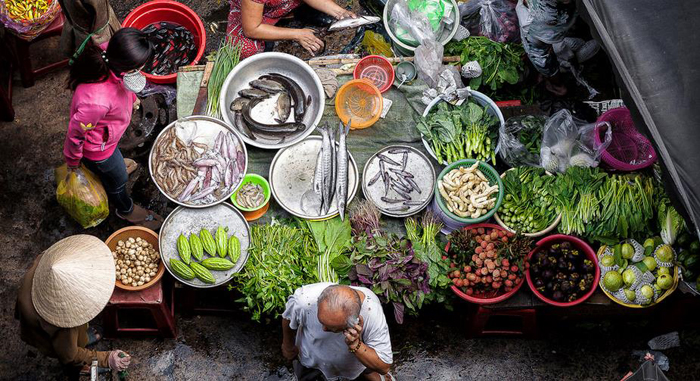 District 1 HCMC.
A little yellow restaurant with a big personality, District 1 HCMC is located within the bustling shopping precinct of the Macquarie Centre in Macquarie Park. Colourful hanging lanterns adorn the entry, greeting guests and setting the tone for a stylish interior of chocolate brown walls, ambient lighting and black and white photography collated on the walls. Begin your culinary journey with a classic entrée of Tiger prawn and pork Summer rolls; before devouring a bowl Vietnamese beef laksa, or chicken noodle soup with crispy skin chicken.
Find dishes such as Scotch fillet cubes, wok tossed with tomato rice and grilled pork cutlet with shredded pork and sunny side up egg, as main temptations; or perhaps spicy XO beef with egg noodles - don't forget to leave room for a signature dessert of pandan crème brulee, finished with a Vietnamese black coffee.
Victoria:
With many dishes inspired by the street markets of Vietnam, Hanoi Kitchen on Hitchcock Avenue in Barwon Head is a locally loved dining destination. Residing within a heritage listed cottage on the main shopping strip, open the front courtyard gate to be greeted by communal, picnic-style tables set under shady umbrellas; or dine indoors where polished wooden floors, a long timber bar and pops of colour from vibrant orange chairs and artwork, set a cosy and welcoming vibe.
Those looking to share may be tempted to start with a Hanoi tasting platter for two, with chicken wings, duck rolls, calamari and spring rolls, before market fare like a barbeque pork Banh Mi, with pate, pickled vegetables and fresh herbs. Family meals such as Bo Nuong Mutat – char-grilled sirloin steak with hot mustard, ginger and garlic, served with a green papaya salad – may tempt, before an indulgent finish of spiced chocolate cheesecake with orange and ginger curd.
For sumptuous bowls of steaming noodle soup, Fairfield foodies head to Str'eat Pho on Station Street. Casually cool with brightly coloured rice hats adorning the walls and hanging globes providing subtle lighting, diners can relax at dark wood tables, vibrant green bench seats and accents, while pondering a menu brimming with traditional Vietnamese street food. With more than just pho on offer, set the meal in motion with chicken satay skewers, or perhaps crispy savoury prawn crepes with water chestnuts, bean sprouts, onion and fish dipping sauce.
Local favourites include mains of fried quail, caramelised with Chinese white wine, capsicum, onion and lemongrass; or whole flounder deep fried with a dash of flour, served with special seasoning salt, chilli, onions, coriander, carrots and shallots may satisfy those with ravenous appetites. Don't go past Bird's Nest fried egg noodles, topped with scallops and stir fried vegetables, as a tasty serve sure to appeal to all palates.
A trendy interior of exposed brick walls, long communal timber tables and kitchy corners of comfy armchairs, makes for a relaxed space where Richmond locals flock for a delicious dinner at Co Thu Quan on Victoria Street. Dishing up a traditional menu of Vietnamese fare with authentic flavours and herbs, sample temptations such as Goi Bo Sol Me – beef carpaccio salad, cured with lemon, tossed in tamarind sauce and served with rice crackers.
Delve into plates of beef wrapped in betel leaves, grilled over a charcoal flame and served with vermicelli, lettuce and fresh herbs; or salivate over salt and pepper soft shell crab, garlic, fried shallots and salted duck egg yolk, teamed with combination fried rice, housemade fried prawn wonton dumplings and dipping sauce.
Qld:
Fast becoming a popular option for Miami locals, Saigon 101 Vietnamese restaurant presents a smart, casual setting ideal for enjoying a meal with family and friends. Conveniently located along Markeri Street at the Sunshine Boulevard intersection, a welcoming shopfront hints at exotic dining to come with bamboo prints in lime green, while lush pot plants inside create a chilled out vibe to delve into a menu designed to make the mouth water.
Pick up an entrée of curry puffs, filled with mild curry flavoured pork mince, or try crab and sweet corn soup freshly made to order; then choose from a large selection of mains such as black pepper prawns, cooked in a clay pot with fish and soy sauce. Deep fried boneless chicken with vegetables and sweet chilli sauce may entice, or do-it-yourself Banh Mi marinated pork ball buns with vermicelli, fresh salad and herbs.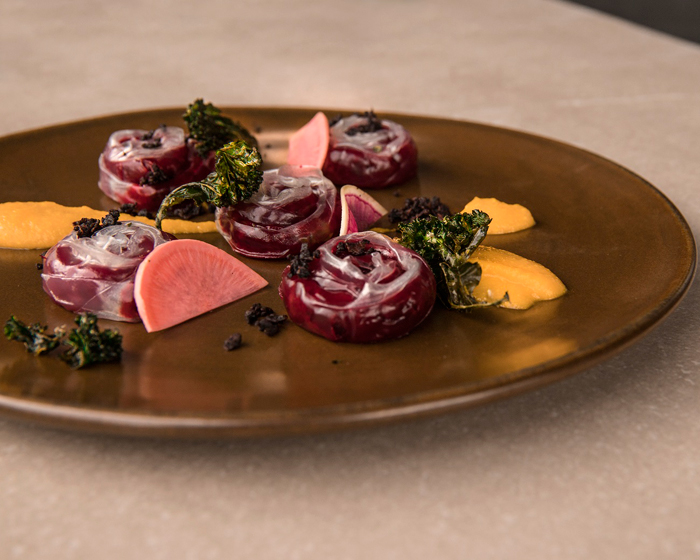 Beetroot dumplings, Chinese kale, coffee carrot and turmeric sauce at Spicers Balfour Kitchen.

Nestled in a beautiful Queenslander, Spicers Balfour Kitchen on Balfour Street in New Farm offers an exciting new Vietnamese-inspired menu, with award-winning Executive Chef Dan Jarrett at the helm. Soak up Brisbane's balmy evenings by enjoying a cocktail or two in an intimate frangipani shaded courtyard, before sitting down for a delicious feast on the wrap-around verandah, whetting the appetite with a starter of Vietnamese beef tartare, fermented tofu, preserved Chinese olive, yolk and puffed rice paper.
Follow on with mains such as braised beef rib, tamarind and pepper sauce, pickled papaya, tomato, chilli and hot basil; or crispy whole fish, watermelon rind, bean sprouts, pineapple mint salsa, ginger-chilli-lime sauce. For an indulgent finish, try Vietnamese coffee brulee, lotus tea meringue, fried cacao truffles and chilli chocolate.
Tasmania:
Adorned with bamboo screens and a splash of green, Mekong Restaurant on George Street brings a tantalising taste of Vietnamese cuisine to the heart of Launceston. With a contemporary interior take on elements of Vietnamese style, this inviting venue is ideally suited to intimate dining, as a feast of tangy flavours and heady aromas of lemongrass, chilli and ginger whisk the tastebuds away to the bustling food stalls of Ho Chi Minh City.
Start your engine with delicious soft rice paper rolls, filled with fried tofu, pickles, lettuce, mint and rice vermicelli with peanut dipping sauce; while for the main affair deep sea ling fillets, braised in turmeric curry with kaffir lime leaves, grilled asparagus and crispy sweet potato beckons, teamed with steamed jasmine rice, will keep your motor running.
Western Australia:
Settle in for a taste journey through the rice paddy fields of Asia, at Papa Sweet Tooth – Authentic Vietnamese Food on Albany Highway in East Victoria Park. With a vibrant bright green façade and alfresco tables awaiting outside, this street food-style restaurant has a cosy interior vibe, where locals meet for a sweet treat to team with hot, black Vietnamese coffee. Experience an explosion of exotic flavours in starters such as spring rolls filled with grilled pork patty, or Papa's special stuffed chicken wings; while a fresh salad noodle bowl with lemongrass beef, lettuce, cucumber, carrots, spring onions, coriander and vinaigrette dressing may appeal to lighter appetites.
Banh Mi buns like pork floss, egg, jalapenos, pickled carrots and soy sauce await busy lunchgoers, along with crispy chicken and fried egg noodle soup; while for a sweet treat don't go past flan custard and coconut jelly or sweet potato, taro and cassava pudding.
ACT:
Canberra locals satisfy desires with a feast of flavours at Pho @ Dickson on Woolley Street. This family owned and operated restaurant emanates a welcoming vibe, inviting guests into a bright interior with cream coloured décor creating an atmosphere of warm elegance, while an impressively large menu of delectable dishes should please all palates. For a creative take on pho, try Hu tieu Nam Vang – braised Cantonese style duck, shiitake mushrooms and Asian greens in an egg noodle soup; before a main such as scallops, stir fried in garlic, onion and shallots with a caramelised sauce.
Chow down on a signature Chef special of wok-fried, salt and chilli crispy calamari with garlic mixed vegetables, or hoisin lamb and vegetables served on a sizzling hot plate; best paired with steamed rice and deep-fried spring rolls. Leave space to finish with a divine dessert like coconut crème caramel, or lychees and tropical ice cream.
Still looking for a Vietnamese restaurant near you? Click here to satisfy cravings for pho-mania!