Uncrowded, unspoilt and ever changing
Tasmania is an ideal destination to explore by bicycle, riding through diverse terrain, going for an easy cruise on a food, wine and heritage tour or challenging yourself on a steep mountain descent. Summer is the best time to get cycling in Tasmania, as the cooler months are often wet and windy, with snow closing up some of the mountain tracks. For a state so small, Tasmania's cycling tracks are in plentiful supply so get on your bike and discover something new.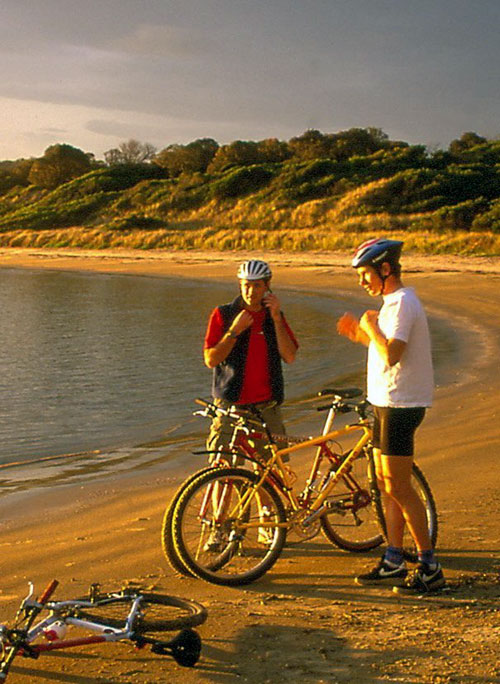 Where are some cycling and mountain biking trails around Tasmania?
The east coast is one of Tasmania's most popular cycling destinations, particularly if new to the activity. With generally flat terrain, mild conditions and short cycling times between towns, the east coast takes you alongside the Tasmanian beaches where you can go between seaside towns in the sunshine, discovering the state's natural rejuvenating magic. For a week long trip, why not go from Launceston to Hobart over a distance of 430 kilometres. Weaving directly around the east coast, this trip takes you through some of Tasmania's most popular destinations such as Bicheno, Port Arthur and St Helens, where additionally you can extend your trip with a detour to Maria Island.
For a challenge, Tasmania's west coast is full of steep mountainous terrain, wild weather conditions and a largely unpredictable climate. No easy task, tackling the west coast requires some degree of experience and fitness, but never the less you will be rewarded with some of Australia's most breathtaking scenery, seldom seen by majority of the population. Hobart to Launceston via the west coast takes you to the idyllic regions of Cradle Mountain, past the coastal town of Strahan, to the state's highest waterfall, Montezuma Falls as well as a Tasmanian natural icon, Lake St Clair. The Tasmanian west coast is fundamentally untouched and untamed, making for a remote yet reinvigorating ride.
For an enjoyable day trip, why not head to Flinders or King Island, hire a bicycle and go around the sealed and dirt roads, exploring the hidden gems of Tasmania's getaway islands.
Continue taking a spin around Australia. Find out where to go cycling in the ACT