Wheel it around W.A
When looking for a trail to take a cycle on, Western Australia spoils you for choice. With over 700 trails across the state, everybody from casual riders to serious bikers are covered for both on and off-road cycling. With generally flat terrain, Western Australia's tracks are comfortable for long term cycling trips or short day rides.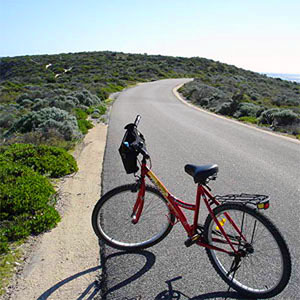 Where can I cycle around Western Australia?
One of the state's most famous tracks is that of the Munda Biddi Mountain Bike Trail, a world class adventure through off road terrain, unspoilt forests and vast amounts of bushland. A 582 kilometre journey – currently in the process of stretching to 1000 – the Munda Biddi begins in Mundaring, east of Perth and heads south to Manjimup. Along the way, each day will bring an array of different scenic surrounds, alongside rich amounts of heritage history and south western attractions.
If looking for a short and sweet trail, a ride around Rottnest Island covers an area of 24 kilometres, ideal for a morning or post picnic lunch cycle. Similarly, the Swan Valley Heritage Cycle Trail is a short 10 kilometre ride located in the heart of the award winning wine region, taking you through wineries, cafes, galleries picnic areas and a chocolate factory. This easy track is wonderful for exploration and indulgence, allowing you to appreciate the scenic surrounds of the Swan Valley.
Cycle to South Australia here