Bicycle from beach to bush
With diverse terrain, a generally mild climate and assortment of outdoor activities and attractions, the array of bike trails around South Australia make the state a popular cycling destination, both on and off the road.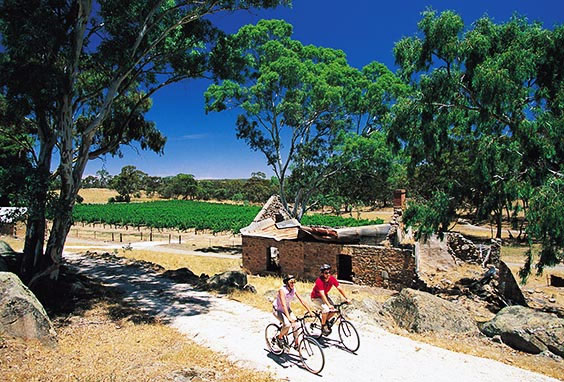 Where are some popular cycling trails in South Australia?
Oodnadatta Track runs from Marree in the north of Adelaide to Marla in the state's North West. A classic outback track, this 613 kilometer journey is somewhat secluded, suited to travelers who wish to get away from the hustle and bustle and explore the great Australian outback at a leisurely pace. Along the way, admire views of the South Lake Eyre saltpan, old railway station ruins and an optional detour to the underground township of Coober Pedy.
Those looking for a longer challenge can jump on board the 900 kilometer Mawson Trail, an off-road cycling journey from Adelaide to Blinman in the north Flinders Ranges. A journey full of panoramic views from city to bush be sure to stop and check out the historic buildings, aboriginal paintings and the wineries in the Barossa.
For a leisurely day ride, the Riesling Trail in the Clare Valley is a 27 kilometer track, passing by rolling vineyards, historic towns and a cellar door or two for you to call into on your way past.
See more on cycling around Australia here http://www.agfg.com.au/Blog/post/2007/04/20/Cycling-in-Australia.aspx